Bristol masons block honest cop\'s promotion?

bristol | policing | news report

Friday November 02, 2007 18:45

by Tony Gosling

CI Simon House alleges victimisation by \"group of top officers\"
Fair play to D.I. House for not simply accepting the rampant cronyism and the crooked glass ceiling that so many other cops have identified in our local contabulary. His challenge to the plundering of the public purse and the Poison Ivy strangling our city and county (aided an abbetted by Moira Hamlin, the sycophantic chair of the A&S police Authority) is the stuff of which legends are made. The bent coppers at the top of our local force spend 99% of their time and effort protecting their dismal reputations, closing our festivals and lining their pockets at our expense... and 1% doing their job badly.
Grab this story and mirror while you can since previous stories critical of the same \"group of top officers\" have mysteriously disappeared from the Evening Post\'s website.
Such as this story about the previous highly paid and crooked Chief Constable http://www.public-interest.co.uk/aseye/#Loss


02Nov07 - POLICE CHIEF\'S ANGER AT PROMOTION SNUBS

A senior police officer was victimised by his bosses for seven years after filing a claim for sexual discrimination, an employment tribunal has heard.

Chief Inspector Simon House claims he has been bullied and mistreated by Avon & Somerset police since making the claim after missing out on promotion in 1999.

He has taken legal action against his employers, claiming a group of top officers froze him out and prevented him progressing.

The chief inspector says he has been unfairly overlooked for three promotions and forced to uproot his family and move to a post away from his home.

He also claims his travelling expenses were mishandled and was prevented from attending a ceremony to collect his medal for 22 years of police service.

Mr House told the tribunal: \"I have been what is colloquially known as \'parked\' for the rest of my career.

\"This is in stark contrast to the direction of my career before the proceedings (in 1999).

\"The consecutive acts towards me have spanned many years. The likelihood of these acts being a coincidence is minimal.

\"I believe the way I have been treated is a direct consequence of these proceedings, not an objective need for the organisation or my personal development.\"

Mr House, aged 45, made a claim of sexual discrimination, which he later withdrew, because he believes he was unfairly overlooked when he first applied for the job of chief inspector.

In his statement, Mr House, who eventually landed the role in 2002, said: \"Before the (selection) process began, there was a common belief that the majority of candidates had already been selected, including the roles to be performed.\"

On the first day of a seven-day hearing in Temple Back yesterday, Mr House was cross-examined by Shaheed Fatima, representing Avon & Somerset police.

Nine top police officers are expected to take the stand to answer allegations during the tribunal.

Tribunal chairman Colin Sara heard claims Mr House was blocked for promotion to chief inspector in 2001 and unfairly missed out on becoming a superintendent in 2005 and 2006.

In 2001, he was told he missed out because he \"didn\'t appreciate the constabulary\'s corporate views on complaints/discipline and professional standards\".

But Mr House says he failed because of a comment he had made to a senior officer about his promotion bid in 1999.

Miss Fatima told the hearing Mr House was mistaken.

She said: \"You read into things to make your own interpretations, don\'t you? Then you accuse officers of behaving towards you in a malicious way. It\'s a pattern isn\'t it?

Mr House, who started his police career in 1983, replied: \"No, I don\'t believe I do.\"

The hearing was told Mr House had demanded answers as to why he had not been promoted and wrote letters to the most senior officers in the force.

In one he called then Assistant Chief Constable Martin Richards \"mean and petty-minded\" and used the phrase \"invincibly repugnant\" in other correspondence to high-ranking officers.

Tribunal chairman Colin Sara asked Mr House: \"Do you realise you shouldn\'t use insulting words without having clear evidence to back it up?\" He replied: \"Yes, sir.\"

Mr House also claims he was mistreated when he was told to relocate from Taunton to Portishead in 2003.

The officer, who did not want to uproot his wife and two children, believes he was given inconsistent reasons for his move.

He believed the reason for it was because of a run-in he had with another officer.

However, police bosses say he was moved to put his skills to good use and develop his career.

Chief Constable Colin Port is due to give evidence next week.

The case continues..................



Previous story about Avon and Somerset\'s highly paid but discredited Chief Constable Colin Port.

Did Bristol\'s top cop collude with Loyalist assassins?
http://www.indymedia.org.uk/en/2007/02/363208.html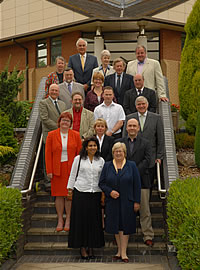 Moira Hamblin is the woman in a tasteful shade of orange on the left