This page originally published here | Bilderberg.org's war index
| | | |
| --- | --- | --- |
| Current affairs of the Mis-Administration blogged at: | | |
THE BODY COUNT: Bush Administration Fall-Out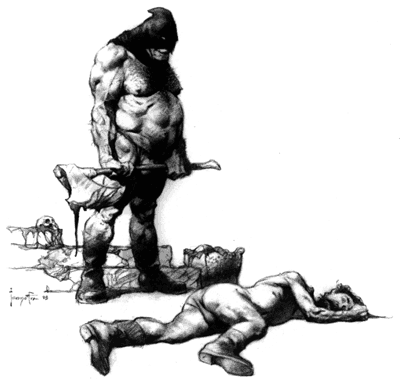 Frank Frazetta's "Executioner"



Note: This is mainly a record of only U.S. political resignations and deaths, with a few exceptions in the deaths category.
Page Under Construction - Updates Ongoing
Denotes dead links removed and/or replaced as of 10/03/04


Part I - Resignations and Dismissals

MILITARY / INTELLIGENCE / DEFENSE...
COL. DOUGLAS MACGREGOR - US ARMY

Maverick colonel blames US army's 'sycophantic' culture and heavy-handedness for failures in Iraq - June 9, 2004
GEORGE TENET - DIRECTOR, CIA

Tenet's Perjury And Resignation

Coup d'Etat
JAMES PAVITT - DEPUTY DIRECTOR OF OPERATIONS, CIA

Second top-level resignation at CIA - June 4, 2004

Coup d'Etat
KENNETH DeGRAFFENREID - PENTAGON, INTEL

The Gray Zone
RAND BEERS - NATIONAL SECURITY COUNCIL

Rand Beers

RICHARD CLARKE - DIRECTOR NATIONAL SECURITY COUNCIL/CYBERSPACE SECURITY

Attrition Security Rant

Leslie Stahl interviews Richard Clarke

VICTORIA CLARKE - DEFENSE DEPARTMENT

Pentagon Spokeswoman stepping down - 6/16/03
J.D. CROUCH II - ASST SECRETARY OF DEFENSE FOR INTERNATIONAL SECURITY POLICY

Pentagon Hawk Released – Straws in the Wind? - 10/31/03
GEN. WAYNE DOWNING - DEPUTY NATIONAL SECURITY ADVISER FOR COUNTERTERRORISM

Gen. Wayne Downing: counterterrorism chief resigns - 6/27/02
GEN. TOMMY FRANKS - U.S. ARMY CENTCOM

Rumsfeld Announces Franks' Resignation - 5/23/03
GEN. JAY GARNER

Exclusive interview with: General Jay Garner
RICHARD HAAS - STATE DEPARTMENT

Loss of key aide another setback for Powell
DAVID KAY - WEAPONS INSPECTOR

Inspector Calls US Iraq Intelligence a Failure

KAREN KWIATKOWSKI - DoD NEAR EAST BUREAU

Goodbye, Mr. President: the Secret Resignation Letters
ISAM AL-KHAFAJI - IRAQI RECONSTRUCTION COUNCIL

I Did Not Want To Be a Collaborator - 7/28/03
BEN MILLER
FLYNT LEVERETT
HILLARY MANN

Two U.S. Diplomats Resign over Iraq Stance
LT. JOHN OLIVIERA - U.S. NAVY

Navy Public Affairs Officer Who Worked in Iraq Condemns President Bush & The U.S. Invasion
JOHN O'NEILL - FBI*

O'Neill's Life and Career
(Dead link replacement)

*See John O'Neill also in Part II - Deaths
RICHARD PERLE - PENTAGON ADVISORY BOARD CHAIRMAN

Perle Resigns as Chairman of the Defense Policy Board
JOHN M. POINDEXTER - DEFENSE DEPARTMENT

Poindexter to Resign Following Terrorist Futures Debacle - 7/31/03
JACK PRITCHARD - STATE DEPARTMENT

Top U.S. Expert on North Korea Steps Down
PAUL REDMOND - DEPARTMENT HOMELAND SECURITY

Top Homeland Security Official Resigns Position

Riddle As U.S. Spy Chief Quits

HOWARD SCHMIDT - CYPBERSPACE SECURITY / NATIONAL SECURITY COUNCIL (see also Richard Clarke)

White House Cybersecurity Adviser Resigns - April 21, 2003
GEN. ERIC SHINSEKI - U.S. ARMY CHIEF OF STAFF

Gen. Eric Shinseki Resigns - 6/10/03
LARRY THOMPSON - DEPARTMENT OF JUSTICE

High-level resignation at Justice Department - 8/12/03

Rep. John Conyers Letter Regarding DoJ Handling of Enron (pdf)
Bush Point Man on Corporate Crime Accused of Fraud
TOM WARRICK - STATE DEPARTMENT

Gen. Jay Garner was forced to fire valued team member

THOMAS E. WHITE - U.S. ARMY SECRETARY

Ousted Army Chief Blasts Bush Iraq Policy - 5/03
RABBI DOV ZAKHEIM - PENTAGON CHIEF FINANCIAL OFFICER

Pentagon finance manager resigns

GENERAL ANTHONY ZINNI

General Anthony C. Zinni, USMC

War Over President Bush's Words Heats Up

WHITE HOUSE STAFF / DIPLOMATIC CORPS...
OTTO REICH - SPECIAL ENVOY TO LATIN AMERICA

Bush Misled Public

CHARLOTTE BEERS - WHITE HOUSE PR

Bush Misled Public

MARGARET TUTWILER - WHITE HOUSE PR

Promoter of U.S. Image quits
TUCKER ESKEW - WHITE HOUSE PR

Promoter of U.S. Image quits
JAYSON BLAIR

to replace Fleischer

Eventual actual replacement: Scott McClellan
JOHN H. BROWN - U.S. DIPLOMAT

U.S. diplomat resigns over Iraq war plans - 3/10/03
MITCH DANIELS - WHITE HOUSE BUDGET DIRECTOR

Why Did Mitch Daniels Really Resign: Allegations of Insider Trading, Of Course!
WILLIAM FARISH - AMBASSADOR TO BRITAIN

Goodbye, Piccadilly
ARI FLEISCHER - WHITE HOUSE PRESS SECRETARY

Fleischer to Resign

The resignation of Ari Fleischer: Bush's official liar goes for the gold - 5/23/03
TIMOTHY HANNAPEL - DEPUTY SPECIAL COUNSEL

Top two whistleblower protectors resign - 5/12 03
R. GLENN HUBBARD - WHITE HOUSE COUNCIL OF ECONOMIC ADVISORS

Last Economic Adviser Resigns--Hubbard - 2/27/03
ELAINE KAPLAN - SPECIAL COUNSEL

Top two whistleblower protectors resign - 5/12/03
JOHN BRADY KIESLING - U.S. AMBASSADOR TO GREECE

Career Diplomat Resigns Over U.S. Policy on Iraq - 3/1/03
LARRY LINDSEY - WHITE HOUSE SENIOR ECONOMIC ADVISOR

O'Neill and Lindsey submit resignations Friday - White House Financial Team Reshuffle - 12/02
JOSEPH WILSON - U.S. AMBASSADOR TO GABON

Plame-Gate: Background and Ongoing Coverage of Retaliatory Outing of Wilson's CIA Agent Wife, Valerie Plame
MARY ANN WRIGHT - U.S. AMBASSADOR TO MONGOLIA

Diplomat Mary Ann Wright Resigns - 3/19/03

TREASURY DEPARTMENT...
PETER FISHER - TREASURY DEPARTMENT

Treasury's Peter Fisher Resigns
ROSARIO MARIN - U.S. TREASURER

U.S. Treasurer to Resign - 5/22/03
PAUL O'NEILL - U.S. SECRETARY OF THE TREASURY

O'Neill Calls Bush a Disengaged President - 01/10/04

O'Neill and Lindsey submit resignations Friday - White House Financial Team Reshuffle - 12/02
MARK WEINBERGER - TREASURY SEC'Y FOR TAX POLICY

Bush's top tax aide is quitting - 03/27/02

EPA...
BRUCE BOLER - EPA BIOLOGIST

Wetlands Pollute Study Okayed, Clears Way for SW Florida Development - EPA Biologist Resigns in Protest - 10/22/03
LINDA FISHER - DEPUTY ADMINISTRATOR, EPA

Second Top EPA Official Resigns 7/11/03
ERIC SCHAEFFER - EPA OFFICE OF REGULATORY ENFORCEMENT

Study Finds Top Air Polluters Closely Tied to Bush Administration

Goodbye, Mr. President: the Secret Resignation Letters
CHRISTINE WHITMAN - EPA

Bush Covers Up Climate Report - 9/21/03

"The email discusses possible tactics for...getting rid of EPA officials, including...Christine Whitman."
RICH BIONDI
BRUCE BUCKHEIT
J.P. SUAREZ

3 Top Enforcement Officials Say They Will Leave E.P.A.
(Link repaired 10/03/04)

HEALTH / MEDICARE AND MEDICAID...
JANET REHNQUIST - INSPECTOR GEN'L HEALTH & HUMAN SERVICES

Janet Rehnquist Resigns - 3/4/03
THOMAS SCULLY - MEDICARE AND MEDICAID ADMINISTRATOR

Scully Says Medicare [Plan]"Dumb"

TOMMY THOMPSON - SECT'Y HEALTH & HUMAN SERVICES

Tommy Thompson to Resign - 6/3/03
PATRICIA WARE - EXEC DIRECTOR PRESIDENTIAL ADVISORY COUNCIL ON HIV & AIDS

AIDS Panel Director Leaves, Deputy Secretary At HHS Resigns - 2/5/03

BUSH '04 CAMPAIGN ADVISERS and CHAIRS...
JIM TOBIN - NEW ENGLAND CAMPAIGN CHAIR

Bush's New England campaign chief resigns over phone-jamming allegations (Oct 15, '04)

Bush-Cheney New England campaign chair Jim Tobin resigns over election tampering scandal (Oct 15, '04)
MIKE ALLEN - SW OHIO CHAIRMAN

Employee lawsuit: Allen coerced sex (Aug 27, '04)
COL. KEN CORDIER (RET.)

Bush adviser quits after appearing in swift boat ad (Aug 23, '04)
BENJAMIN GINSBERG

Lawyer Advising Vets Quits Bush Campaign (Aug 25, '04)
DEAL W. HUDSON

Adviser to president quits over scandal (Aug 20, '04)
(Link repaired 10/03/04)

9/11 COMMISSION...
HENRY KISSINGER
SENATOR GEORGE MITCHELL

Kissinger resigns as head of 9/11 commission


OTHERS...

REP DOUG BEREUTER (R-NEB)

Retiring GOP congressman breaks ranks on Iraq

GOP Congressman: War Was a Mistake

JOHN W. CARLIN - U.S. ARCHIVIST

Archivist's Resignation Questioned

TERESA CHAMBERS - US PARK POLICE CHIEF

Ex-chief of Park Police denounces firing

JOHN DiIULIO - OFFICE OF FAITH BASED INITIATIVES

The DiIulio Resignation in Context

Why Are These Men Laughing?

Shrub Time: DiIulio Resigns Post

MIKE DOMBECK, FOREST SERVICE CHIEF

Goodbye, Mr. President: the Secret Resignation Letters
ANDREW ELLER - U.S. FISH & WILDLIFE SERVICE

Dissenting Scientist Fired by Administration's Fish and Wildlife Service

RICHARD HERDMAN - SEC ACCOUNTANT

SEC Chief Accountant Resigns
ED KAST - FLORIDA ELECTION CHIEF

Florida elections chief quits - June 8, 2004
(Replacement link)
CHUCK MCGEE - DIRECTOR, NEW HAMPSHIRE REPUBLICAN PARTY

Former GOP consultant pleads guilty to jamming Democratic phones
(Dead link replacement)
DON NORTH - IRAQI MEDIA PROJECT

U.S. Journalist Quits Pentagon Iraqi Media Project Calling it U.S. Propaganda
THEODORE OLSON - SOLICITOR GENERAL

Solicitor General Theodore Olson to Step Down

MICHAEL PARKER - ARMY CORPS OF ENGINEERS (fired)

Bush Fires Army Corps Chief after he fails to defend budget cuts - 3/6/02
HARVEY PITT - SEC CHAIRMAN

Harvey Pitt resigns as SEC chief - 11/6/02
ABDEL BASSET TURKI - CPA HUMAN RIGHTS MINISTER
ABDEL KARIM MAHUD AL-MAHAMADAWI

Second Iraqi minister quits
(Dead link replacement)
JACK WALTERS - BOONE COUNTY MISSOURI GOP CHAIRMAN

Our Country Above Politics
WILLIAM WEBSTER - PUBLIC ACCOUNTING OVERSIGHT BOARD

William Webster's resignation letter to SEC's Pitt
RICHARD S. LANIER - WHITE HOUSE CULTURAL PROPERTY ADVISORY COMMITTEE
MARTIN E. SULLIVAN - WHITE HOUSE CULTURAL PROPERTY ADVISORY COMMITTEE
GARY VIKAN - WHITE HOUSE CULTURAL PROPERTY ADVISORY COMMITTEE

Three Bush Advisers Quit Over Iraq Looting - 4/1/7/03



Other Sites Keeping Track

TV News Lies - Resignations
Impeach Bush


---
Part II - Deaths: Political
Suicide, Accident, Murder?
PETER HARTMANN

Central figure in cemetery probe found dead

Funeralgate
GUS W. WEISS - former White House policy adviser on technology, intelligence, and economic affairs (11/25/03)

Top Secret Advisor To 4 Presidents Dies 'Violently' In DC
DON HOLLAND - (D)SC - U.S. Senator - (10/05/03)

S.C. Sen. Don Holland, of Camden, dies at 75
MICHAEL HOLTON - UN security guard

Security Guard Found Shot at United Nations
JOHN KOKAL - State Department Employee - Intelligence Div. (11/07/03)

The death of Intelligence Official John Kokal - 11/22/03

Mystery Surrounds Death of State Dept. Official

State Dept. Worker Found Dead Outside Agency

Missing Computers - Dead Bodies at the State Dept.
(Repaired link)

Police Investigate Death of State Dept. Employee
SALEM BIN LADEN

The Strange Death of bin Laden's Brother in Texas
COLIN MCMILLAN - Bush nominee for Navy secretary

Bush Nominee for Navy Sec. May Have Killed Self
JOHN O'NEILL - FBI

New light on the life and death of John O'Neill

Remember John

Who Killed John O'Neill?

Why Is O'Neill's Family Suing Iraq?
MARGIE SCHOEDINGER - woman who filed sexual lawsuit against George W. Bush in '02 (11/12/03)

Texas Woman's Lawsuit Alleges Bush Sexual Assault

In the western world, only one newspaper reports the suicide of the woman who accused George W Bush of rape (12/13/03)
PAUL WELLSTONE - (D)MN - U.S. Senator

Evidence mounts that Paul Wellstone was murdered

The death of US Senator Paul Wellstone: accident or murder?

Paul Wellstone Murder - 10/02

What Happened to Paul Wellstone?


Prominent Democrats Die Disproportionately in Small Plane Crashes:
Was Paul Wellstone Murdered?

ENRON CONNECTIONS...
J. CLIFFORD BAXTER - ENRON

The Strange and Convenient Death of J. Clifford Baxter

The Mysterious Death Of An Enron Exec
JAKE HORTON - GULF POWER

A high price to pay for the power and the glory
CHARLES DANA RICE - EL PASO CORP

Utility Executive Dead in Apparent Suicide
JAMES WATKINS - ARTHUR ANDERSEN ACCOUNTING FIRM

Gunshot caused death of Denver consultant

AWOL CONNECTIONS...
SID ADGER
LT. COL. WILLIAM HARRIS, JR.
LT. COL. JERRY KILLIAN
GENERAL JAMES ROSE

A Roster of the Dead

Other Sites Keeping Track

Dead People With Connections to the Bush Dynasty - Rense.com
Bush Death List


---
Part III - Deaths: Journalists & Editors
Killed by U.S. & coalition military or other in Iraq

MAZEN AL-TUMEIZI

Al-Arabiya reporter killed, two other journalists wounded in Baghdad
(Dead link replacement)

ENZO BALDONI

Italian FM condemns hostage killing

MAHMUD HAMID ABBAS

Journalist killed in Fallujah

SHINSUKE HASHIDA
KOTARO OGAWA

Two Japanese journalists killed in attack near Baghdad

RASHID HAMID WALI

Aljazeera crew member killed in Iraq

WALDEMAR MILEWICZ - CORRESPONDENT
MOUNIR BOUAMRANE - PRODUCER

US Forces Tighten Grip Around Najaf

ALI al-KHATIB

Iraqi Reporters Rebuff Powell, Leave News Conference

ALI ABD al-AZIZ

Iraqi Reporters Rebuff Powell, Leave News Conference

US admits killing Arab journalists in Iraq
RICARDO ORTEGA

U.S. Marines open fire in Haiti

JOSE COUSO

Journalists Under Fire: The Death of José Couso in Baghdad

Jose Couso killed in an attack allied against a hotel of Bagdad
MAZEN DANA

U.S. troops 'crazy' in killing of cameraman
TERRY LLOYD
FRED NERAC (Cameraman)

New Investigation Says U.S. Helicopter Gunship Killed ITN Reporter Terry Lloyd - 9/25/03
TARAS PROTSYUK

Taras Protsyuk Reuters Television cameramanwas killed in Baghdad
AHMED SHAWKAT (Editor)

Call for investigation into killing of newspaper editor; US soldiers and Iraqi police urged to stop detaining journalists - 10/28/03
RICHARD WILD (Journalist)

Was our son murdered by the CIA?



Other Sites Keeping Track - Deaths of Journalists in Iraq by any agency

Journalists Killed Since Iraq War Began
Media Coverage of the War
Journalist Death Toll in Iraq Doubles Overnight


---
Part IV - Deaths: Scientists (Microbiologists, Geneticists, Infectious Disease Experts)


DR. PAUL NORMAN - 7/04

Another Top Bioweapons Expert Killed

DR. MICHAEL KILEY- 1/04

Michael Patrick Kiley, 62, Dies

DR. ROBERT E. SHOPE - 1/04

Robert Shope, 74, Virus Expert Who Warned of Epidemics, Dies
(Dead link replacement)

DR. ROBERT BURGHOFF - 12/03

Chemist was killed in Medical Center

DR. MICHAEL PERICH - 10/03

West. Nile Researcher formerly working at Ft. Detrick dies in one-vehicle crash
(Dead link replacement)

DR. DAVID KELLY - 7/03

Microbiologists With Link to Race-Based Weapon Turning Up Dead

David Kelly could not have bled to death

The Murder of David Kelly

DR. LELAND RICKMAN - 6/03

In Memoriam: Leland Rickman

DR. STEVEN MOSTOW - 3/02

Victims Identified in Fatal Plane Crash

DR. DAVID WYNN-WILLIAMS - 3/02

Another Top Microbiologist Dies - 12 in the Last Five Months

DR. TANYA HOLZMAYER - 2/02

Pizza Delivery Man May Have Been Ambush

DR. GUYANG HUANG - 2/02

Pizza Delivery Man May Have Been Ambush - Suspect Later Found Dead

DR. VICTOR KORSHUNOV - 2/02

Victor Korshunov
(Dead link replacement)

DR. IAN LANGFORD - 2/02

Death of UEA Scientist 'Not Suspicious'

Kelly's Death Linked With Langford's Says Jane's Editor

DR. IVAN BLEBOV - 1/02
DR. ALEXI BRUSHLINSKI - 1/02

More Dead Scientists
(Dead link replacement that includes Dr. Brushlinski - The original Pravda report that named Dr. Blebov is no longer working, and another link has not yet been found)
DR. ROMAN KUZMIN - 12/01 (Surgeon)

Russian Surgeon, 24, Dies on Highway While Fleeing Police

DR. ROBERT SCHWARTZ - 12/01

Allegations aired in Loudoun murder
(Dead link replacement)

DR. BENITO QUE - 12/01

Scientists Deaths Are Under the Microscope

DR. SET VAN NGUYEN - 12/01

W CSIRO commits to safety changes
(Dead link replacement)

DR. AMIRAM ELDOR - 11/01

BMJ Obituaries

DR. DON WILEY - 11/01

Has Professor Wiley Been "Disappeared"?

DR. JEFFREY P. WALL - 11/01

Another Microbiologist Dies

DR. VLADIMIR PASECHNIK - 11/01

Revealed - Another Top BioWarfare Scientist Murdered

DR. YAACOV MATZNER - 11/01

Pilots criticise Zurich crash runway
(Dead link replacement)

Microbiologists Beware
(Dead link replacement)





Other Sites Keeping Track

Down With Murder Inc.
Democratic Underground Forum Post
Dead Scientists DO Tell Tales
Dead Scientists
List of Murdered and Missing Scientists
Who and Why: Missing/Dead Scientists
(Repaired link)
The Very Mysterious Deaths of Five Microbiologists
A Career in Microbiology Can Be Harmful to Your Health - Especially Since 9/11
Death Toll Mounting As Connections to Dyncorp, Hadron, Promis Software and Disease Research Emerge
The Anthrax X-Files: Spreading the Disease



Part V - Deaths: Jessica Lynch Rescuers/Connections



JOSH DANIEL SPEER - U.S. Marine - Car crash into tree 7/03

Iraq war veteran killed in Highway 11 wreck
DAVID TAPPER - Navy Seal - Wounds received in Afghanistan 8/08/03

David M. Tapper
(Dead link replacement)
SOK KHAK UNG - U.S. Marine - Drive by shooting 10/03

Funeral for Marine Who Survived Iraq, But Not Long Beach

SPC KYLE WILLIAMS - Apparent suicide and murder suspect - 10/03

Suspect in motel slaying found dead




Part VI - Deaths: American Troops & Civilian 'Colateral Damage'


Other Sites Keeping Track

Military City - Faces of Valor
Calendar of U.S. Military Dead in Iraq War
Faces of the Fallen
Iraq Body Count
U.S. & Coalition Casualties
Casualties in Iraq - the Human Cost of Occupation




Use your browser's "back" function to return to the page that got you here.
OR
To Civics & Politics - Page 1
To Civics & Politics - Page 2
To Civics & Politics - Page 3

---