---
WWIII | NATO | HumanGM | NLWeapons | Kissinger | MI5+6 | Echelon | Caprim
---
Other WWIII news reports pages: [2006] - [2005] - [2004] - [2003] -[2001/2]
also [latest WWIII news] - [WWIII news links]
Fascism, state terror and power abuse
A counterfeit world order - starting in the cradle of civilisation, Iraq
The perpetual war, to end all peace
Do please take the time to look through the evidence compiled by the 9/11 truth movement and those suing the Bush administration for complicity. Democratic institutions and rights, particularly in the US, are under sustained covert attack.
Complicity by Dick Cheney and others at the apex of US political power in The World Trade Centre attacks of September 11th is now beyond doubt. Illegal US/UK state terrorists are dishing out 'government approved' terror alongside CIA trained fanatics - fuelling anti-Western hatred round the world and channeling massive public funds to the military industrial complex. The ultimate objective appears to be generate a global crisis (and permanent massive military spending) to 'rescue' Western economies and bounce us all into a US/UN controlled global police state.
War is terrorism with a bigger budget
Documents like those of the New American Century project and Zbigniew Brzezinski's book 'The Grand Chessboard, American Primacy and its Geostrategic Imperatives' explain the plan which includes extending military objectives and operations to information warfare.
But does the end justify the means?
As the extraordinary events unfold in this 'war on terrorism' I present an alternative chronology. Here you will find well researched, often mainstream press articles, which show another side to events, namely that a US corporate led fascist system of global control is gradually being imposed on the world.
'And ye shall hear of wars and rumours of wars: see that ye be not troubled: for all these things must come to pass, but the end is not yet' Matthew 24:6
---
Between the lines - what the mainstream press isn't telling us
Moses, Mohammed and Jesus all preached the gospel of peace but WWIII is pitting secular 'Islamic' terrorists against secular 'Christian' and 'Jewish' state terrorists:
Three World Wars: WWIII - Pentagon's Holy Warrior - War on Islam - Abid Ullah Jan - Nevertheless all true Christians and Moslems refuse to promote war and refuse to kill.
http://www.rense.com/general45/drk.htm
---
Most recent additions
---
More Robot Grunts Ready for Duty
By Noah Shachtman
http://www.wired.com/news/technology/0,1282,65885,00.html
Dec. 01, 2004
ORLANDO, Florida -- Hunting for guerillas, handling roadside bombs, crawling across the caves and crumbling towns of Afghanistan and Iraq -- all of that was just a start. Now, the Army is prepping its squad of robotic vehicles for a new set of assignments. And this time, they'll be carrying guns.
As early as March or April, 18 units of the Talon -- a model armed with automatic weapons -- are scheduled to report for duty in Iraq. Around the same time, the first prototypes of a new, unmanned ambulance should be ready for the Army to start testing. In a warren of hangar-sized hotel ballrooms in Orlando, military engineers this week showed off their next generation of robots, as they got the machines ready for the war zone.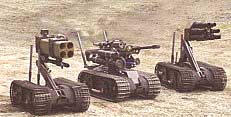 "Putting something like this into the field, we're about to start something that's never been done before," said Staff Sgt. Santiago Tordillos, waving to the black, 2-foot-six-inch robot rolling around the carpeted floor on twin treads, an M249 machine gun cradled in its mechanical grip. For years, the Pentagon and defense contractors have been toying with the idea of sending armed, unmanned ground vehicles, or UGVs, into battle. Actually putting together the robots was a remarkably straightforward job, said Tordillos, who works in the Army's Armaments Engineering and Technology Center.
Ordinarily, the Talon bomb-disposal UGV comes equipped with a mechanical arm, to pick up and inspect suspicious objects. More than a hundred of the robots are being used in Iraq and Afghanistan, with an equal amount on order from the UGV's maker, Waltham, Massachusetts-based firm Foster-Miller.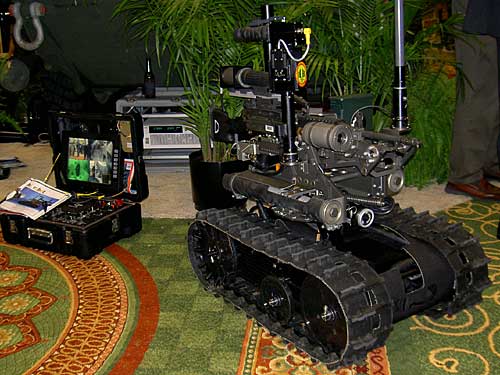 For this new, lethal Talon model, Foster-Miller swapped the metal limb for a remote-controlled, camera-equipped, shock-resistant tripod, which the Marines use to fire their guns from hundreds of feet away. The only difference: The Marines' version relies on cables to connect weapons and controllers, while the Talon gets its orders to fire from radio signals instead.
"We were ready to send it a month ago," Tordillos said. Navigating the Pentagon bureaucracy and putting together the proper training manuals are what's keeping the Talon stateside, for now.
Back in December 2003, the Army's 1st Brigade, 25th Infantry Division tested an armed Talon in Kuwait. Now, the brigade wants 18 of the UGVs to watch the backs of its Stryker armored vehicles.
Four cameras and a pair of night-vision binoculars allow the robot to operate at all times of the day. It has a range of about a half-mile in urban areas, more in the open desert. And with the ability to carry four 66-mm rockets or six 40-mm grenades, as well as an M240 or M249 machine gun, the robots can take on additional duties fast, said GlobalSecurity.org director John Pike.
"It's a premonition of things to come," Pike said. "It makes sense. These things have no family to write home to. They're fearless. Youcan put them places you'd have a hard time putting a soldier in."
It's the same goal Army-funded researchers are keeping in mind as they develop an unmanned ambulance. The Robotic Extraction Vehicle, or REV, is a 10-foot-long, 3,500-pound robot that can tuck a pair of stretchers -- and life-support systems -- beneath its armored skin.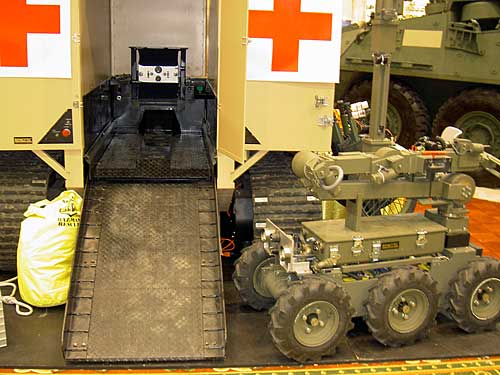 The idea is for battlefield medics to stabilize injured soldiers, and then send them back to a field hospital in the REV. But the REV also carries an electrically powered, 600-pound, six-wheeled robot with a mechanical arm that can drag a wounded fighter to safety if there isn't a flesh-and-blood soldier around. Ordinarily, it takes two to four men to get the wounded out of harm's way. Patrick Rowe, with Applied Perception of Pittsburgh, said he hopes the REV will cut that number, maybe by half. The firm is scheduled to show off prototypes of the robots to the Army's Telemedicine & Advanced Technology Research Center in March.
But this early version will be limited, Howe said. Ideally, the REV would drive around on its own, with no help from human operators. In practice, the robot would either be driven by a person with a joystick, or it would get around by itself by sticking to carefully preplanned routes. As the limited performances in the Pentagon's robot off-road rally in March showed, unmanned drivers are still pretty lousy at handling open, unknown terrain.
That's one of the reasons why iRobot's new UGV will still have a steering wheel inside, so it can be driven by a human, too. The company -- best known for its Roomba robotic vacuum cleaner and the PackBot UGVs that the Army has been using to clear bombs and explore suspected terrorist hideouts in the Middle East -- is now working with agricultural equipment manufacturer John Deere to build a cargo-hauling robot.
The M-Gator is a six-wheeled, diesel mini-Jeep that soldiers use to schlep about 1,400 pounds of gear. IRobot wants to have a robotic version ready by next year, so it can show it off to the Army and try to get funding for a full line of the vehicles, which would work as mechanical pack mules. The company hopes to be in production by 2006.
By then, the armed Talon will have been in operation for about a year, if all goes according to plan. And for those of you who might be worried about the robot getting loose with a "runaway gun," Tordillos orders you to relax. "The thing is not shooting on its own. You've got to have these," he said, waving a set of small, silvery keys, which fit into a lock on the Talon's briefcase-sized controller. A single switch causes the robot to reboot and return to safe mode.
GlobalSecurity.org's Pike isn't worried about the Talon going haywire. He's concerned about what the armed UGV represents for the future. "
This opens up great vistas, some quite pleasant, others quite nightmarish. On the one hand, this could make our flesh-and-blood soldiers so hard to get to that traditional war -- a match of relatively evenly matched peers -- could become a thing of the past," he said. "But this might also rob us of our humanity. We could be the ones that wind up looking like Terminators, in the world's eyes."
http://www.wired.com/news/technology/0,1282,65885,00.html
---
A War Crime in Real Time - Obliterating Fallujah
November 15, 2004
The Bush administration is a criminal conspiracy, but civil resistance can defeat it, argues Francis Boyle http://www.counterpunch.org/boyle11152004.html
By FRANCIS A. BOYLE
The obliteration of Fallujah continues apace. Article 6(b) of the 1945 Nuremberg Charter defines a Nuremberg War Crime in relevant part as the ". . . wanton destruction of cities, towns or villages. . ." According to this definition, the Bush Jr. administration's destruction of Fallujah constitutes a war crime for which Nazis were tried and executed. There is nothing surprising about that.
Since the Bush Jr. administration's installation in power by the United States Supreme Court in January of 2001, the peoples of the world have witnessed a government in the United States of America that has demonstrated little if any respect for fundamental considerations of international law, international organizations, and human rights, let alone appreciation of the requirements for maintaining international peace and security. What the world has watched instead is a comprehensive and malicious assault upon the integrity of the international legal order by a group of men and women who are thoroughly Machiavellian in their perception of international relations and in their conduct of both foreign policy and domestic affairs. This is not simply a question of giving or withholding the benefit of the doubt when it comes to complicated matters of foreign affairs and defense policies to a U.S. government charged with the security of both its own citizens and those of its allies in Europe, the Western Hemisphere, and the Pacific. Rather, the Bush Jr. administration's foreign policy constitutes ongoing criminal activity under well-recognized principles of both international law and U.S. domestic law, in particular the Nuremberg Charter, the Nuremberg Judgment, and the Nuremberg Principles. So their obliteration of Fallujah was to be expected.
One generation ago the peoples of the world asked themselves: Where were the "good" Germans? Well, there were some good Germans. The Lutheran theologian and pastor Dietrich Bonhoeffer was the foremost exemplar of someone who led a life of principled opposition to the Nazi-terror state even unto death.
Today the peoples of the world are likewise asking themselves: Where are the "good" Americans? Well, there are some good Americans. Like three Catholic Nuns in Denver, they are getting arrested and going to jail for protesting against United States weapons of mass destruction (WMD) whose power for human extermination far exceeds even the wildest fantasies of Hitler and the Nazis. Or else for protesting against illegal U.S.. military interventions around the world. Just recently the Nuclear Resister estimated that since the Fall of 2002, there have been more than 9,500 anti-war related arrests in the United States alone. Many more will be coming.
In international legal terms, the Bush Jr. administration itself should now be viewed as constituting an ongoing criminal conspiracy under international criminal law in violation of the Nuremberg Charter, the Nuremberg Judgment, and the Nuremberg Principles, due to its formulation and undertaking of aggressive war policies that are legally akin to those perpetrated by the Nazi regime. As a consequence, American citizens possess the basic right under international law and the United States domestic law, including the U.S. Constitution, to engage in acts of non-violent civil resistance in order to prevent, impede, thwart, or terminate ongoing criminal activities perpetrated by U.S. government officials in their conduct of foreign affairs policies and military operations purported to relate to defense and counter-terrorism.
This same right of civil resistance extends pari passu to all citizens of the world community of states. Everyone around the world has both the right and the duty under international law to resist ongoing criminal activities perpetrated by the Bush Jr. administration and its nefarious foreign accomplices such as Blair, Berlusconi, Howard, Koizumi, Kwasniewski, etc. by all non-violent means possible. If it is not so restrained, the Bush Jr. administration could very well precipitate a Third World War.
The time for preventive action is now. Civil resistance is the way to go. People power can overcome power politics. Popular movements have succeeded in toppling tyrannical, dictatorial and authoritarian regimes throughout former Communist countries in Eastern Europe, as well as in Asia, and most recently in Latin America. It is time once again to exercise People Power here in the United States of America: "When in the Course of human Events. . . We hold these Truths to be self-evident. . . . we mutually pledge to each other our Lives, our Fortunes, and sacred Honor."
Despite the best efforts by the Bush Jr. Leaguers to the contrary, we American Citizens still have our First Amendment Rights: Freedom of Speech, Freedom of Association, Freedom of Assembly, Freedom to Petition our Government for the Redress of these massive Grievances, Civil Resistance, etc. We are going to have to start vigorously exercising all of our First Amendment Rights right now. We must use them or else, as the saying goes, we will lose them. We must act not only for the good of the Peoples of Southwest Asia, but for our future, that of our children, that of our nation as a democratic society committed to the Rule of Law and the U.S. Constitution. The Nazis had their "homeland" too.
Francis A. Boyle, Professor of Law, University of Illinois, is author of Foundations of World Order, Duke University Press, The Criminality of Nuclear Deterrence, and Palestine, Palestinians and International Law, by Clarity Press. He can be reached at: FBOYLE@LAW.UIUC.EDU
http://www.counterpunch.org/boyle11152004.html
---
A father's anger: 'I would kill Geoff Hoon'
Audrey Gillan
Thursday November 11, 2004
The Guardian
http://www.guardian.co.uk/uk_news/story/0,3604,1348237,00.html
The father of two Black Watch soldiers serving at Camp Dogwood in Iraq threatened to kill the defence secretary, Geoff Hoon, yesterday because he was a "two-faced lying git".
James Buchanan, whose sons Gary, 27, and Craig, 24, both corporals, were due to return home but then redeployed north to reinforce the American assault on Falluja, said: "This man has got me so angry. If I see him in the street I would kill him. I would kill that man. I would cut his throat."
The former RAF warrant officer's outburst came at the launch of Families Against the War, a group of families who will campaign for British troops to be pulled out of Iraq. They include parents of sons who were killed in Iraq as well as parents of those currently serving.
The launch, on the eve of Armistice day, coincided with an announcement from the Ministry of Defence that two more soldiers had been injured at or near Camp Dogwood, the Black Watch base.
The first, a helicopter pilot with the Army Air Corps, was seriously injured when shot at through the windscreen of his aircraft. His co-pilot took control of the Lynx and flew it back to the camp. The pilot was flown to an American hospital in Baghdad. The second soldier was injured in a mortar attack on the helicopter pad inside the camp.
After yesterday's campaign launch, the families walked the short distance to Downing Street to lay a wreath of poppies in remembrance of those killed in Iraq, as well as photographs of their dead sons and a letter to Tony Blair.
Reg Keys, father of Lance Corporal Thomas Keys, one of six Royal Military Policemen killed in Iraq last year, Rose Gentle, mother of Fusilier Gordon Gentle, killed this year, and Theresa Evans, mother of Lance Bombardier Llewellyn Evans, the first British military fatality during the war last year, held each other as they stood in front of the door to No 10.
Mrs Evans had earlier broken down at the press conference when Mr Keys told how her son had died in a helicopter crash which was witnessed by her other son.
She wept as Mr Keys told how she had held two funerals for her son - one for his body and another for further body parts sent to her from America. She wept again when the families passed the Cenotaph on Whitehall which remembers the country's war dead.
In their letter to the prime minister, the families said: "When enlisting, service men and women sign an oath of allegiance to Her Majesty's government.
"All these people ask in return is that their government act in an honourable, truthful and honest manner and only deploy troops into the theatre of war to risk their lives when absolutely necessary, when all avenues of diplomacy have been exhausted.
"To deploy troops based on deceit of WMD is totally morally unacceptable. The blame lies firmly at your doorstep. This was a contrived war, a war of option not of necessity."
The laying of the wreath at Downing Street was a contentious issue, with the families initially being told that they wouldn't be able to do so.
Officials finally relented and after observing a minute's silence on the No 10 doorstep, Mr Keys and Mrs Gentle knocked on the door and went inside for just under a minute.
Their earlier request to meet Mr Blair was dismissed. The families then went to a private meeting with 40 cross-party MPs before taking part in an anti-war demonstration in Parliament Square.
During his outburst, Mr Buchanan explained that none of the families involved with the group were anti-military and that fighting was his sons' job. He added, however, that his sons had not signed up to fight for the Americans or for lies.
He said that Mr Hoon had lied to the Black Watch families for three weeks over what was happening to the soldiers.
Mr Buchanan's son Craig, a Warrior driver, had been close friends with Private Piti Tukutukuwaqa, a Fijian member of the Black Watch who was killed in a suicide bomb attack on Monday. His best man had been killed earlier in the conflict.
Four Black Watch soldiers have been killed in hostile action since the deployment to Camp Dogwood.
A number of others have been injured, some seriously, with one soldier losing both legs.
http://www.guardian.co.uk/uk_news/story/0,3604,1348237,00.html
---
The war on Iraq has made moral cowards of us all
More than 100,000 Iraqis have died - and where is our shame and rage?
Scott Ritter
Monday November 1, 2004
The Guardian
http://www.guardian.co.uk/comment/story/0,3604,1340562,00.html
The full scale of the human cost already paid for the war on Iraq is only now becoming clear. Last week's estimate by investigators, using credible methodology, that more than 100,000 Iraqi civilians - most of them women and children - have died since the US-led invasion is a profound moral indictment of our countries. The US and British governments quickly moved to cast doubt on the Lancet medical journal findings, citing other studies. These mainly media-based reports put the number of Iraqi civilian deaths at about 15,000 - although the basis for such an endorsement is unclear, since neither the US nor the UK admits to collecting data on Iraqi civilian casualties.
Civilian deaths have always been a tragic reality of modern war. But the conflict in Iraq was supposed to be different - US and British forces were dispatched to liberate the Iraqi people, not impose their own tyranny of violence.
Reading accounts of the US-led invasion, one is struck by the constant, almost casual, reference to civilian deaths. Soldiers and marines speak of destroying hundreds, if not thousands, of vehicles that turned out to be crammed with civilians. US marines acknowledged in the aftermath of the early, bloody battle for Nassiriya that their artillery and air power had pounded civilian areas in a blind effort to suppress insurgents thought to be holed up in the city. The infamous "shock and awe" bombing of Baghdad produced hundreds of deaths, as did the 3rd Infantry Division's "Thunder Run", an armoured thrust in Baghdad that slaughtered everyone in its path.
It is true that, with only a few exceptions, civilians who died as a result of ground combat were not deliberately targeted, but were caught up in the machinery of modern warfare. But when the same claim is made about civilians killed in aerial attacks (the Lancet study estimates that most of civilian deaths were the result of air attacks), the comparison quickly falls apart. Helicopter engagements apart, most aerial bombardment is deliberate and pre-planned. US and British military officials like to brag about the accuracy of the "precision" munitions used in these strikes, claiming this makes the kind of modern warfare practised by the coalition in Iraq the most humanitarian in history.
But there is nothing humanitarian about explosives once they detonate near civilians, or about a bomb guided to the wrong target. Dozens of civilians were killed during the vain effort to eliminate Saddam Hussein with "pinpoint" air strikes, and hundreds have perished in the campaign to eliminate alleged terrorist targets in Falluja. A "smart bomb" is only as good as the data used to direct it. And the abysmal quality of the intelligence used has made the smartest of bombs just as dumb and indiscriminate as those, for example, dropped during the second world war.
The fact that most bombing missions in Iraq today are pre-planned, with targets allegedly carefully vetted, further indicts those who wage this war in the name of freedom. If these targets are so precise, then those selecting them cannot escape the fact that they are deliberately targeting innocent civilians at the same time as they seek to destroy their intended foe. Some would dismiss these civilians as "collateral damage". But we must keep in mind that the British and US governments made a deliberate decision to enter into a conflict of their choosing, not one that was thrust upon them. We invaded Iraq to free Iraqis from a dictator who, by some accounts, oversaw the killing of about 300,000 of his subjects - although no one has been able to verify more than a small fraction of the figure. If it is correct, it took Saddam decades to reach such a horrific statistic. The US and UK have, it seems, reached a third of that total in just 18 months.
Meanwhile, the latest scandal over missing nuclear-related high explosives in Iraq (traced and controlled under the UN inspections regime) only underscores the utter deceitfulness of the Bush-Blair argument for the war. Having claimed the uncertainty surrounding Iraq's WMD capability constituted a threat that could not go unchallenged in a post-9/11 world, one would have expected the two leaders to insist on a military course of action that brought under immediate coalition control any aspect of potential WMD capability, especially relating to any possible nuclear threat. That the US military did not have a dedicated force to locate and neutralise these explosives underscores the fact that both Bush and Blair knew that there was no threat from Iraq, nuclear or otherwise.
Of course, the US and Britain have a history of turning a blind eye to Iraqi suffering when it suits their political purposes. During the 1990s, hundreds of thousands are estimated by the UN to have died as a result of sanctions. Throughout that time, the US and the UK maintained the fiction that this was the fault of Saddam Hussein, who refused to give up his WMD. We now know that Saddam had disarmed and those deaths were the responsibility of the US and Britain, which refused to lift sanctions.
There are many culpable individuals and organisations history will hold to account for the war - from deceitful politicians and journalists to acquiescent military professionals and silent citizens of the world's democracies. As the evidence has piled up confirming what I and others had reported - that Iraq was already disarmed by the late 1990s - my personal vote for one of the most culpable individuals would go to Hans Blix, who headed the UN weapons inspection team in the run-up to war. He had the power if not to prevent, at least to forestall a war with Iraq. Blix knew that Iraq was disarmed, but in his mealy-mouthed testimony to the UN security council helped provide fodder for war. His failure to stand up to the lies used by Bush and Blair to sell the Iraq war must brand him a moral and intellectual coward.
But we all are moral cowards when it comes to Iraq. Our collective inability to summon the requisite shame and rage when confronted by an estimate of 100,000 dead Iraqi civilians in the prosecution of an illegal and unjust war not only condemns us, but adds credibility to those who oppose us. The fact that a criminal such as Osama bin Laden can broadcast a videotape on the eve of the US presidential election in which his message is viewed by many around the world as a sober argument in support of his cause is the harshest indictment of the failure of the US and Britain to implement sound policy in the aftermath of 9/11. The death of 3,000 civilians on that horrible day represented a tragedy of huge proportions. Our continued indifference to a war that has slaughtered so many Iraqi civilians, and will continue to kill more, is in many ways an even greater tragedy: not only in terms of scale, but also because these deaths were inflicted by our own hand in the course of an action that has no defence.
· Scott Ritter was a senior UN weapons inspector in Iraq between 1991 and 1998 and is the author of Frontier Justice: Weapons of Mass Destruction and the Bushwhacking of America
WSRitter-at-aol.com
http://www.guardian.co.uk/comment/story/0,3604,1340562,00.html
---
Torture, the British way
Al Kennedy
Wednesday October 27, 2004
The Guardian
http://www.guardian.co.uk/comment/story/0,,1336683,00.html
Great to be British, isn't it? Time was, we were really uptight, but now we can talk about anything - sex, religion, politics. No matter how personal and complex the subject, we'll discuss it with Richard and Judy, or slap our private Polaroids of it on our websites. Which leaves me puzzled about our silence, even shyness, over this whole torture thing.
After all, torture has mass appeal - as wacky old Stanley Milgram put it: "A substantial proportion of people do what they are told to do, irrespective of the content of the act and without limitations of conscience, so long as they perceive that the command comes from a legitimate authority." Or, to put it another way, if a man with a white coat or shiny buttons tells you to electrocute someone for the good of your country, or his country, or an unnamed man in Sidcup, you have a 65% chance of flicking the switch and feeling just fine about it.
Torture is simple - amazing results can be achieved with the everyday household objects that any Blue Peter presenter might recommend. And it's really sexy - think of all that painstaking attention to genital areas. Better yet, it's about power - having the power to make somebody into something. The kind of exhilarating stuff you're not supposed to try at home. Never mind that even Malleus Maleficarum (the original torture manual for the Spanish Inquisition) cautioned that its victims might say anything to make it stop - torture is definitely about truth and about justice springing in a really surprising and frankly rather ill-defined way from unjust and criminal acts, and don't forget, if we don't do it to them, they'll do it to us.
And torture is just so much fun. You'll never, for example, see a perky torturer trying to kick the habit in televised diary clips. "Yesterday was my first night out ... other people were torturing, but I just sucked my lozenge, and this morning I didn't have that terrible smell in my clothes and hair. And I haven't gained weight the way I thought I would .."
Torture doesn't quit - it just moves. Nazis torture the French resisters; the French adapt Nazi techniques in Algeria and Indochina; the Americans adapt French and CIA techniques in Vietnam; coalition forces adapt CIA techniques in Iraq and on and on we go. Having fun.
When quality torturers lose one playground in, say, Chile, or South Africa, they can transfer their specialist skills to, say, Afghanistan, or Iraq. Today's torturers deserve our respect, whether they're innovative freelancers like "Crazy Mike" and Jonathan Idema, or following more conventional chains of command like "Chip" Frederick - they unite dedication and ingenuity with millennia of vicious tradition. They give living meaning to puzzling technical terms like falaqa, bastinado or squassation and they cherish the gritty sense of humour immortalised in witty nicknames any torture enthusiast can appreciate - "the parrot's perch", "the telephone", "the electric grill".
But we have to remember that torture is also as British as the monkeys on Gibraltar. We love it. We tested it throughout our empire, and now we gladly supply the mercenaries, and restraints and devices, that make it really swing. We built delightful torture/rape/concentration camps in Kenya after the second world war; we excelled ourselves in Northern Ireland; we keep Diego Garcia cleared so the US can use it as a tropical paradise/black hole; and now we're pitching in handily in Iraq.
Even more admirably, the Anti-terrorism, Crime and Security Act 2001 means that we can - and do - imprison whomever we like indefinitely. No clear charges, no release date, oppressive conditions: it's a splendidly elegant way of making detainees' own fears torment them with minimal further intervention.
Even more thrillingly, we'll now accept evidence obtained by torture in other regimes - just like our clever pals in the US administration who've also ensured their staff appointments, command structures and on-the-ground levels of alcohol abuse guarantee consistent levels of coalition cruelty.
Most lovely of all is the way we Brits conduct our tortures. Our dawn raids and detentions are so quiet, so nicely contained within the Muslim community. The civilians we are bombing and irradiating as you read this are so far away. Our complicity is so gentle. Unless maybe a grown man weeps on grainy video, and begs for his life in a hell he didn't make and reminds us: "I am nothing to you." From Downing Street to Whitehall, from prime minister to home secretary, from foreign to domestic policy, this is what our torture says we all believe - that any human being can be nothing. Great to be British, isn't it?
http://www.guardian.co.uk/comment/story/0,,1336683,00.html
---
US gave date of war to Britain in advance, court papers reveal
By Colin Brown, Deputy Political Editor
http://news.independent.co.uk/uk/politics/story.jsp?story=576429
27 October 2004
Secret plans for the war in Iraq were passed to British Army chiefs by US defence planners five months before the invasion was launched, a court martial heard yesterday.
The revelation strengthened suspicions that Tony Blair gave his agreement to President George Bush to go to war while the diplomatic efforts to force Saddam Hussein to comply with UN resolutions were continuing.
Alan Simpson, the leader of Labour Against the War, said the documents were "dynamite", if genuine, and showed that Clare Short was right to assert in her book, serialised in The Independent, that Mr Blair had "knowingly misled" Parliament.
The plans were revealed during the court martial of L/Cpl Ian Blaymire, 23, from Leeds, who is charged with the manslaughter of a comrade while serving in Iraq. Sgt John Nightingale, 32, a reservist from Guiseley, West Yorkshire, died after being shot in the chest on 23 September last year.
The court, at Catterick Garrison, North Yorkshire, heard that contingency plans were drawn up by Lt Col Christopher Warren, staff officer at Land Command, Salisbury, Wiltshire, who was responsible for operational training. Lt Col Warren said US planners had passed on dates for which the invasion was planned.
The hearing was told Army chiefs wanted the training for the Army to start at the beginning of December 2002. However, due to "sensitivities" the training was delayed.
The court heard the training for the TA began two months late and for the regular Army one month late. Lt Col Warren was asked what the sensitivities were. He replied: "Because in December there was a world interest.
If the UK had mobilised while all this was going on that would have shown an intent before the political process had been allowed to run its course." The hearing was adjourned.
http://news.independent.co.uk/uk/politics/story.jsp?story=576429
---
Short defends Iraq's insurgents
http://news.bbc.co.uk/1/hi/uk_politics/3720316.stm
Wednesday 6th October 2004
Clare Short has likened insurgents in Iraq to the French resistance who battled the German occupation.
The ex-international development secretary told Dubai-based Gulf News that "killing civilians is always wrong.. but I think the cause is just".
As the Americans fought British colonialism, so the Iraqis should be able to "resist occupation", she said.
Ms Short resigned her Cabinet post over the Iraq war in May 2003.
She told the newspaper she understood the anger of those who embraced Islamic militancy.
"My father came from Northern Ireland... and I understand why people think 'I can't get justice in any other way.'
"I think it's always wrong to target civilians... because when you understand the IRA, they never targeted civilians.
"That's the terrible moral deterioration that's taken place."
It was not good enough for the world to say "state violence is OK and non-state violence is not OK", she added.
'Half-truths'
Ms Short also argued the Palestinians were entitled under international law to "resist occupation" as Iraq's insurgents should be.
Ms Short also hit out at Tony Blair for the way he presented the case for the Iraq war.
He had "engaged in a whole series of half-truths and deceptions" to win backing for the military action, she said.
Mr Blair had already pledged to support George Bush before gaining Parliament's approval for the war, she alleged.
"At the same time he was telling his party, Cabinet, Parliament and the country that he wanted to avoid war, that we would proceed through the UN, that we were determined to get the implementation of the [Middle East] road map, he had already given his word to Bush," she said.
'Entitled'
Samantha Roberts, the husband of the first British soldier to die in action in Iraq, Sergeant Steven Roberts, said she understood where Ms Short "was coming from".
"A civilian is an innocent party but military personnel know what their job is," Mrs Roberts said.
Tony Hamilton-Jewell, whose brother was killed by a mob as he manned an Iraqi police station, also suggested the insurgents were entitled to stand up for their beliefs.
http://news.bbc.co.uk/1/hi/uk_politics/3720316.stm
---
The Gates of Hell
Counterpunch - October 4, 2004
Appetites Out of Control
http://www.counterpunch.org/christian10042004.html
By DIANE CHRISTIAN
"The gates of hell are open in Iraq." Arab League Chief Amr Mussa
"When Ramadan starts the Gates of Paradise are opened and the Gates of Hell are closed and the Satans are bound." Muslim belief, words of the Prophet
Arab League Chief Amr Mussa warned before the US invasion that a US war on Iraq "would open the gates of hell." On September 12, 2004, a year and a half after the war's inception, he affirmed that the gates of hell are open in Iraq. It doesn't seem a hyperbolic figure as burning, death, violence, destruction, and mayhem ravage Iraq. War is hell and the US war doesn't escape the label despite its 'Iraqi freedom' christening.
When Sheik Yassin was assassinated by Israeli helicopter gunship, Hamas's Dr. Rantissi reiterated a cry that Sharon had opened the gates of hell, and he continued "they know it's opened, there will be no revenge, it's an open war." Rantissi himself was assassinated a month later and Hamas vowed to behead Sharon in revenge. Dr. Rantissi's claim that open war exceeds revenge signals the idea that opening the gates of hell licenses violence without restraint.
Opening the gates of hell is like what President Bush means by 'war on terror,' a blander phrase. The notion of a war without qualification, without curb, without restraint, 'by any means necessary,' with total power accruing to the leader is what gave us Abu Graib. It is what our leaders-themselves in comfort - send others into. Lawlessness, terror, torture, rape, murder, mutilation, and ruin rule. Our leaders see the gates of hell as the very route to the gates of paradise-liberty, mercy, peace. But the gates are not the same.
At the beginning of Muslim observance of Ramadan it is said that the Gates of Paradise (or mercy) are opened and the Gates of Hell are closed and the Satans (or devils) are bound. The month-long religious observance of fasting-refraining from eating, drinking, smoking and sexual relations from dawn to sundown-is begun in the belief that self- discipline, prayer and compassion are necessary and powerful. As the faithful moderate their appetites, the Gates of Paradise or mercy open and the Gates of Hell close and devils are bound. All, even the warrior of Jihad, must answer the call to the month of discipline.
Syndaresis is a term in moral philosophy that signifies an innate perception of right action-distinguishing good from evil. Do good and avoid evil is the root principle of ethics. The gates of hell and the gates of paradise are religious figures of that distinction. No sophistry, belligerent belief, or god-invoking compunction melds them: hell is not paradise, war is not peace; torture is not liberation; ruin is not building. Only appetites out of control fail to see the difference. The gates of hell are open in Iraq and they are not the gates of paradise.
Diane Christian is SUNY Distinguished Teaching Professor at University at Buffalo and author of the new book Blood Sacrifice. She can be reached at: engdc@acsu.buffalo.edu
http://www.counterpunch.org/christian10042004.html
---
The worse the situation in Iraq, the bigger the lies that Tony Blair tells us
Iraq, remember, was going to be the role model. It would be the catalyst, 'crucible' even, of the new Middle East
By Robert Fisk - 25 September 2004
http://news.independent.co.uk/world/fisk/story.jsp?story=565493
Saturday, 25th September 2004, by
Robert Fisk
We are now in the greatest crisis since the last greatest crisis. That's how we run the Iraq war - or the Second Iraq War as Lord Blair of Kut al-Amara would now have us believe. Hostages are paraded in orange tracksuits to remind us of Guantanamo Bay. Kidnappers demand the release of women held prisoner by the Americans. Abu Ghraib is what they are talking about. Abu Ghraib? Anyone remember Abu Ghraib? Remember those dirty little snapshots? But don't worry. This wasn't the America George Bush recognised, and besides we're punishing the bad apples, aren't we? Women? Why, there are only a couple of dames left - and they are "Dr Germ" and "Dr Anthrax".
But Arabs do not forget so easily. It was a Lebanese woman, Samia Melki, who first understood the true semantics of those Abu Ghraib photographs for the Arab world. The naked Iraqi, his body smeared with excrement, back to the camera, arms stretched out before the butch and blond American with a stick, possessed, she wrote in Counterpunch, "all the drama and contrasting colours of a Caravaggio painting".
The best of Baroque art invites the viewer to be part of the artwork. "Forced to walk in a straight line with his legs crossed, his torso slightly twisted and arms spread out for balance, the Iraqi prisoner's toned body, accentuated by the excrement and the bad lighting, stretches out in crucifix form. Exuding a dignity long denied, the Arab is suffering for the world's sins."
And that, I fear, is the least of the suffering that has gone on at Abu Ghraib. For what happened to all those videos which members of Congress were allowed to watch in secret and which we - the public - were not permitted to see? Why have we suddenly forgotten about Abu Ghraib? Seymour Hersh, the journalist who broke the Abu Ghraib story - and one of the only journalists in America who is doing his job - has spoken publicly about what else happened in that terrible jail.
I'm indebted to a reader for the following extract from a recent Hersh lecture: "Some of the worst things that happened that you don't know about. OK? Videos. There are women there. Some of you may have read that they were passing letters out, communications out to their men. This is at Abu Ghraib... The women were passing messages out saying please come and kill me because of what's happened. And basically what happened is that those women who were arrested with young boys, children, in cases that have been recorded, the boys were sodomised, with the cameras rolling, and the worst above all of them is the soundtrack of the boys shrieking..."
Already, however, we have forgotten this. Just as we must no longer talk about weapons of mass destruction. For as the details slowly emerge of the desperate efforts of Bush and Blair to find these non-existent nasties, I don't know whether to laugh or cry. US mobile site survey teams managed, at one point, to smash into a former Iraqi secret police headquarters in Baghdad, only to find a padlocked inner door. Here, they believed, they would find the horrors that Bush and Blair were praying for. And what did they find behind the second door? A vast emporium of brand new vacuum cleaners. At Baath party headquarters, another team - led by a Major Kenneth Deal - believed they had discovered secret documents which would reveal Saddam's weapons' programme. The papers turned out to be an Arabic translation of A J P Taylor's The Struggle for Mastery in Europe. Perhaps Bush and Blair should read it.
So as we continue to stagger down the crumbling stairway of our own ghastly making, we must listen to bigger and bigger whoppers. Iyad Allawi, the puppet prime minister - still deferentially called "interim prime minister" by many of my reporter chums - insists that elections will be held in January even though he has less control of the Iraqi capital (let alone the rest of the country) than the mayor of Baghdad. The ex-CIA agent, who obediently refused to free the two women prisoners the moment Washington gave him instructions not to do so, dutifully trots over to London and on to Washington to shore up more of the Blair-Bush lies.
Second Iraq War indeed. How much more of this tomfoolery are we, the public, expected to stomach? We are fighting in "the crucible of global terrorism", according to Lord Blair of Kut. What are we to make of this nonsense? Of course, he didn't tell us we were going to have a Second Iraq War when he helped to start the First Iraq War, did he? And he didn't tell the Iraqis that, did he? No, we had come to "liberate" them. So let's just remember the crisis before the crisis before the crisis. Let's go back to last November when our Prime Minister was addressing the Lord Mayor's banquet. The Iraq war, he informed us then - and presumably he was still referring to the First Iraq War - was "the battle of seminal importance for the early 21st century".
Well, he can say that again. But just listen to what else Lord Blair of Kut informed us about the war. "It will define relations between the Muslim world and the West. It will influence profoundly the development of Arab states and the Middle East. It will have far-reaching implications for the future of American and Western diplomacy."
And he can say that again, can't he? For it is difficult to think of anything more profoundly dangerous for us, for the West, for the Middle East, for Christians and Muslims since the Second World War - the real second war, that is - than Blair's war in Iraq. And Iraq, remember, was going to be the model for the whole Middle East. Every Arab state would want to be like Iraq. Iraq would be the catalyst - perhaps even the "crucible" - of the new Middle East. Spare me the hollow laughter.
I have been struck these past few weeks how very many of the letters I've received from readers come from men and women who fought in the Second World War, who argue ferociously that Blair and Bush should never be allowed to compare this quagmire with the real struggle against evil which they waged more than half a century ago.
"I, now 90, remember the men maimed in body and mind who haunted the lanes in rural Wales where I grew up in the years after 1918," Robert Parry wrote to me. "For this reason, Owen's 'Dulce et decorum est' remains for me the ultimate expression of the reality of death in war, made now more horrific by American 'targeted' bombing and the suicide bombers. We need a new Wilfred Owen to open our eyes and consciences, but until one appears this great poem must be given space to speak again." It would be difficult to find a more eloquent rejoinder to the infantile nonsense now being peddled by our Prime Minister.
Not for many years has there been such a gap - in America as well as Britain - between the people and the government they elected. Blair's most recent remarks are speeches made - to quote that Owen poem - "to children ardent for some desperate glory". Ken Bigley's blindfolded face is our latest greatest crisis. But let's not forget what went before.
http://www.robert-fisk.com
http://news.independent.co.uk/world/fisk/story.jsp?story=565493
---
How Bush's grandfather helped Hitler's rise to power
Rumours of a link between the US first family and the Nazi war machine have circulated for decades. Now the Guardian can reveal how repercussions of events that culminated in action under the Trading with the Enemy Act are still being felt by today's president
Ben Aris in Berlin and Duncan Campbell in Washington
Saturday September 25, 2004
http://www.guardian.co.uk/international/story/0,,1312484,00.html
The Guardian
George Bush's grandfather, the late US senator Prescott Bush, was a director and shareholder of companies that profited from their involvement with the financial backers of Nazi Germany.
The Guardian has obtained confirmation from newly discovered files in the US National Archives that a firm of which Prescott Bush was a director was involved with the financial architects of Nazism.
His business dealings, which continued until his company's assets were seized in 1942 under the Trading with the Enemy Act, has led more than 60 years later to a civil action for damages being brought in Germany against the Bush family by two former slave labourers at Auschwitz and to a hum of pre-election controversy.
The evidence has also prompted one former US Nazi war crimes prosecutor to argue that the late senator's action should have been grounds for prosecution for giving aid and comfort to the enemy.
The debate over Prescott Bush's behaviour has been bubbling under the surface for some time. There has been a steady internet chatter about the "Bush/Nazi" connection, much of it inaccurate and unfair. But the new documents, many of which were only declassified last year, show that even after America had entered the war and when there was already significant information about the Nazis' plans and policies, he worked for and profited from companies closely involved with the very German businesses that financed Hitler's rise to power. It has also been suggested that the money he made from these dealings helped to establish the Bush family fortune and set up its political dynasty.
Remarkably, little of Bush's dealings with Germany has received public scrutiny, partly because of the secret status of the documentation involving him. But now the multibillion dollar legal action for damages by two Holocaust survivors against the Bush family, and the imminent publication of three books on the subject are threatening to make Prescott Bush's business history an uncomfortable issue for his grandson, George W, as he seeks re-election.
While there is no suggestion that Prescott Bush was sympathetic to the Nazi cause, the documents reveal that the firm he worked for, Brown Brothers Harriman (BBH), acted as a US base for the German industrialist, Fritz Thyssen, who helped finance Hitler in the 1930s before falling out with him at the end of the decade. The Guardian has seen evidence that shows Bush was the director of the New York-based Union Banking Corporation (UBC) that represented Thyssen's US interests and he continued to work for the bank after America entered the war.
Tantalising
Bush was also on the board of at least one of the companies that formed part of a multinational network of front companies to allow Thyssen to move assets around the world.
Thyssen owned the largest steel and coal company in Germany and grew rich from Hitler's efforts to re-arm between the two world wars. One of the pillars in Thyssen's international corporate web, UBC, worked exclusively for, and was owned by, a Thyssen-controlled bank in the Netherlands. More tantalising are Bush's links to the Consolidated Silesian Steel Company (CSSC), based in mineral rich Silesia on the German-Polish border. During the war, the company made use of Nazi slave labour from the concentration camps, including Auschwitz. The ownership of CSSC changed hands several times in the 1930s, but documents from the US National Archive declassified last year link Bush to CSSC, although it is not clear if he and UBC were still involved in the company when Thyssen's American assets were seized in 1942.
Three sets of archives spell out Prescott Bush's involvement. All three are readily available, thanks to the efficient US archive system and a helpful and dedicated staff at both the Library of Congress in Washington and the National Archives at the University of Maryland.
The first set of files, the Harriman papers in the Library of Congress, show that Prescott Bush was a director and shareholder of a number of companies involved with Thyssen.
The second set of papers, which are in the National Archives, are contained in vesting order number 248 which records the seizure of the company assets. What these files show is that on October 20 1942 the alien property custodian seized the assets of the UBC, of which Prescott Bush was a director. Having gone through the books of the bank, further seizures were made against two affiliates, the Holland-American Trading Corporation and the Seamless Steel Equipment Corporation. By November, the Silesian-American Company, another of Prescott Bush's ventures, had also been seized.
The third set of documents, also at the National Archives, are contained in the files on IG Farben, who was prosecuted for war crimes.
A report issued by the Office of Alien Property Custodian in 1942 stated of the companies that "since 1939, these (steel and mining) properties have been in possession of and have been operated by the German government and have undoubtedly been of considerable assistance to that country's war effort".
Prescott Bush, a 6ft 4in charmer with a rich singing voice, was the founder of the Bush political dynasty and was once considered a potential presidential candidate himself. Like his son, George, and grandson, George W, he went to Yale where he was, again like his descendants, a member of the secretive and influential Skull and Bones student society. He was an artillery captain in the first world war and married Dorothy Walker, the daughter of George Herbert Walker, in 1921.
In 1924, his father-in-law, a well-known St Louis investment banker, helped set him up in business in New York with Averill Harriman, the wealthy son of railroad magnate E H Harriman in New York, who had gone into banking.
One of the first jobs Walker gave Bush was to manage UBC. Bush was a founding member of the bank and the incorporation documents, which list him as one of seven directors, show he owned one share in UBC worth $125.
The bank was set up by Harriman and Bush's father-in-law to provide a US bank for the Thyssens, Germany's most powerful industrial family.
August Thyssen, the founder of the dynasty had been a major contributor to Germany's first world war effort and in the 1920s, he and his sons Fritz and Heinrich established a network of overseas banks and companies so their assets and money could be whisked offshore if threatened again.
By the time Fritz Thyssen inherited the business empire in 1926, Germany's economic recovery was faltering. After hearing Adolf Hitler speak, Thyssen became mesmerised by the young firebrand. He joined the Nazi party in December 1931 and admits backing Hitler in his autobiography, I Paid Hitler, when the National Socialists were still a radical fringe party. He stepped in several times to bail out the struggling party: in 1928 Thyssen had bought the Barlow Palace on Briennerstrasse, in Munich, which Hitler converted into the Brown House, the headquarters of the Nazi party. The money came from another Thyssen overseas institution, the Bank voor Handel en Scheepvarrt in Rotterdam.
By the late 1930s, Brown Brothers Harriman, which claimed to be the world's largest private investment bank, and UBC had bought and shipped millions of dollars of gold, fuel, steel, coal and US treasury bonds to Germany, both feeding and financing Hitler's build-up to war.
Between 1931 and 1933 UBC bought more than $8m worth of gold, of which $3m was shipped abroad. According to documents seen by the Guardian, after UBC was set up it transferred $2m to BBH accounts and between 1924 and 1940 the assets of UBC hovered around $3m, dropping to $1m only on a few occasions.
In 1941, Thyssen fled Germany after falling out with Hitler but he was captured in France and detained for the remainder of the war.
There was nothing illegal in doing business with the Thyssens throughout the 1930s and many of America's best-known business names invested heavily in the German economic recovery. However, everything changed after Germany invaded Poland in 1939. Even then it could be argued that BBH was within its rights continuing business relations with the Thyssens until the end of 1941 as the US was still technically neutral until the attack on Pearl Harbor. The trouble started on July 30 1942 when the New York Herald-Tribune ran an article entitled "Hitler's Angel Has $3m in US Bank". UBC's huge gold purchases had raised suspicions that the bank was in fact a "secret nest egg" hidden in New York for Thyssen and other Nazi bigwigs. The Alien Property Commission (APC) launched an investigation.
There is no dispute over the fact that the US government seized a string of assets controlled by BBH - including UBC and SAC - in the autumn of 1942 under the Trading with the Enemy act. What is in dispute is if Harriman, Walker and Bush did more than own these companies on paper.
Erwin May, a treasury attache and officer for the department of investigation in the APC, was assigned to look into UBC's business. The first fact to emerge was that Roland Harriman, Prescott Bush and the other directors didn't actually own their shares in UBC but merely held them on behalf of Bank voor Handel. Strangely, no one seemed to know who owned the Rotterdam-based bank, including UBC's president.
May wrote in his report of August 16 1941: "Union Banking Corporation, incorporated August 4 1924, is wholly owned by the Bank voor Handel en Scheepvaart N.V of Rotterdam, the Netherlands. My investigation has produced no evidence as to the ownership of the Dutch bank. Mr Cornelis [sic] Lievense, president of UBC, claims no knowledge as to the ownership of the Bank voor Handel but believes it possible that Baron Heinrich Thyssen, brother of Fritz Thyssen, may own a substantial interest."
May cleared the bank of holding a golden nest egg for the Nazi leaders but went on to describe a network of companies spreading out from UBC across Europe, America and Canada, and how money from voor Handel travelled to these companies through UBC.
By September May had traced the origins of the non-American board members and found that Dutchman HJ Kouwenhoven - who met with Harriman in 1924 to set up UBC - had several other jobs: in addition to being the managing director of voor Handel he was also the director of the August Thyssen bank in Berlin and a director of Fritz Thyssen's Union Steel Works, the holding company that controlled Thyssen's steel and coal mine empire in Germany.
Within a few weeks, Homer Jones, the chief of the APC investigation and research division sent a memo to the executive committee of APC recommending the US government vest UBC and its assets. Jones named the directors of the bank in the memo, including Prescott Bush's name, and wrote: "Said stock is held by the above named individuals, however, solely as nominees for the Bank voor Handel, Rotterdam, Holland, which is owned by one or more of the Thyssen family, nationals of Germany and Hungary. The 4,000 shares hereinbefore set out are therefore beneficially owned and help for the interests of enemy nationals, and are vestible by the APC," according to the memo from the National Archives seen by the Guardian.
Red-handed
Jones recommended that the assets be liquidated for the benefit of the government, but instead UBC was maintained intact and eventually returned to the American shareholders after the war. Some claim that Bush sold his share in UBC after the war for $1.5m - a huge amount of money at the time - but there is no documentary evidence to support this claim. No further action was ever taken nor was the investigation continued, despite the fact UBC was caught red-handed operating a American shell company for the Thyssen family eight months after America had entered the war and that this was the bank that had partly financed Hitler's rise to power.
The most tantalising part of the story remains shrouded in mystery: the connection, if any, between Prescott Bush, Thyssen, Consolidated Silesian Steel Company (CSSC) and Auschwitz.
Thyssen's partner in United Steel Works, which had coal mines and steel plants across the region, was Friedrich Flick, another steel magnate who also owned part of IG Farben, the powerful German chemical company.
Flick's plants in Poland made heavy use of slave labour from the concentration camps in Poland. According to a New York Times article published in March 18 1934 Flick owned two-thirds of CSSC while "American interests" held the rest.
The US National Archive documents show that BBH's involvement with CSSC was more than simply holding the shares in the mid-1930s. Bush's friend and fellow "bonesman" Knight Woolley, another partner at BBH, wrote to Averill Harriman in January 1933 warning of problems with CSSC after the Poles started their drive to nationalise the plant. "The Consolidated Silesian Steel Company situation has become increasingly complicated, and I have accordingly brought in Sullivan and Cromwell, in order to be sure that our interests are protected," wrote Knight. "After studying the situation Foster Dulles is insisting that their man in Berlin get into the picture and obtain the information which the directors here should have. You will recall that Foster is a director and he is particularly anxious to be certain that there is no liability attaching to the American directors."
But the ownership of the CSSC between 1939 when the Germans invaded Poland and 1942 when the US government vested UBC and SAC is not clear.
"SAC held coal mines and definitely owned CSSC between 1934 and 1935, but when SAC was vested there was no trace of CSSC. All concrete evidence of its ownership disappears after 1935 and there are only a few traces in 1938 and 1939," says Eva Schweitzer, the journalist and author whose book, America and the Holocaust, is published next month.
Silesia was quickly made part of the German Reich after the invasion, but while Polish factories were seized by the Nazis, those belonging to the still neutral Americans (and some other nationals) were treated more carefully as Hitler was still hoping to persuade the US to at least sit out the war as a neutral country. Schweitzer says American interests were dealt with on a case-by-case basis. The Nazis bought some out, but not others.
The two Holocaust survivors suing the US government and the Bush family for a total of $40bn in compensation claim both materially benefited from Auschwitz slave labour during the second world war.
Kurt Julius Goldstein, 87, and Peter Gingold, 85, began a class action in America in 2001, but the case was thrown out by Judge Rosemary Collier on the grounds that the government cannot be held liable under the principle of "state sovereignty".
Jan Lissmann, one of the lawyers for the survivors, said: "President Bush withdrew President Bill Clinton's signature from the treaty [that founded the court] not only to protect Americans, but also to protect himself and his family."
Lissmann argues that genocide-related cases are covered by international law, which does hold governments accountable for their actions. He claims the ruling was invalid as no hearing took place.
In their claims, Mr Goldstein and Mr Gingold, honorary chairman of the League of Anti-fascists, suggest the Americans were aware of what was happening at Auschwitz and should have bombed the camp.
The lawyers also filed a motion in The Hague asking for an opinion on whether state sovereignty is a valid reason for refusing to hear their case. A ruling is expected within a month.
The petition to The Hague states: "From April 1944 on, the American Air Force could have destroyed the camp with air raids, as well as the railway bridges and railway lines from Hungary to Auschwitz. The murder of about 400,000 Hungarian Holocaust victims could have been prevented."
The case is built around a January 22 1944 executive order signed by President Franklin Roosevelt calling on the government to take all measures to rescue the European Jews. The lawyers claim the order was ignored because of pressure brought by a group of big American companies, including BBH, where Prescott Bush was a director.
Lissmann said: "If we have a positive ruling from the court it will cause [president] Bush huge problems and make him personally liable to pay compensation."
The US government and the Bush family deny all the claims against them.
In addition to Eva Schweitzer's book, two other books are about to be published that raise the subject of Prescott Bush's business history. The author of the second book, to be published next year, John Loftus, is a former US attorney who prosecuted Nazi war criminals in the 70s. Now living in St Petersburg, Florida and earning his living as a security commentator for Fox News and ABC radio, Loftus is working on a novel which uses some of the material he has uncovered on Bush. Loftus stressed that what Prescott Bush was involved in was just what many other American and British businessmen were doing at the time.
"You can't blame Bush for what his grandfather did any more than you can blame Jack Kennedy for what his father did - bought Nazi stocks - but what is important is the cover-up, how it could have gone on so successfully for half a century, and does that have implications for us today?" he said.
"This was the mechanism by which Hitler was funded to come to power, this was the mechanism by which the Third Reich's defence industry was re-armed, this was the mechanism by which Nazi profits were repatriated back to the American owners, this was the mechanism by which investigations into the financial laundering of the Third Reich were blunted," said Loftus, who is vice-chairman of the Holocaust Museum in St Petersburg.
"The Union Banking Corporation was a holding company for the Nazis, for Fritz Thyssen," said Loftus. "At various times, the Bush family has tried to spin it, saying they were owned by a Dutch bank and it wasn't until the Nazis took over Holland that they realised that now the Nazis controlled the apparent company and that is why the Bush supporters claim when the war was over they got their money back. Both the American treasury investigations and the intelligence investigations in Europe completely bely that, it's absolute horseshit. They always knew who the ultimate beneficiaries were."
"There is no one left alive who could be prosecuted but they did get away with it," said Loftus. "As a former federal prosecutor, I would make a case for Prescott Bush, his father-in-law (George Walker) and Averill Harriman [to be prosecuted] for giving aid and comfort to the enemy. They remained on the boards of these companies knowing that they were of financial benefit to the nation of Germany."
Loftus said Prescott Bush must have been aware of what was happening in Germany at the time. "My take on him was that he was a not terribly successful in-law who did what Herbert Walker told him to. Walker and Harriman were the two evil geniuses, they didn't care about the Nazis any more than they cared about their investments with the Bolsheviks."
What is also at issue is how much money Bush made from his involvement. His supporters suggest that he had one token share. Loftus disputes this, citing sources in "the banking and intelligence communities" and suggesting that the Bush family, through George Herbert Walker and Prescott, got $1.5m out of the involvement. There is, however, no paper trail to this sum.
The third person going into print on the subject is John Buchanan, 54, a Miami-based magazine journalist who started examining the files while working on a screenplay. Last year, Buchanan published his findings in the venerable but small-circulation New Hampshire Gazette under the headline "Documents in National Archives Prove George Bush's Grandfather Traded With the Nazis - Even After Pearl Harbor". He expands on this in his book to be published next month - Fixing America: Breaking the Stranglehold of Corporate Rule, Big Media and the Religious Right.
In the article, Buchanan, who has worked mainly in the trade and music press with a spell as a muckraking reporter in Miami, claimed that "the essential facts have appeared on the internet and in relatively obscure books but were dismissed by the media and Bush family as undocumented diatribes".
Buchanan suffers from hypermania, a form of manic depression, and when he found himself rebuffed in his initial efforts to interest the media, he responded with a series of threats against the journalists and media outlets that had spurned him. The threats, contained in e-mails, suggested that he would expose the journalists as "traitors to the truth".
Unsurprisingly, he soon had difficulty getting his calls returned. Most seriously, he faced aggravated stalking charges in Miami, in connection with a man with whom he had fallen out over the best way to publicise his findings. The charges were dropped last month.
Biography
Buchanan said he regretted his behaviour had damaged his credibility but his main aim was to secure publicity for the story. Both Loftus and Schweitzer say Buchanan has come up with previously undisclosed documentation.
The Bush family have largely responded with no comment to any reference to Prescott Bush. Brown Brothers Harriman also declined to comment.
The Bush family recently approved a flattering biography of Prescott Bush entitled Duty, Honour, Country by Mickey Herskowitz. The publishers, Rutledge Hill Press, promised the book would "deal honestly with Prescott Bush's alleged business relationships with Nazi industrialists and other accusations".
In fact, the allegations are dealt with in less than two pages. The book refers to the Herald-Tribune story by saying that "a person of less established ethics would have panicked ... Bush and his partners at Brown Brothers Harriman informed the government regulators that the account, opened in the late 1930s, was 'an unpaid courtesy for a client' ... Prescott Bush acted quickly and openly on behalf of the firm, served well by a reputation that had never been compromised. He made available all records and all documents. Viewed six decades later in the era of serial corporate scandals and shattered careers, he received what can be viewed as the ultimate clean bill."
The Prescott Bush story has been condemned by both conservatives and some liberals as having nothing to do with the current president. It has also been suggested that Prescott Bush had little to do with Averill Harriman and that the two men opposed each other politically.
However, documents from the Harriman papers include a flattering wartime profile of Harriman in the New York Journal American and next to it in the files is a letter to the financial editor of that paper from Prescott Bush congratulating the paper for running the profile. He added that Harriman's "performance and his whole attitude has been a source of inspiration and pride to his partners and his friends".
The Anti-Defamation League in the US is supportive of Prescott Bush and the Bush family. In a statement last year they said that "rumours about the alleged Nazi 'ties' of the late Prescott Bush ... have circulated widely through the internet in recent years. These charges are untenable and politically motivated ... Prescott Bush was neither a Nazi nor a Nazi sympathiser."
However, one of the country's oldest Jewish publications, the Jewish Advocate, has aired the controversy in detail.
More than 60 years after Prescott Bush came briefly under scrutiny at the time of a faraway war, his grandson is facing a different kind of scrutiny but one underpinned by the same perception that, for some people, war can be a profitable business.
http://www.guardian.co.uk/international/story/0,,1312484,00.html
---
Can't Bush and Blair See Iraq Is About to Explode?
by Robert Fisk
http://news.independent.co.uk/world/fisk/story.jsp?story=546763
http://www.commondreams.org/views04/0802-01.htm
The Prime Minister has accused some journalists of almost wanting a disaster to happen in Iraq. Robert Fisk, who has spent the past five weeks reporting from the deteriorating and devastated country, says the disaster has already happened, over and over again
BAGHDAD - The war is a fraud. I'm not talking about the weapons of mass destruction that didn't exist. Nor the links between Saddam Hussein and Al-Qaeda which didn't exist. Nor all the other lies upon which we went to war. I'm talking about the new lies.
For just as, before the war, our governments warned us of threats that did not exist, now they hide from us the threats that do exist. Much of Iraq has fallen outside the control of America's puppet government in Baghdad but we are not told. Hundreds of attacks are made against US troops every month. But unless an American dies, we are not told. This month's death toll of Iraqis in Baghdad alone has now reached 700 — the worst month since the invasion ended. But we are not told.
The stage management of this catastrophe in Iraq was all too evident at Saddam Hussein's "trial". Not only did the US military censor the tapes of the event. Not only did they effectively delete all sound of the 11 other defendants. But the Americans led Saddam Hussein to believe — until he reached the courtroom — that he was on his way to his execution. Indeed, when he entered the room he believed that the judge was there to condemn him to death. This, after all, was the way Saddam ran his own state security courts. No wonder he initially looked "disorientated" — CNN's helpful description — because, of course, he was meant to look that way. We had made sure of that. Which is why Saddam asked Judge Juhi: "Are you a lawyer? ... Is this a trial?" And swiftly, as he realized that this really was an initial court hearing — not a preliminary to his own hanging — he quickly adopted an attitude of belligerence. But don't think we're going to learn much more about Saddam's future court appearances. Salem Chalabi, the brother of convicted fraudster Ahmad and the man entrusted by the Americans with the tribunal, told the Iraqi press two weeks ago that all media would be excluded from future court hearings. And I can see why. Because if Saddam does a Milosevic, he'll want to talk about the real intelligence and military connections of his regime — which were primarily with the United States.
Living in Iraq these past few weeks is a weird as well as dangerous experience. I drive down to Najaf. Highway 8 is one of the worst in Iraq. Westerners are murdered there. It is littered with burnt-out police vehicles and American trucks. Every police post for 70 miles has been abandoned. Yet a few hours later, I am sitting in my room in Baghdad watching British Prime Minister Tony Blair, grinning in the House of Commons as if he is the hero of a school debating competition; so much for the Butler report.
Indeed, watching any Western television station in Baghdad these days is like tuning in to Planet Mars. Doesn't Blair realize that Iraq is about to implode? Doesn't Bush realize this? The American-appointed "government" controls only parts of Baghdad — and even there its ministers and civil servants are car-bombed and assassinated. Baquba, Samara, Kut, Mahmoudiya, Hilla, Fallujah, Ramadi, all are outside government authority. Iyad Allawi, the "prime minister", is little more than mayor of Baghdad. "Some journalists," Blair announces, "almost want there to be a disaster in Iraq." He doesn't get it. The disaster exists now.
When suicide bombers ram their cars into hundreds of recruits outside police stations, how on earth can anyone hold an election next January? Even the National Conference to appoint those who will arrange elections has been twice postponed. And looking back through my notebooks over the past five weeks, I find that not a single Iraqi, not a single American soldier I have spoken to, not a single mercenary — be he American, British or South African — believes that there will be elections in January. All said that Iraq is deteriorating by the day. And most asked why we journalists weren't saying so.
But in Baghdad, I turn on my television and watch Bush telling his Republican supporters that Iraq is improving, that Iraqis support the "coalition", that they support their new US-manufactured government, that the "war on terror" is being won, that Americans are safer. Then I go to an Internet site and watch two hooded men hacking off the head of an American in Riyadh, tearing at the vertebrae of an American in Iraq with a knife. Each day, the papers here list another construction company pulling out of the country. And I go down to visit the friendly, tragically sad staff of the Baghdad mortuary and there, each day, are dozens of those Iraqis we supposedly came to liberate, screaming and weeping and cursing as they carry their loved ones on their shoulders in cheap coffins.
I keep re-reading Tony Blair's statement. "I remain convinced it was right to go to war. It was the most difficult decision of my life." And I cannot understand it. It may be a terrible decision to go to war. Even Chamberlain thought that; but he didn't find it a difficult decision — because, after the Nazi invasion of Poland, it was the right thing to do. And driving the streets of Baghdad now, watching the terrified American patrols, hearing yet another thunderous explosion shaking my windows and doors after dawn, I realize what all this means. Going to war in Iraq, invading Iraq last year, was the most difficult decision Blair had to take because he thought — correctly — that it might be the wrong decision. I will always remember his remark to British troops in Basra, that the sacrifice of British soldiers was not Hollywood but "real flesh and blood". Yes, it was real flesh and blood that was shed.
"Deadly force is authorized," it says on checkpoints all over Baghdad. Authorized by whom? There is no accountability. Repeatedly, on the great highways out of the city US soldiers shriek at motorists and open fire at the least suspicion. "We had some Navy Seals down at our checkpoint the other day," a 1st Cavalry sergeant says to me. "They asked if we were having any trouble. I said, yes, they've been shooting at us from a house over there. One of them asked: 'That house?' We said yes. So they have these three SUVs and a lot of weapons made of titanium and they drive off towards the house. And later they come back and say 'We've taken care of that'. And we didn't get shot at any more." What does this mean? The Americans are now bragging about their siege of Najaf. Lt. Col. Garry Bishop of the 37th Armored Division's 1st Battalion believes it was an "ideal" battle (even though he failed to kill or capture Moqtada Sadr whose "Mehdi army" were fighting the US forces). It was "ideal", Bishop explained, because the Americans avoided damaging the holy shrines of the Imams Ali and Hussein. What are Iraqis to make of this? What if a Muslim army occupied Kent and bombarded Canterbury and then bragged that they hadn't damaged Canterbury Cathedral? Would we be grateful? What, indeed, are we to make of a war which is turned into a fantasy by those who started it? As foreign workers pour out of Iraq for fear of their lives, US Secretary of State Colin Powell tells a press conference that hostage-taking is having an "effect" on reconstruction. Effect! Oil pipeline explosions are now as regular as power cuts. In parts of Baghdad now, they have only four hours of electricity a day; the streets swarm with foreign mercenaries, guns poking from windows, shouting abusively at Iraqis who don't clear the way for them. This is the "safer" Iraq which Blair was boasting of the other day. What world does the British government exist in?
http://www.commondreams.org/views04/0802-01.htm
---
Why Mossad might be interested in New Zealand
24.04.2004 - By PHIL TAYLOR and EUGENE BINGHAM
Long before George W. Bush declared his war on terrorism, Israel had begun its own. The advance guard in this never-ending battle against foes of the Jewish state lurk near the frontline, but many more are at work far behind enemy lines.
http://www.nzherald.co.nz/storydisplay.cfm?storyID=3562376&msg=emaillink
They are the agents of Mossad, Israel's foremost intelligence agency.
Since its inception in 1951, the agency has earned a formidable reputation as a key self-defence pillar of a state which has been almost permanently under siege.
When you think of Mossad, you think of daring missions and rescues. But you also think of assassinations of Israel's enemies.
One of its legend-building operations came during one of Israel's darkest hours - the massacre of Israeli athletes by the Palestinian terror group Black September at the 1972 Munich Olympics.
Mossad assassination teams were set up on the orders of Israel's premier of the time, Golda Meir, and tasked to find and kill the people Israel believed were involved in organising the massacre. Within two years of the Munich attack eight of 11 people on the original hit list were assassinated.
But why would Mossad have any interest in New Zealand? This week, the Weekend Herald traced a former Mossad agent living in New Zealand who played a part in the counter-terrorist campaign.
He has lived half his life here, is a New Zealand citizen and holds a respected position in society.
He said he has not had any official role with the Israeli Government since moving to New Zealand.
But his contacts include Israeli Government officials.
The Weekend Herald met him twice last week. He spoke on condition he would not be identified.
He said his reason for coming to New Zealand was to change his life.
"I was fed up with all this bloodshed. I'd spent my life in that environment and I wanted something different."
He emigrated with the assistance of the New Zealand Government, which paid resettlement expenses because there was a skills shortage in the career in which he has since worked.
The Government, he believes, would be unaware of his background.
Mossad operations are well planned, he said, but luck is always a factor. "Sometimes luck kills you and sometimes it saves you."
And he noted that despite Mossad's history of daring "they **** up sometimes".
The former agent is convinced that Mossad's interest in New Zealand is likely to be limited to passports.
He has no doubts that if Mossad were interested in New Zealand passports they would prefer the real thing to a fake.
"They can fake them but here it is the real thing. You get a genuine New Zealand passport."
In the past, passports would be sought in the name of people who had died but with computerised records officials can easily check for death certificates. The next logical step was to find someone who was alive but never likely to travel.
Dr Jim Rolfe, a former New Zealand Army officer and defence analyst who lectures at the Asia-Pacific Centre for Security Studies in Honolulu, says he thought the era of intelligence agencies obtaining false documents in this way ended with the Cold War, during which Russia had a reputation for snaffling foreign passports.
Clearly, he says, it has not.
The value of a passport to an intelligence agent is the new identity it allows him to assume.
"With a New Zealand passport they can work in international organisations or NGOs in the Middle East as an unsuspected person.
"It's not necessarily that being a New Zealander makes you more trusted, it's just that you're not an Israeli."
Passports could also enable an agent to obtain other useful documents or identities.
"With a New Zealand passport, depending on the true owner's background, that might get you British permanent residency and you might then get an EU passport."
Dr Michael McKinley, an international relations and diplomacy expert at the Australian National University in Canberra, said the value of the New Zealand passport was its "inoffensiveness" - something of which the Wellington-born academic has had personal experience.
About three years ago, he was travelling to Portugal but was told he could not get on the plane with his Australian passport. But when he pulled out his New Zealand passport the problem vanished and he was allowed to board.
McKinley believed it would be prudent to assume that Mossad would have an interest in the Asia-Pacific region.
"Where there is a significant Muslim population which possesses within it a minority of people who are sympathetic to the aims of al Qaeda or Jemaah Islamiyah, or whoever, you will, I think, find Mossad takes an interest."
In Australia, with a large population of Muslims, a few of whom have been known to have fundamentalist sympathies, it would be natural for Mossad to watch closely.
He was not so sure about New Zealand, but said "New Zealand can be thought of as a place where you can hide away - a bit more, I suppose, than Sydney and Melbourne".
This was also known to terrorists, so Mossad could come to New Zealand to check individuals lying low.
Rolfe, too, believed Australia would be more interesting to Mossad than New Zealand. But obtaining a New Zealand passport would make the job of accessing Australia easier.
Rolfe says if a Mossad group was working in Australia, "some of them, no doubt, will be being serviced out of the Israeli Embassy. Some of them will be there as citizens of other countries. Some of them will be there as Australian citizens and some of them [may have been] intending to be there as New Zealand citizens".
The mix of citizenship would make it less easy for outsiders to figure out connections.
"A lot of what this kind of activity is, is throwing dust up in the air. You are trying to conceal all sorts of things, sometimes just for the sake of concealing them to confuse people who try and backtrack."
"Why do it simply when you can add a bit of external complexity so that if someone was trying to put things together they would see two separate operations rather than one?"
McKinley believed there would "almost certainly" be a declared Mossad staff member inside the Canberra embassy. As to who else was helping, it may never be known.
"Mossad, to the extent that public statements have ever been made by people who work for them, seems to rely a great deal on the indigenous Jewish population. That has been an open boast for some years."
The news website Scoop this week quoted sources as confirming that the strength of the organisation was how it relied on help from outsiders.
"Mossad is able to function on a low number of core [agents] due to a loyal Jewish community outside Israel. The loyalists are networked via a system of sayanim, or volunteer Jewish helpers," says Scoop.
"There are reportedly thousands of sayanim around the world. Their role will be specific to their professions: A loyalist in the travel industry could help Mossad obtain documents."
In this way, Mossad's work can be carried out in a low-key way, with the added bonus that its own agents are not put at risk.
As the former agent can attest, there is enough in their line of work that is risky enough.
He admits knowing personally members of the assassination squads set up to hunt the planners of the Munich massacre, and describes them as "the most remarkable people I have met in my life".
The operation was described by George Jonas in his book, Vengeance, an account which the former agent said is accurate. Jonas described the activities of one of the Mossad hit teams whose work led to the killing of eight on the Munich list.
In the process, two of its five members were killed, one after being lured with the prospect of sex by a freelance female assassin.
A second team shot dead an innocent waiter in Lillehammer, Norway, in July 1973, having mistaken him for Ali Hassan Salameh, regarded by Israel as the primary architect of the Munich massacre and Mossad's number one target.
Six of the Israeli hit team members were arrested, five were convicted for killing the waiter and sentenced to serve from two to five and a half years in prison.
All were released by the Norwegians within 22 months.
The killing of the waiter in Lillehammer is cited by the former agent as an example that agencies as sophisticated as Mossad do make mistakes.
He told the Weekend Herald he was pessimistic "for the first time in my life about the future for the Middle East.
The Road Map - much vaunted by the Bush Administration - did not discuss key issues such as the future of Jerusalem and defining boundaries and had been overwhelmed by tit-for-tat bombings and assassinations.
He said terrorist attacks had to be responded to with force but he acknowledged a cycle of violence usually resulted.
"They can't sit around a table anymore. They haven't even been able to finalise a framework to get to a starting point."
He cautioned against New Zealanders thinking the country's remoteness meant it wasn't touched by world events. September 11 had made New Zealand passports more valuable. New Zealand was a small, neutral country seen by the Arab world as sympathetic.
By contrast, the Israeli Government regarded the New Zealand Government as "anti-Israel", he said. That view would have been enhanced by Foreign Minister Phil Goff's meeting with Palestine Liberation Organisation leader Yasser Arafat last year.
McKinley believes the Australian and New Zealand Governments would be "pissed off" if Mossad had strayed into their patch, although Rolfe did not think the New Zealand intelligence agencies would be morally outraged.
More likely, says Rolfe, they would be thinking of what they could learn from the situation.
"What can we learn in terms of our passport procedures? What can we learn about tradecraft generally? Did the Israelis do anything different from the Russians in the 1950s when New Zealand passports were acquired?"
http://www.nzherald.co.nz/storydisplay.cfm?storyID=3562376&msg=emaillink
---
Dr. David Kelly - Operation Mason
OPERATION MASON - by RT - http://deadscientists.blogspot.com
The article below, from Issue 25 of Eye Spy magazine is impressively presented with full-page colour spreads. However the authors appear to be confused about the co-proxamol as they seem to be infering that Dr Kelly had 90 tablets available to him. According to transcripts from the Hutton Inquiry there were 3 blister packs found in Kelly's pockets, each originally containing 10 tablets; one tablet remained, indicating that 29 may have been taken. But the absence of substantial residue in the stomach (the equivalent of a fifth of a tablet) makes that doubtful.
From "Eye Spy Magazine" Issue 25
http://www.eyespymag.com/newindex3.htm
OPERATION MASON & THE KELLY GROUP
British journalists ask: Was acclaimed Iraqi WMD scientist murdered?
It has been several months since Lord Hutton concluded Britain's most respected microbiologist, Dr David Kelly, committed suicide. The inquest, held in Room 76 at the Royal Courts of Justice, was meant to uncover the circumstances of his death. In doing so, many observers believed that the verdict would dispel any lingering doubts that there was a more sinister reason behind his death.
The scientist had become inexorably entwined with Iraq's WMD, after he spoke about his concerns to a BBC journalist. The British public watched in amazement as Downing Street and the BBC fought a bitter war of words. In the end, senior BBC staff were forced to resign. Tony Blair suffered a bloody nose, but worst of all, Dr Kelly found the pressure too much and killed himself... or did he?
Few journalists investigating the Kelly case have not shared a beer with persons willing to provide the odd clue or suspicion that would point to murder. Crackpots and conspiracy theorists usually force investigators to make a quick retreat, but when those raising concerns are doctors, lawyers, businessmen and even intelligence officers, journalists listen.
It would require a brave person to dispute the findings of Lord Hutton, but a number have.
GOVERNMENT PRESSURE
Dr Kelly was under immense pressure and genuinely feared for his job, after it was disclosed that he spoke with the BBC and reportedly aired concerns about the accuracy of Britain and America's WMD intelligence.
The public fumed after Dr Kelly was subjected to more than hostile questioning by ministers, for here was a man who clearly had tremendous knowledge of Iraq's WMD. When he was found dead, hostility towards Downing Street and the BBC intensified.
Since then, journalists have once again started to sip beer with locals around Dr Kelly's home and other folk who don't really fall into the crackpot category. Information is being gleaned that could yet be of interest.
CIRCUMSTANCES
On 17 July at 3.30pm, Dr Kelly decided to go for a walk leaving his Southmoor, Oxfordshire home. It was something he did regularly. At 12.20am, his wife, Janice, telephoned Thames Valley Police and told officers she was concerned that David had not returned from his walk. Exactly nine hours later, at 9.20am, a dog called Brock found Dr Kelly's body on Harrowdown Hill, about a mile from the Kellys' home.
Brock belonged to Louise Holmes, a member of the Thames Valley Lowland Search Team. She had joined the search for the scientist at 8.00am, together with her colleague, Paul Chapman.
Louise told the Hutton Inquiry that when she found Dr Kelly, his head and shoulders were slumped against a tree. "His legs were in front of him. His right arm had a lot of blood on it and was bent back in a funny position," she said. Paul Chapman "specifically" recalled Dr Kelly was sitting up.
Louise telephoned Abingdon police about her discovery, but moments later, as the couple walked back towards their vehicle, three plain-clothed police officers arrived. They said they were "Thames Valley detectives," one officer showed an identity card.
At the Hutton Inquiry, Abingdon police said that they found Dr Kelly's body lying flat on his back. An Evian water bottle, a blood-coated watch and a Sandvig gardening tool, were also recorded at the scene. Interestingly, Louise and Paul never mentioned these items at the Inquiry. Some observers note that the three detectives has been at the scene some thirty minutes before Abingdon police arrived. The rest is, of course, conjecture...
THE KELLY GROUP
The Kelly Group is made up of a number of eminent British doctors who believe that serious questions are still be answered about the way in which Dr Kelly died. The group has aired its views on radio and television shows and in a series of features in national newspapers. And while not proposing anything sinister, its members say the facts don't fit the evidence.
BLOOD LOSS
On of the first medical staff to arrive in the woods was paramedic Vanessa Hunt. She told the Inquiry: "There was a small patch [of blood] on his right, knee, but no arterial bleeding. There was no spraying of the blood or huge blood loss or any obvious loss on his clothing.
Experts contend that to die from haemorrhage, as suffered by Dr Kelly, you would need to lose some 5 pints of blood. Louise commented that there didn't appear to be a great deal of blood around.
This point has concerned a number of doctors. For example, Dr A Peter Fletcher, a medical expert and Fellow of the Royal College of Pathologists write: 'Anybody who has seen 5 pints of blood spurted forcefully out of a severed artery will know that there is one hell of a mess. The two searchers, (Louise & Paul) who found the body, did not even notice that Kelly had incised his wrist with a knife.'
The Kelly Group also points out there are inconsistencies about the manner in which Dr Kelly died. Why, for example did he choose such a difficult artery to sever? And why use a blunt knife? One of the UK's most respected vascular surgeons, Martin Birnstingl, said he doubted it was possible for Dr Kelly to die by cutting the ulnar artery on "the little finger side of his inner wrist." He told Britain's Mail on Sunday: "I have never, in my experience, heard of a case where someone has died after cutting their ulnar artery. And I have seen many suicides.
The minute the blood pressure falls, after a few minutes, this artery would stop bleeding. It would spray blood about and make a mess but it would soon cease.
Kelly was in the know. He was a scientist. People normally try to slash the radial artery in their wrist, the one which is used to take a pulse. Or, if they are really intent on death, they cut the artery in their groin."
Experts also believe it would have been almost impossible for Dr Kelly to have made an incision from left to right on his opposite wrist.
THE CO-PROXAMOL TABLETS
The Hutton Inquiry was told that three packets of the painkiller Co-Proxamol was found on Dr Kelly. The sachets held 30 tablets, but only one was recovered. Perhaps it was the consumption of these powerful pills that killed Dr Kelly? Experts are unsure as to what extent the drugs played in his death. It was revealed at the Inquiry, that less than one tablet was found inside his body during the autopsy.
Other unusual incidents also surrounding the death of Dr Kelly. His dental records went missing from his local surgery as news of his suicide broke. Police found an unlocked window in the building. Then, like any good detective mystery, the records turned up again two days later. The incident baffled local police.
Mai Pederson, a close friend of Dr Kelly said he would not have taken his own life. Pederson is a US Army Intelligence officer. It was rumoured that the Ministry of Defence was upset about his contacts with the American.
Dr Kelly died after a situation that he himself helped create, became uncontrollable. Just before he was found dead, he had discussed a book deal with a publisher. This may have been as revealing a work as anything previously written about Iraq's weapons of mass destruction. And who can forget Dr Kelly's chilling statement made in February 2003? "If Iraq is attacked, then I might be found dead in the woods..."
There are persons in the intelligence community who believe the cause of death has not been conclusively determined. Dr Nicholas Hunt, the pathologist who examined Dr Kelly said he "Would feel more comfortable if the Inquest was re-opened."
http://www.eyespymag.com/newindex3.htm
Holmes/Chapman

DC Coe

Franklin/Sawyer

Hunt/Bartlett

Body position

H: head & shoulders slumped against tree

C: sitting up against a tree (seen from 15-20m)

lay on back, head towards trunk of large tree

F: in clearing at base of tree, on back / facing up on his back

S: lying on back at base of tree, jeans pulled up slightly exposing ankle, no marks on jacket

H: on back, dark jacket, jeans, boots

B: laid on its back

Right arm

H: by side

not mentioned

F: right hand to side

S: by side

H: over chest

B: across chest, palm down

Left arm

H: lot of blood on it, bent back in funny position

C: obvious injury, covered in blood

not mentioned

F: sort of inverted with palm facing down

S: palm down, "injuries hidden"

H: outstretched to left; palm up, slightly on side; no obvious/gaping wound

B: out to one side, more wrist up than down

Blood

H: on left arm/left side

C: left arm covered in blood

blood around left wrist

F: fair amt on left wrist area & left hand / fair amount sort of puddle around

S: large amt on back of left arm, blood patch on right knee

H: dry blood on left arm from edge of jacket down; amt of blood "minimal", small patch on right knee; no obvious arterial bleeding; no spraying/huge blood loss

B: dried blood (cracked) across top of left wrist; bloodstain on right knee, 25mm across

Head position

H: against tree

not mentioned

F: not mentioned

S: head tilted to left

H: not mentioned

B: not mentioned

Vomit ->

not asked or volunteered

not mentioned

F: not mentioned

S: dark stain of vomit from right corner of mouth to right ear

H: not mentioned

B: vomit stains from both corners of mouth towards bottom of ears

Knife

not asked or volunteered

like a pruning knife

F: open lock knife with curved blade 3-4" long / blood on blade

S: curved knife by left wrist

H: silver-bladed knife pm ground

B: left of body, silve,r flat knife with curved blade, like pruning knife

Watch

not asked or volunteered

on top of knife

F: lying away from body next to knife, left of left arm

S: by left wrist

H: wristwatch on ground

B: wristwatch left of left arm

Cap

not asked or volunteered

didn't know if cap on or off

F: not mentioned

S: not mentioned

H: not mentioned

B: flat cap left of body near head

Bottle

not asked or volunteered

left of body by shoulder

Didn't know if there was water in it

F: open, small plastic

S: small Evian by K's head, cap by side, propped, leaning, water in it

H: water bottle to left of K's head, stood up

B: upright bottle of water, thinks it was empty

Glasses

not asked or volunteered

not mentioned

F: not mentioned

S: not mentioned

H: not mentioned

B: not mentioned

Mobile phone

not asked or volunteered

not mentioned

F: not mentioned

S: not mentioned

H: mobile phone pouch clipped to belt on front, to right side, cld not see phone

B: not mentioned

Coe's 2 officers

H: met 3 officers on way back to car; Paul took them to body, Louise walked back to car

C: with Louise met 3 officers, all 5 walked back, Paul then took DC Coe to body

at 6am called to Ab. P. stn.

- house to house inquiries with DC Shields, – "just the 2 of you?" "Yes." Made search twds. River Thames. Met H & C en route to H. Hill

F: no idea why they were there DC Coe & co took F & S to body

S: Met DC Coe & 2 uniformed officers who'd come back from body; they remained on path as F, S + paramedics went on to body

H: 3 people, a DC, 1 S & R, + "another gentleman"

B: unclear

Time

H: witn. body for 2 mins

H & C attended scene betw 7.30 – 9.30

spent approx. 25-30 mins at body

F: both at scene 2 mins before

paramedics arrived S: att'd scene betw 9 & 10.15

H & B called out at 9.40am;

9.55am arrived at H. Hill;

on scene 5-10 mins
---
Butler puts law chief in war spotlight
http://politics.guardian.co.uk/iraq/story/0,12956,1254950,00.html
Michael White, political editor
Tuesday July 6, 2004
The Guardian
The attorney general, Lord Goldsmith, changed his mind about the legality of the US-led invasion of Iraq after originally sharing widespread doubts being expressed across Whitehall, the Butler committee is expected to conclude this week.
Whether the government's senior law officer decided not to defy the known views of Tony Blair and the foreign secretary, Jack Straw, both lawyers, or was persuaded by purely legal arguments should become clearer when the report into the controversial origins of the war - notably the claims made about Saddam Hussein's weapons arsenal - is published on July 14.
"Peter Goldsmith is in the frame," one Whitehall source confirmed yesterday. But Lord Goldsmith and other targets of Lord Butler's review may yet escape direct personal censure if the five-strong committee decides in private deliberations this week it would be inappropriate to "name and shame" individuals.
Lord Goldsmith is not the only public official in the firing line. As widely predicted, Sir Richard Dearlove, head of MI6, and his successor-designate, John Scarlett, now chairman of the Cabinet Office's joint intelligence committee, are also poised for further rebuke. So are Mr Blair and his then-communications chief, Alastair Campbell.
All played a part in allowing dubious claims about a 45-minute readiness for Saddam's weapons of mass destruction (WMD), made by Iraq-based intelligence sources, to be made public as part of the battle to win over public opinion for the March 18 invasion.
"It was a collective failure," said one source familiar with the evidence which is starting to seep out as those facing criticism are allowed advance notice of what to expect.
But Lord Butler's team, which includes two MPs - Labour's Ann Taylor and, in a personal capacity, Tory Michael Mates - is likely to insist the saga was, in Whitehall slang, "a cock-up, not a conspiracy".
One source said: "There was no malice, it just acquired a momentum of its own."
As rumours of the report's contents emerge it is becoming clear Lord Butler's interest in the WMD issue will range far wider than Iraq and include Iran and even North Korea - both part of Wash ington's "axis of evil" - as well as Libya, which has now complied with UN requirements to disclose its covert weapons programmes.
No 10 is showing signs of wanting to protect Mr Scarlett at all costs because the prime minister did not wait for the Butler verdict before giving the daring ex-Moscow field officer the top job at MI6 - instead of MI6's own in-house candidate.
But Lord Goldsmith is likely to be the most conspicuous new figure in the protracted inquest, not least because ministers have consistently refused to publish all but a bare summary of his formal advice to the cabinet that the war would be legal without a second UN security council resolution.
It was that resolution which Mr Blair and George Bush were unable to obtain in February 2003, unlike resolution UNSCR 1441, passed in November 2002, which some lawyers believe did provide a legal basis for action when Saddam did not comply.
Lord Goldsmith's published summary rested on the justification that the US and UK were implementing disarmament resolutions dating from the first Iraq war in 1991. Though party appointees who attend cabinet, law officers' advice to cabinet is historically meant to be free of political considerations.
The Butler committee, chaired by former cabinet secretary Sir Robin Butler, has interviewed most key witnesses, including Mr Blair, Mr Straw, Lord Goldsmith and Elizabeth Wilmshurst, the deputy legal adviser to the Foreign Office who resignedover the issue.
After steadfastly keeping her silence, Ms Wilmshurst yesterday told the Independent the decision to go to war should be based on facts, not "assertions" about "imminent threats". It now seems Lord Goldsmith shared these doubts.
He is reported to have confided in at least one senior lawyer, the former director of public prosecutions, Sir David Calvert-Smith. In Britain, most academic and Foreign Office lawyers held similar doubts - Professor Christopher Greenwood of the LSE being a rare exception.
Last night Lord Goldsmith's office did not return our telephone call.
http://politics.guardian.co.uk/iraq/story/0,12956,1254950,00.html
---
US decided what the world could see and hear at Saddam trial
US military tried to censor coverage of Saddam hearing - altered headline for online version of this article
By Robert Fisk in Baghdad - 03 July 2004
http://www.k1m.com/antiwarblog/archives/000110.html
http://news.independent.co.uk/world/fisk/story.jsp?story=537630
A team of US military officers acted as censors over all coverage of the hearings of Saddam Hussein and his henchmen on Thursday, destroying videotape of Saddam in chains and deleting the entire recorded legal submissions of 11 senior members of his former regime.
An American network cameraman who demanded the return of his tapes, which contained audios of the hearings, said he was told by a US officer: "No. They belong to us now. And anyway, we don't trust you guys."
According to American journalists present at the 30-minute hearing of Saddam and 11 former ministers at Baghdad airport, an American admiral in civilian clothes told camera crews that the judge had demanded that there should be no sound recording of the initial hearing. He ordered crews to unplug their sound wires. Several of the six crews present pretended to obey the instruction. "We learnt later," one of them said, "that the judge didn't order us to turn off our sound. The Americans lied - it was they who wanted no sound. The judge wanted sound and pictures."
Initially, crews were told that a US Department of Defence camera crew would provide the sound for their silent tapes. But when CNN and CBS crews went to the former occupation authority headquarters - now the US embassy - they found that three US officers ordered the censorship of tape which showed Saddam being led into the courtroom with a chain round his waist which was connected to handcuffs round his wrists. The Americans gave no reason for this censorship.
"They were rude and they didn't care," another American television crew member said. "They were running the show. The Americans decided what the world could and could not see of this trial - and it was meant to be an Iraqi trial. There was a British official in the courtroom whom we were not allowed to take pictures of. The other men were US troops who had been ordered to wear ordinary clothes so that they were civilians' in the court."
Three US officers viewed the tapes taken by two CNN cameras, Al-Djezaira' (a local, American-funded Iraqi channel), and the US government. "Fortunately, they were lazy and they didn't check all the tapes properly so we got our audio' through in the satellite to London," one of the crew members told The Independent yesterday. "I had pretended to unplug the sound from the camera but the man who claimed he was a US admiral didn't understand cameras and we were able to record sound. The American censors at the embassy were inattentive - that's how we got the sound out."
The only thing the Americans managed to censor from most of the tapes was Saddam's comment that "this is theatre - Bush is the real criminal."
Television stations throughout the world were astonished yesterday when the first tapes of Saddam's trial arrived without sound and have still not been informed that the Americans censored the material. "What can we do when an American official tells us the judge doesn't want sound - and then we find out that they lied and the judge does want the sound?" an American camera operator asked.
Video showed the face - and audiotape revealed the voice - of Judge Raid Juhi, whose name was widely reported in the Arab press yesterday. According to the camera crews, Judge Juhi wanted the world to hear Saddam's voice. Nevertheless the Americans erased the entire audiotape of the hearings of the 11 former Saddam ministers, including that of Tariq Aziz, the former deputy prime minister, and "Chemical" Ali, Saddam's cousin accused of gassing the Kurds at Halabja. The US Department of Defence tape of their hearings has been taken by the US authorities so there is now no technical record of the words of these 11 men, save for the notebooks of "pool" reporters - four Americans and two Iraqis - who were present.
Judge Juhi said not long ago that "I have no secrets - a judge must not be ashamed of the decisions he takes."
The Americans apparently think differently.
http://www.k1m.com/antiwarblog/archives/000110.html
Hi David,
I just got hold of a copy of last Saturday's Independent. I can fax it to you if you wish - Fisk's Article is headlined "US decided what the world could see and hear at Saddam trial" not "US military tried to censor coverage of Saddam hearing" which appears on the web version.
As someone who knows how these things work the former headline is much more likely to be that penned by Fisk himself.
I wonder - does he know his headlines are being censored in this way. The second headline doesn't reflect the content of the article. The military censors certainly appear to have tendrils at the online Indie. Or maybe they issued a legal challenge. Much more likely the former.
When - if ever - will the US military understand that people are not as stupid as they wishfully think? And if they insist on trying to control debate in these countries each occupation will blow back in their face.
The Romans only succeeded because they brought tangible benefits too. The US empire is looking like being a Roman Empire without the roads.
Tony
---
Report Says U.S. Has 'Secret' Detention Centers
CNN - 17th June 2004
http://cnn.netscape.cnn.com/ns/news/story.jsp?id=2004061715440002849063
WASHINGTON (Reuters) - The United States is holding terrorism suspects in more than two dozen detention centers worldwide and about half of these operate in total secrecy, said a human rights report released on Thursday.
Human Rights First, formerly known as the Lawyers Committee for Human Rights, said in a report that secrecy surrounding these facilities made "inappropriate detention and abuse not only likely but inevitable."
"The abuses at Guantanamo Bay and Abu Ghraib cannot be addressed in isolation," said Deborah Pearlstein, director of the group's U.S. Law and Security program, referring to the U.S. Naval base prison in Cuba and Abu Ghraib prison in Iraq where abuses are being investigated.
"This is all about secrecy, accountability and the law," Pearlstein told a news conference.
The report coincided with news that Defense Secretary Donald Rumsfeld ordered military officials to hold a suspect in a prison near Baghdad without telling the Red Cross. Pearlstein said this would be a violation of the Geneva Conventions and Defense Department directives.
She said thousands of security detainees were being held by the United States in Iraq and Afghanistan as well as locations elsewhere which the military refused to disclose.
"The U.S. government is holding prisoners in a secret system of off-shore prisons beyond the reach of adequate supervision, accountability of law," said the report.
LIST OF DETENTION CENTERS
Pearlstein said multiple sources reported U.S. detention centers in, among other places, Kohat in Pakistan near the border with Afghanistan, on the Indian Ocean island of Diego Garcia and at Al Jafr prison in Jordan, where the group said the CIA had an interrogation facility.
Prisoners are also being held at the Naval Consolidated Brig in Charleston, South Carolina, and others were suspected of being held on U.S. warships.
A defense department spokesman told Reuters he would comment when he had more information about the report.
Pearlstein called for the U.S. authorities to end "secret detentions," provide a list of prisoners, investigate abuses and allow the International Committee of the Red Cross unfettered access to detainees.
U.S. treatment of detainees came under the spotlight after disturbing photos were leaked to the media showing U.S. soldiers abusing Iraqi prisoners.
The United States is conducting several investigations into these abuses but Pearlstein said these were not enough and a full court of inquiry should be ordered.
Families of suspects detained by U.S. authorities have complained strongly about the lack of information about detainees held by U.S. authorities since the Sept. 11, 2001 attacks against the United States.
Pakistani Farhat Paracha said via a telephone link-up at the news conference that she tried for weeks to find her husband, Saifullah Paracha, who disappeared last June when he took a business trip from Pakistan to Thailand.
Paracha said she asked the U.S. and Pakistani governments to track him down and only learned about his whereabouts when the Red Cross contacted her six weeks later to say her husband was being held at Bagram Air Force Base in Afghanistan.
"I feel disgusted. It makes my heart sink. I feel so powerless and so helpless," said Paracha.
http://cnn.netscape.cnn.com/ns/news/story.jsp?id=2004061715440002849063
Report says US has global ring of 'secret' detention centers
http://www.notinourname.net/restrictions/detention-17jun04.htm
Washington - The United States is holding terrorism suspects in more than two dozen detention centers worldwide and about half of these operate in total secrecy, said a human rights report released on Thursday. Human Rights First, formerly known as the Lawyers Committee for Human Rights, said in a report that secrecy surrounding these facilities made "inappropriate detention and abuse not only likely but inevitable." "The abuses at Guantanamo Bay and Abu Ghraib cannot be addressed in isolation," said Deborah Pearlstein, director of the group's U.S. Law and Security program, referring to the U.S. Naval base prison in Cuba and Abu Ghraib prison in Iraq where abuses are being investigated. "This is all about secrecy, accountability and the law," Pearlstein told a news conference. The report coincided with news that Defense Secretary Donald Rumsfeld ordered military officials to hold a suspect in a prison near Baghdad without telling the Red Cross. Pearlstein said this would be a violation of the Geneva Conventions and Defense Department directives. She said thousands of security detainees were being held by the United States in Iraq and Afghanistan as well as locations elsewhere which the military refused to disclose. "The U.S. government is holding prisoners in a secret system of off-shore prisons beyond the reach of adequate supervision, accountability of law," said the report.
List of detention centers
Pearlstein said multiple sources reported U.S. detention centers in, among other places, Kohat in Pakistan near the border with Afghanistan, on the Indian Ocean island of Diego Garcia and at Al Jafr prison in Jordan, where the group said the CIA had an interrogation facility. Prisoners are also being held at the Naval Consolidated Brig in Charleston, South Carolina, and others were suspected of being held on U.S. warships. A defense department spokesman told Reuters he would comment when he had more information about the report. Pearlstein called for the U.S. authorities to end "secret detentions," provide a list of prisoners, investigate abuses and allow the International Committee of the Red Cross unfettered access to detainees. U.S. treatment of detainees came under the spotlight after disturbing photos were leaked to the media showing U.S. soldiers abusing Iraqi prisoners. The United States is conducting several investigations into these abuses but Pearlstein said these were not enough and a full court of inquiry should be ordered. Families of suspects detained by U.S. authorities have complained strongly about the lack of information about detainees held by U.S. authorities since the Sept. 11, 2001 attacks against the United States. Pakistani Farhat Paracha said via a telephone link-up at the news conference that she tried for weeks to find her husband, Saifullah Paracha, who disappeared last June when he took a business trip from Pakistan to Thailand. Paracha said she asked the U.S. and Pakistani governments to track him down and only learned about his whereabouts when the Red Cross contacted her six weeks later to say her husband was being held at Bagram Air Force Base in Afghanistan. "I feel disgusted. It makes my heart sink. I feel so powerless and so helpless," said Paracha.
http://www.notinourname.net/restrictions/detention-17jun04.htm
Reuters - June 17, 2004 - now removed from Reuters website
http://www.reuters.com/newsArticle.jhtml?type=politicsNews&storyID=5450783
---
The Iraqi Street Speaks: New Government Made Up of CIA Pawns
By PATRICK COCKBURN Baghdad.
http://www.counterpunch.org/patrick06102004.html
Independent - 10th June 2004
Iraqis are highly sceptical that the US occupation will, as promised, end on 30 June and predict worse fighting to come if real power is not handed over. "I don't believe there will be a transfer of power," said Ali Hashimi, a computer accessories salesman. "It is just a show for the international community."
There was no echo yesterday on the streets of Baghdad of the optimism on display in New York as the UN Security Council voted unanimously to endorse a sovereign Iraqi government. Few people expected a reduction in violence and many said they feared it would get worse.
"We Iraqis are rejecting this decision because it will turn Iraq back to the British occupation period," said Haidar Mahmoud, a shopkeeper. "At that time there was an Iraqi government but it was just a puppet."
Iraqis from both the Shia and Sunni communities repeatedly said that they longed for the violence to end but they not believe that the US would hand over real power. The US will keep 138,000 troops in Iraq after handover.
Many Iraqis said that the new interim government just appointed was not representative of them. Bassam Najam, a middle-aged driver, said: "In one sense the Americans are transferring power but only to their own agents. The new government are all pawns of the CIA."
Doubts about the return of sovereignty to Iraq in three weeks are expressed at every level. A security guard in a blue police uniform holding a sub- machine gun was standing outside the Palestine Hotel. Close by was a concrete barrier on which was pasted a poster, distributed by the Coalition Provisional Authority (CPA), showing a boy holding up a map of Iraq and saying: "On 30 June we are all winners."
I asked the guard if he believed the claim on the poster was true. He studied the words carefully and said, to loud laughter from other security men, "maybe they mean the 3,000th of June".
The cynicism among ordinary Iraqis about the Security Council resolution is rooted in a feeling that no promises made by the US since the overthrow of Saddam Hussein have been kept. An unmissable reminder of the slow rate of improvement of living conditions comes from the continuing electricity blackouts as Baghdad swelters under the summer sun.
Several Iraqis questioned yesterday said that they held the UN Security Council responsible for sanctions in the 1990s that impoverished Iraq but did nothing to bring down Saddam. They did not expect much good from it now.
Several said they did not think decisions reached in New York had much to do with them. Bassam Najam, a driver, said: "I switched off the radio when I heard about this decision. I don't believe they will give us anything."
In one sense power has already been divided in Iraq. The Iraqi resistance, which has been battling the US army all year, is now in full control of Fallujah, a city of more than 250,000 30 miles from Baghdad. The US army's confrontation in April with the Sunni resistance in Fallujah and the Shia resistance of Muqtada Sadr, the radical cleric, in Kufa, Najaf and Sadr City, showed the limits of American power.
There are, however, few signs in Baghdad that the US is going to scale back its influence. After 30 June there will still be 1,000 Americans in the massive US embassy in the heavily fortified Green Zone, the headquarters of the CPA. The embassy will be in a small building but the Republican Palace will be used for overflow. There will also be 200 US advisers attached to government ministries.
Yet the new interim government is more popular than the old Iraqi Governing Council. The appointment of Sheikh Ghazi al-Yawar as President, although he has few powers, and Iyad Allawi as Prime Minister were generally welcomed. But the new government has several disadvantages in common with the old. Many ministers are former exiles, often from the US. Some in key positions such as the new Defence MinisterHazem Shaalan, a property dealer in Britain, have no experience in their jobs.
The new government will be wholly dependent on the US armed forces for its power, which means that the transfer of sovereignty on 30 June will have little real meaning. Iraqi armed forces are being built up and in theory already number 200,000. But during the fighting in April 40 per cent of these deserted and 10 per cent changed sides, as the US military has admitted.
Even before the interim government formally takes over sovereignty it is beset by a crisis. The Kurdish leaders Massoud Barzani and Jalal Talabani feel they have been short changed. They wanted to see the principle of federalism enshrined in the Security Council resolution as it had been in the interim constitution, known as the Transitional Administrative Law.
This was vetoed by the Grand Ayatollah Ali al-Sistani, the most influential Shia religious leader. He wants elections before such important decisions are taken. The Kurds are threatening to leave the new government and boycott the elections if they do not get what they want.
A year ago the new interim government might have had a chance of success. Now it may be too late. The guerrilla movement, though fragmented, has put down deep roots. It can cut, almost at will, the roads around Baghdad.
The one strong card of the US is its powerful and well-equipped army. But this alone has not been enough to offset US political weakness in Iraq. And if it tries to crush its enemies militarily it will shatter the fragile interim government it is trying to put in place.
http://www.counterpunch.org/patrick06102004.html
---
Friday May 14 2004
http://www.infoshop.org/inews/stories.php?story=04/05/14/9449296
http://www.newstatesman.co.uk (subscription)
New Statesman (London) May 17, 2004
Stephen Grey uncovers a secret global network of prisons and planes that allows the US to hand over its enemies for interrogation, and sometimes torture, by the agents of its more unsavoury allies.
8 October 2002. --- Over the Atlantic, at 30,000 feet, on board a Gulfstream jet, Maher Arar looked out through the portholes of the private plane at the clouds beneath and the red glow of dawn. Stretching out on the wide, upholstered leather seat, he glanced across at the large video screen on which was displayed the path of the plane from its departure point near New York, onwards to Washington, DC and then to its final refuelling point at Portland, Maine, before heading across the ocean. A telecommunications engineer in Ottawa, Canada, Maher was used to air travel - but not to such luxury.
His companions - specialists attached to the CIA - were preparing to switch on another in-flight film, an action movie. Maher could think only of what fate lay ahead of him when he reached the country to where the United States was now sending him for interrogation and from where his family had once fled - Syria.
He recalls: "I knew that Syria was a country that tortured its prisoners. I was silent and submissive; just asking myself over and over again: 'How did I end up in this situation? What is going to happen to me now?'"
Maher had been arrested after arriving at New York's JFK Airport at 2pm on 26 September to change planes. He'd been returning home from a holiday in Tunisia. He was accused of membership of Osama Bin Laden's al-Qaeda organisation and of knowing two other Syrian-Canadians who were said to be terrorists. Maher was baffled; he hardly knew the pair. They both seemed ordinary Muslims like him - hardly extremists.
Though Maher was a Canadian citizen, after interrogation in New York he was told he would be deported to Syria, not his adopted country. It petrified him.
One of the CIA agents, who called himself Mr Khoury, had explained that he, too, was originally from Syria. Unlike Maher, Khoury was wearing a grey lounge suit. Maher was still wearing an orange boiler suit and was shackled with steel handcuffs and chains. During the flight, Khoury lent him a turquoise polo shirt, made in Canada. Maher would be wearing that shirt and nothing else for the next three months. He would be wearing it as his arms, his palms and the soles of his feet were beaten with electric cables.
After the plane landed in Jordan, he was taken by van to a Damascus jail. He was not alone: from the cells around him, he heard the screams of those under torture. One prisoner was from Spain, another from Germany. All had been flown in to help America's war on terrorism.
There was no daylight coming into his cell, just a dim glow through a hole in the reinforced concrete of his ceiling. Maher wanted to pray towards Mecca, but no guard would tell him which direction that was. And anyway, he could bend only one way - forward, towards the metal door. He couldn't keep track of the days, but knew that about once a week he would be brought out to wash himself.
Maher was inside a secret system. His flight was on a jet operated for the CIA by the US's Special Collection Service. It runs a fleet of luxury planes, as well as regular military transports, that has moved thousands of prisoners around the world since 11 September 2001 - much as the CIA-run secret fleet, Air America, did in the 1960s and 1970s. Some of the prisoners have gone to Guantanamo, the US interrogation centre at its naval base in Cuba. Hundreds more have been transferred from one Middle Eastern or Asian country to another - countries where the prisoners can be more easily interrogated.
For transfers of low-level prisoners from war zones such as Afghanistan and Pakistan, military cargo planes have been used. But the CIA has tended to favour the Gulfstream and other executive jets for the higher-value prisoners and their transfer to sensitive locations. The operations of this airline - and the prisoners that it transports around the world - have been protected in a shroud of total secrecy.
The airline's operations are embarrassing because they highlight intense co-operation with regimes of countries such as Egypt, Syria and Pakistan, which are criticised for their human rights record. The movements of these planes expose a vast archipelago of prison camps and centres where America can carry out torture by proxy. The operations are illegal, in that they violate the anti-torture convention promoted by George W Bush which prohibits the transfer of suspects abroad for torture.
When Alexander Solzhenitsyn wrote The Gulag Archipelago, he described a physical chain of island prisons clustered in Soviet Russia's northern seas and in Siberia. But the description was also metaphorical: the archipelago was a cluster of prisons around which swirled the sea of normal society.
Just like Solzhenitsyn's system, the American archipelago operates as a secret network that remains largely unseen by the world. Although a few of the prisons have become well-known - Guantanamo, in Cuba; the CIA interrogation centre at the US airbase in Bagram, just north of Kabul; the airbase on British Diego Garcia - there are others, hidden from view: the floating interrogation centre located on board a US naval vessel in the Indian Ocean; an unknown jail referred to only as Hotel California by the CIA. Of those operated by America's allies, the worst prisons include the Scorpion jail and the Lazoghly Square secret police headquarters in Cairo, and the Far'Falastin interrogation centre in Damascus, Syria.
The transfer to these prisons, unregulated by any law, has become known as "rendition", a term used as an alternative to lawful "extradition". Rendition was invented by Sandy Berger, Bill Clinton's national security adviser, who described it as a "new art form".
After 9/11, a trickle of renditions became a flow, and became the foundation of a whole system to tackle world terrorism. J Cofer Black, former head of the CIA's counter-terrorism centre, testified in late 2002 that there were at least 3,000 terrorist prisoners being held worldwide.
Intelligence documents show the scale may be even greater. In the two years following 9/11, the Sudanese intelligence service alone claimed to have sent more than 200 captured prisoners into US custody. Of the terrorist suspects seized by America in the same period, only US citizens such as John Walker Lindh, the Californian found fighting with the Taliban, or those arrested within the US, such as Zacarias Moussaoui, accused of being a would-be hijacker in the 9/11 attack, would make it to court.
Tora Bora, Afghanistan, early December 2001.
Up in the foothills of the Spin Ghar mountains on the border between Afghanistan and Pakistan, a British special forces soldier reaches into his pocket to find his tangle of plastic handcuffs. Grabbing his prisoner's arms, he locks them tight around the wrists.
Daylight reveals the detritus of a night fight - four hours of battle that have been the SAS's biggest engagement since
Yemen in 1972.
On the churned-up slopes of rough grass and patches of snow, blankets, personal belongings, empty shell casings and the bodies of 38 Islamic warriors lie abandoned.
Another 22 fighters, the survivors, are kneeling on the ground. The fighters, from across Arabia, from Pakistan and even from Chechnya, are dressed in brown and grey shalwar kameez and thin sandals. Their hands are tied behind their backs, held taut with plasticuffs. Their heads are covered with canvas bags.
These arrests provided the entry point into the American archipelago. Though Britain and other allies would later criticise America's tactics and its treatment of terror prisoners (the British high court would call it "monstrous"), this operation proved how UK soldiers were involved with US activities from the beginning. New sources reveal the extent of the involvement - from Britain's participation in Task Force 11, a special forces group operating from a base code-named K2 in Uzbekistan, to a series of SAS battles in Afghanistan that resulted in the capture of large numbers of prisoners.
As a "combat zone", Afghanistan provided some legal cover for those arrests. But Britain and America also seized many others across the border in Pakistan.
Operating outside the law, the CIA has established snatch squads around the world. They have allowed the arrests of suspects, including Britons, which would be illegal if they took place on home soil. For instance, Wahab al-Rawi, a Briton, was questioned, but never arrested or held by MI5 in the UK. He came to be arrested only following a tip-off from MI5 to the CIA when he visited the Gambia, in West Africa, where legal controls were more lax.
Wahab al-Rawi is Iraqi-born, but a British citizen. He is enormous, and cannot walk too far without running out of breath. "I was fat before the Americans arrested me," he quips.
Wahab sits in a jail cell in the Gambian capital, Banjul, at the headquarters of the country's secret police. His questioner is an American "from the embassy", who, it is pretty clear, works for the CIA. Wahab has been answering questions about his supposed membership of al-Qaeda. He later describes his interrogator thus: "He called himself Mr Lee and was even bigger than me. He was so enormous he had these rolls of fat like breasts."
Wahab, a 38-year-old from Acton, west London, has been in jail for the past four days. He was arrested at the airport when he went to greet his brother, Bisher, coming in on a flight from London. A businessman whose family fled persecution from Saddam Hussein in Iraq, he had invested #300,000 after mortgaging his house to back his latest business venture: a mobile factory to process Gambian peanuts. Bisher, who is handy with anything technical, had come out to help fix up the equipment.
Like Canada's Maher Arar, Wahab and Bisher got into trouble after surveillance information was passed to the US by their domestic intelligence agency - in their case, MI5. Both Wahab and Bisher are friends with a Jordanian Islamic preacher in London called Abu Qatada who is accused of having links to terrorists. Abu Qatada is eventually locked up by the British, but there is insufficient (or no) evidence to arrest or hold Wahab or Bisher. Instead, their details are passed on to the US as part of an "intelligence exchange" in the post-11 September world.
"When I asked Lee whether I could see the British consul to protest at my arrest, he laughed," recalls Wahab. "'Why do you think you're here?' he asked me. 'It's your government that tipped us off in the first place.'"
The CIA official was thereby breaching the Vienna Convention, which requires foreign detainees to get access to their nation's consulate.
Across the world, the involvement of the CIA in the arrest of suspects, typically bypassing local laws, has become routine. After Bosnia's civil war, which killed more than 200,000 people, the US and Europe worked hard to instil the idea that disputes should be solved through legal channels. But the CIA disregarded the new Bosnian supreme court and took four suspects away for questioning. In Malawi, which receives British and US development aid to foster the growth of a legal system, a local court was ignored when the CIA snatched four al-Qaeda suspects last year. The men were released after interrogation.
Rendition arrests probably began in earnest in Tirana, Albania, in July 1998 when a team of CIA operatives ran an operation with Albania's secret police. They tracked down and tailed a group of five Egyptian Islamist militants, foiling their plan to destroy the US embassy with a truck bomb. They were captured together and taken to police headquarters where, as the CIA waited outside, they were physically tortured. They were then bundled into an unmarked US Gulfstream jet waiting at the airport and flown to Cairo.
After being handed over to the Egyptian government, Ahmed Osman Saleh was suspended from the ceiling and given electric shocks; he was later hanged after a trial in absentia. Mohamed Hassan Tita was hung by his wrists and given electric shocks to his feet and back. Shawki Attiya was given electric shocks to his genitals, suspended by his limbs and made to stand for hours in filthy water up to his knees. Ahmad Ibrahim al-Naggar was kept in a room with water up to his knees for 35 days; had electric shocks to his nipples and penis; and was hanged without trial in February 2000.
15 December 2002, downtown Damascus, Syria.
In a bustling street, taxis are honking their horns. Pedestrians hurry by. They hurry because no one on this road likes to linger too long. The office building beside the road - with its tinted windows - has a certain reputation. It is the headquarters of the Mukhabarat, foreign intelligence.
Elsewhere in the city, the atmosphere is relaxed today. The president, the young London-educated former eye doctor Bashar al-Assad, is back in London with his British wife, Asma (or "Emma", as she used to call herself), on a state visit to see Tony Blair and the Queen.
The previous night, al-Assad has been at the Lord Mayor's Banquet, where business leaders and politicians toasted Syria's commitment to peace and reform. Blair welcomes al-Assad with lunch at Downing Street and the Syrian president enthuses about "the warm personal relations I enjoy with Mr Blair".
Maher Arar has no access to radio or television to hear news of the rapprochement between the two countries. He is still in his cell, barely wider than his torso and about two inches longer than his height.
As Blair sits down to chat to al-Assad about progress on the war on the terror and the need to support the US/UK plan to invade Iraq, Arar is reaching the end of his tether. For days he has endured beatings, constant questioning and demands that he confess. He is, in fact, ready to confess to anything. He signs a false statement saying that he went for training in Afghanistan. But what he cannot do - because he knows nothing - is provide useful information that the Syrians can pass back to US intelligence.
In the depths of Far'Falastin jail, one floor below the Falastin road, Arar has no contact with other prisoners. All he can hear, during the ten months of his imprisonment, is the sound of them screaming.
In the beginning, the jailers take him upstairs regularly to be questioned and beaten. Before sessions he is placed in a waiting room where he gets to hear the torture of other prisoners. They call out: "Allah-u-allah" - "God, oh God," they cry. Once he hears the sound of someone's head being slammed repeatedly against the metal interrogation table . . .
The former CIA agent Bob Baer, who worked covertly for the US across the Middle East until the mid-1990s, describes how each Middle Eastern country has a purpose in the archipelago. He says: "If you want a serious interrogation, you send a prisoner to Jordan. If you want them to be tortured, you send them to Syria. If you want someone to disappear - never to see them again - you send them to Egypt."
Cairo, 2003
Each night before sunset, a flotilla of feluccas is untied from jetties in the city centre and sails up against the current on a cool Nile breeze. The boats, filled with tourists, move silently in the calm water. As it grows dark, the tourists may notice a handful of floodlit watchtowers and the silhouettes of guards standing on their turrets, shouldering rifles. Just yards from where they are enjoying the stunning sunset, perhaps discussing their plans for a tour nearby at the Great Pyramids of Giza, is the entrance to what for many is a version of hell.
Behind the walls and watchtowers that announce Torah prison is an inner complex, a 320-cell annexe shaped like the letter "H", known as el-Aqrab, or the Scorpion. Some of America's most secret prisoners are held in solitary confinement here. And here, too - for years - some of the most infamous names in Islamist extremism have been held, from the Cairo-born doctor Ayman al-Zawahiri, who became Osama Bin Laden's right-hand man, to Sayyid Qutb, the intellectual extremist who defined the philosophy that has inspired two generations of Islamist terrorists. Many argue that Torah's harsh conditions have helped to breed this extremism.
But the Scorpion annexe is something else again. No outsider knows who is being held within its walls. Since its construction was completed in 1993, no visitor - no family member, no lawyer - has been allowed inside. The Scorpion is where some of the secret prisoners of the war on terror are being held and interrogated.
Former prisoners describe "welcome parties", where soldiers line up to "welcome" new detainees and prisoners with batons, electric shocks and beatings. There are also "search parties", accompanied by humiliating practices such as intimate searches, shaving of hair and beatings. And there are also "farewell parties", when the detainee is beaten by jailers before leaving prison.
There are whispers of another secret prison, newly built, which is also being used for holding al-Qaeda suspects: in Upper Nile, near Aswan.
Egyptian officials speak proudly of what they are doing to help the war on terror. It is the latest phase in a long line of covert US co- operation with the Egyptian government stretching back many years. Egypt still receives about $2bn a year in aid from America, of which $1.3 bn is military aid.
Nowadays, the co-operation is geared towards helping Egypt ward off Islamist extremism, and also to escape criticism for its many repressive measures.
Normally, all prisoners of Britain, the US and its allies would have the protection of the law of habeas corpus. But US federal judges have argued that enemy aliens do not have these rights and that it is not for the courts to interfere with the military in prosecuting a war by second-guessing whom it chooses to detain and interrogate.
After 9/11 Congress authorised the American president to "use all necessary and appropriate force against those nations, organisations or persons [whom] he determines planned, authorised, committed or aided" those attacks. It further recognised presidential authority to decide on any other actions "to respond to, deter or prevent acts of international terrorism".
Counter-terrorism Centre, CIA headquarters, Langley, Virginia. 6 November 2002.
If the colour picture were not so fuzzy, it would be damned impressive. An eye in the sky at 10,000 feet shows live pictures of a convoy of cars moving down a desert highway 12,000 miles away. The picture is being captured by an unmanned Predator spy plane and conveyed by satellite from the Hadramaut region of Yemen.
Though it is 4am at the Counter-terrorism Centre, the little operations control booth is crowded, as it always is these days. The technology all around is top-of-the-range: the product of billions of dollars of spending.
At the back of the room stand the CIA's lawyers - always present when life-or-death decisions are to be made. But they have already signed up to what will happen next.
At the centre of the screen are some black cross-hairs. They are already locked on to the car in front. It only remains for Cofer Black, the long-time head of the Counter-terrorism Centre, to give the order. A key turns, a button is pressed, and the aptly named "hellfire" missile streaks home. An explosion fills the screen - the camera unshaken on the Predator plane from whose wing the missile has been launched.
The target that night is a wanted terrorist named Abu Ali, aka Qaed Salim Sinan al-Harethi. A few hours later, when his death is confirmed, the agents celebrate their success. However, bystanders are also killed, including a US citizen named Kamal Derwish, from Buffalo, New York State.
Assassination of America's enemies seemed a clever tactic after 9/11. The CIA's political masters ordered it to kill terrorist leaders when it was possible to do so with minimum "collateral damage". It was a return to the bad old days of the Phoenix programme (the documented assassination of thousands by the CIA in Vietnam) and Nicaragua (laying mines in harbours in the 1980s and training "contras").
But it often went wrong.
Throughout the new archipelago, the penalty for involvement in Islamist extremism is frequently death or a life sentence. Trials are usually conducted by a military tribunal, and appeals for clemency to be considered only by the US president.
In Uzbekistan, a maverick British ambassador, Craig Murray, was put on sick leave after he publicly exposed human rights abuses, including execution of Islamist dissidents by boiling alive. Uzbekistan is one of Britain's and America's closest allies in central Asia because it has provided bases that have enabled operations into Afghanistan. The US is settling in for a long-term presence in return for tolerating human-rights abuses.
In the post-9/11 debate on tactics and policy there has been very little effort to address the roots of terrorism. Rather like the cowboy song - "Don't try to understand 'em/Just rope, throw and brand 'em" - Bush's response to the crisis has been too focused on military retaliation.
The military has defended the use of terror tactics. A former US army colonel, Alex Sands, declared: "The whole point of using special operations is to fight terror with terror. Our guys are trained to do the things that traditionally the other guys have done: kidnap, hijack, infiltrate."
Yet as the world gains glimpses of George W Bush's archipelago, revulsion at the Americans' modus operandi - and support for the suspects they deliver into the torturers' hands - will grow. Rope, throw and brand 'em may no longer prove a suitable containment policy.
http://www.infoshop.org/inews/stories.php?story=04/05/14/9449296
http://www.newstatesman.co.uk (subscription)
---
No other prime minister has brought such shame on us
In the annals of British ignominy, no prime minister has sunk so low as Mr Blair
Andreas Whittam Smith
10 May 2004
www.independent.co.uk
http://www.christusrex.org/www1/icons/ipc-5-10-04.html
In the House of Commons last week: "What reports has the minister received from external organisations about the way in which detainees [in Iraq] have been handled?" Mr Ingram, Armed Forces minister: "To date, I have received no such reports." Yet over the weekend a Downing Street spokesman said: "The International Committee of the Red Cross showed the Government a copy of the report in February to enable the Government to comment and take action."
Whether the minister, Adam Ingram, was lying as part of a cover-up or displaying his ignorance is such an everyday question regarding Mr Blair and his government that one notes it and passes on. In any case, via the internet, I had already discovered the truth about the Red Cross report before Downing Street owned up. It is an analysis of the treatment of Iraqi prisoners by "US, British and other countries' forces". It specifically drew the attention of the coalition forces to a number of serious violations of international humanitarian law.
The Government will be telling us next that it had no knowledge of the report by the American general Antonio M Taguba on alleged abuse of prisoners at the Abu Ghraib prison in Baghdad. General Taguba briefed military commanders about his findings on 12 March. Having been put on notice by the Red Cross's comments on Basra, where British troops are stationed, it is implausible that British officials and officers working at the American headquarters in Baghdad did not ask or were not told what General Taguba had found. Was knowledge of this second report bottled up and not passed back to London? Unlikely.
The Prime Minister, the Defence Secretary, Mr Hoon, and the Army's most senior officer, General Sir Michael Jackson, Chief of General Staff, didn't need the Daily Mirror to tell them that atrocities were being committed on their watch. What did they know? And what did they do about it? Of course they want us to think that any such crimes against humanity were committed by soldiers so very far down the chain of command that they couldn't possibly have been aware of what was going on. But I am afraid it isn't like that at all.
A preliminary answer to the question what did they know, or what should they have known, can be given. Read the words. "Ill-treatment during capture was frequent" (Red Cross). "Numerous incidents of sadistic, blatant, and wanton criminal abuses were inflicted on several detainees" (Taguba).
Where mistreatment took place included the former secret police office in Basra (Red Cross). Forcing detainees to remove their clothing and keeping them naked for several days at a time (Taguba). Being paraded naked in front of other detainees and guards, sometimes with women's underwear over the head (Red Cross). Punching, slapping, and kicking detainees; jumping on their naked feet (Taguba). Beating with hard objects (including guns), slapping, punching, kicking with knees or feet on various parts of the body (Red Cross).
Where did all this start? With Mr Blair's friend and ally, the President of the United States, George Bush. Mr Bush decided, for instance, that all the Guantanamo prisoners were "unlawful combatants" and therefore outside the ambit of the Geneva Convention. In fact the coalition appears to have created a gulag stretching from Afghanistan through Iraq and ending in Guantanamo Bay, where "undesirables" can be held without charge, without rights, without dignity, without proper rations, without adequate medical attention and can be mistreated for as long as Stalin, sorry I mean Messrs Bush and Blair, decide.
Mr Bush even boasted about it. In his 2003 State of the Union address he said that more than 3,000 suspected terrorists "have been arrested in many countries. And many others have met a different fate. Let's put it this way: They are no longer a problem for the United States." Isn't Belmarsh prison in London part of this same gulag?
Here is another question about what ministers knew: were they aware that in April 2003, the US Defence Department approved interrogation techniques for use at the Guantanamo Bay prison - where a number of British citizens were held - that allow detainees to be subjected to psychological techniques meant to open them up, disorient or put them under stress? That this involves reversing the normal sleep patterns of detainees and exposing them to heat, cold and "sensory assault," including loud music and bright lights. Some prisoners could be made to stand for four hours at a time. Questioning a prisoner without clothes is allowed if he is alone in his cell. There is not much distance between these "rules" and what the ghastly photographs from Abu Ghraib prison display.
This is what Mr Blair's policies have produced. I cannot think of a prime minister who has brought greater disgrace on this country - not Eden, who led us into the Suez disaster nearly 50 years ago, not Chamberlain even, with the Munich agreement to his name, not Salisbury, who took Britain to war against the Boer farmers in southern Africa. In the annals of British ignominy, no prime minister has sunk so low as Mr Blair.
http://www.christusrex.org/www1/icons/ipc-5-10-04.html
---
by Alf Mendes - 08May04
Bilderberg dot org site exclusive
The British government recently unveiled plans to introduce identity cards to its citizens. One intriguing aspect of this was the revelation, in the media, that a top-secret military research firm/organisation, 'QinetiQ' (pronounced 'kinetic'), would play a crucial role in the scientific/technical aspects of this controversial subject. That, in itself, is enough to arouse curiosity, which, in turn, surely calls for closer scrutiny of QinetiQ. Hopefully, this curiosity will be justified by what follows in this article, which will - necessarily - be prefixed by brief historical background notes.
Exacerbated by the Cold War, research into military technology became a matter of priority on both sides of the Divide (to the detriment of the USSR). In Britain, this took the form of the Royal Signals & Radar Establishment (RSRE); the Defence Research Agency (DRA); the Defence Test & Evaluation Organisation (DTEO); the Chemical & Biological Defence Establishment (Porton Down); and the Centre for Defence Analysis (CDA) - all leading to the formation of the Defence Evaluation & Research Agency (DERA) in April 1995.
The subsequent Strategic Defence Review undertaken by the MOD in 1998 recommended the adoption of a Public Private Partnership (PPP) arrangement as the best means of maximising the strategic value and operational cost effectiveness of the United Kingdom's defence research capabilities. As a result, on July 2nd 2001, DERA was split into two organisations: the Defence Scientific & Technical Laboratory (DSTL), and QinetiQ Group plc. The former remaining part of the MOD, continuing to handle the most sensitive areas of research, whereas, as a public private partnership, QinetiQ would have greater freedom and access to capital, allowing it to exploit its technologies and capabilities in wider markets and to achieve a significantly higher return on capital. As noted by the Defence Minister, Dr. Lewis Moonie, in Hansard on the 5th February 2002, the contract to oversee this privatisation of part of DERA was awarded to the accountancy firm, Arthur Andersen (of recent notoriety). At this point, it would not be amiss to mention a statement made by the CEO of QinetiQ, Sir John Chisholm:
"The fact that we are in competition, and win those competitions, tells us that we are doing well. Profit is not in itself an objective, but it is a measure that you are really good at what you are doing"... It can safely be assumed that they are doing well.!
This marriage of convenience between government and private/corporate companies mirrors precisely what had occurred in America previously: the Defense Advanced Research Projects Agency (DARPA) was established in 1958 as the first U.S. response to the Soviet launching of Sputnik. Since that time DARPA's mission has been to ensure that the U.S. maintains a lead in applying state-of-the-art technology for military capabilities. In its own words: "DARPA's original operating philosophy has changed over the years in only three ways -- its relationships with the commercial marketplace, its business practices, and its emphasis on joint systems". This merely reflects the clonal relationship which has existed for decades between the USA Administration and US corporations - and in view of the similar clonal relationship that exists between the US and British governments, it is hardly surprising that the latter has adopted a similar system for its military research projects - hence QinetiQ.
That such privatisation of a government organisation raises doubts as to its efficacy and incorruptibility can be illustrated by a glance at DARPA itself: DARPA is listed as one of its prime clients by the Science Applications International Corporation (SAIC), a CIA-front company whose Vice-President (until 2002) was David Kay (again, of recent notoriety), who, while with SAIC, was also co-ordinator of SAIC's 'homeland security & counterterrorism' initiatives. Furthermore, Admiral John Poindexter - of Iran-Contra infamy - had been working for DARPA when he was forced to resign when it was revealed that DARPA was prepared to trade 'futures' in terrorist attacks - et al.
As for the importance of QinetiQ on the political scene, it is among the largest - if not the largest science and technology company in Western Europe, with some 42 locations in Britain alone. As for its 'partnerships' (of which there are many): the most influential is almost certainly the prestigious American Carlyle Group, one of the largest equity firms in the world, which currently manages around $18 billion of capital on behalf of its investors. As a result of its decision in March 2002 to seek a strategic partner to invest in QinetiQ, the MOD chose Carlyle Group who would now acquire a 33.8% interest in QinetiQ. This meant that management control and responsibility for setting future commercial strategy would now be shared between the two companies. As Dr. Moonie (see above) put it: "The Carlyle Group shares our vision for the future of QinetiQ" - a statement enlarged upon by the CEO of QinetiQ, Sir John Chisholm (who had held a similar position in DERA): "Working together, QinetiQ and The Carlyle Group will be a strong team with complementary experience. We can now be even more confident of achieving our ultimate goal of moving from a European leader to a global technological solutions provider for our diverse range of customers. Carlyle's investment secures a bright, long-term future for our business, our employees and our customers." The partnership would now be confirmed by the appointment of two Carlyle nominees to the QinetiQ board of directors: a managing director of Carlyle, Glenn Youngkin (American); and a Carlyle board member, Sir Denys Henderson (British).
A look at some of the present Senior Management Team (as they like to call themselves) of the Group confirms the influential status of Carlyle within the military/industrial complex of Corporate America:
Chairman Emeritus (!): Frank Carlucci (Deputy Director CIA '78 - '81; Deputy Secretary of Defense '81 - '82; National Security Adviser '87 - '89).
Senior Counselor (sic): James Baker lll (Chief of Staff '81 - '85; Secretary of Treasury '85 - '89; Secretary of State '89 - '93).
Chairman of Carlyle Europe: John Major (ex-Prime Minister of Britain).
Senior Adviser to Asia Advisory Board: George Bush Snr. (Director CIA '76 - '77; Vice-President '81 - '89; President '89 - '93). This was a position he had held in Carlyle since 1999. In October 2003 he reportedly retired from this position - but no mention was made that he had sold his investment in the Group....(Ref: previous article titled 'The Carlyle Group' by this author).
The logical conclusion to be drawn from the above is that Britain is now firmly tied to the USA on the latter's march towards capitalist global domination - and it must be kept in mind that the fact that this 'onward march' is being carried out under such banners as: 'In the Name of the International Community', 'In the Name of Humanity', and 'In the War Against Terrorism' - reflects duplicity of the highest order.
---
This torture started at the very top
A profound racism infects the US and British establishments
Ahdaf Soueif
Wednesday May 5, 2004
The Guardian
The media in this country is politely shocked at photos of Iraqis being tortured and humiliated by US and British soldiers. A BBC1 news presenter says the pictures seem to have been "merely mementos". That's all right, then. The folks at home will have a good laugh and paste them into the family album.
http://www.guardian.co.uk/comment/story/0,3604,1209555,00.html
In the first half of the last century, the French in Algeria and Morocco used to send home postcards of prostitutes posing sullenly, with breasts bared and skirts pulled up to their thighs, over captions like "Le harem Arabe" or "Fille Mauresque". The Americans have pushed it further: their pornography of occupation is at once more childish, playful, crude and sinister than that of "old Europe". Also, we assume the prostitutes were paid.
BBC commentators and British politicians have been reminding us that the soldiers' activities "do not compare with Saddam Hussein's systematic tortures and executions". Hussein is now the moral compass of the west.
The media are fearful that these images will go down badly in the Arab world because "they show Muslim men being humiliated by American women". Again the not-so- subtle reduction of the Arab world to an entity that reacts only to religious prodding. Actually the photographs have confirmed people's belief that the US and Britain are not in Iraq as an act of goodwill. They have strengthened the feeling that there is a deep racism underlying the occupiers' attitudes to Arabs, Muslims and the third world generally.
It was only a matter of time. In the past year the world has seen photos of many Iraqis stripped with their wrists tied behind their backs with plastic cord. At first we could look into their eyes and bear witness to what was happening. Then they were bagged. At no point was there an outcry.
We have grown used to seeing Arab men bound and hooded, in the occupied territories and Gaza. Israel advises the US on how to control civilians and interrogate them. Ariel Sharon has made the Israeli army's "rules of engagement" available to the US military. The world notes the similarity between the practices of the US army in Iraq and those of the Israeli army in Palestine. There is evidence that scenes like the ones now shocking the world have been common in "Facility 1391" (Israel's secret prison), and some say in other jails. We just haven't seen the photos.
It is no use for US spokesmen to talk about "rogue elements", how "contractors" are not answerable to the military and how Staff Sergeant Chip Frederick had not read the Geneva conventions before taking charge of prisoners at Abu Ghraib. This abuse is going to turn out to be widespread. Amnesty International has already said it is systematic.
The acts in the photos being flashed across the networks would not have taken place but for the profound racism that infects the American and British establishments. At squaddie level, Sarah Oliver reports in the Mail on Sunday that "the British soldiers loathe the dirtiness of Iraq and the native population's slothfulness, kleptomania and determination to do as little as possible for themselves".
There have been reports of US troops outside Falluja talking of the fun of being a sniper, of the different ways to kill people, of the "rat's nest" that needs cleaning out. Some will say soldiers will be soldiers. But that language has been used by neocons at the heart of the US administration; both Kenneth Adelman and Paul Wolfowitz have spoken of "snakes" and "draining the swamps" in the "uncivilised parts of the world". It is implicit in the US administration's position that anyone who does not agree that all of history has been moving towards a glorious pinnacle expressed in the US political, ideological and economic system has "rejected modernity"; that it is America's mission to civilise and to punish.
I've seen a photo of a young American soldier with two Iraqi boys. There is no nakedness or torture, but it is no less nasty for that. The boys are holding a cardboard sign. They and the soldier are smiling and doing a thumbs up. He is pointing at the cardboard sign, on which he's written: "Lcpl Boudreaux killed my Dad. then he knocked up my sister!" Imagine the scene: Lance Corporal Boudreaux, a soldier on a liberating, civilising mission, asks the natives to pose for a "memento". He gives them the sign to hold. What lie did he tell them about its message? "Iraq is liberated", or "Mission accomplished"? And who, in this scene, is the more civilised?
The one good thing in all of this is that there are soldiers in the US and British armies who could not live with what was happening and who blew the whistle. The world needs to see the photos coming out of Iraq not as "deviant" but as an authentic message from the heart of the thought system that is seeking to control our planet.
· Ahdaf Soueif's collected essays will be published by Bloomsbury in the autumn
ahdaf@hotmail.com
http://www.guardian.co.uk/comment/story/0,3604,1209555,00.html
---
Here is the letter sent by more than 50 former British ambassadors to Tony Blair, urging him either to influence US policy in the Middle East or to stop backing it:
http://news.bbc.co.uk/1/hi/uk_politics/3660837.stm
We the undersigned former British ambassadors, high commissioners, governors and senior international officials, including some who have long experience of the Middle East and others whose experience is elsewhere, have watched with deepening concern the policies which you have followed on the Arab-Israel problem and Iraq, in close co-operation with the United States.
Following the press conference in Washington at which you and President Bush restated these policies, we feel the time has come to make our anxieties public, in the hope that they will be addressed in Parliament and will lead to a fundamental reassessment.
The decision by the USA, the EU, Russia and the UN to launch a "Road Map" for the settlement of the Israel/Palestine conflict raised hopes that the major powers would at last make a determined and collective effort to resolve a problem which, more than any other, has for decades poisoned relations between the West and the Islamic and Arab worlds.
... But the hopes were ill-founded. Nothing effective has been done either to move the negotiations forward or to curb the violence.
Britain and the other sponsors of the Road Map merely waited on American leadership, but waited in vain.
Worse was to come. After all those wasted months, the international community has now been confronted with the announcement by Ariel Sharon and President Bush of new policies which are one-sided and illegal and which will cost yet more Israeli and Palestinian blood.
Our dismay at this backward step is heightened by the fact that you yourself seem to have endorsed it, abandoning the principles which for nearly four decades have guided international efforts to restore peace in the Holy Land and which have been the basis for such successes as those efforts have produced.
This abandonment of principle comes at a time when rightly or wrongly we are portrayed throughout the Arab and Muslim world as partners in an illegal and brutal occupation in Iraq.
The conduct of the war in Iraq has made it clear that there was no effective plan for the post-Saddam settlement.
All those with experience of the area predicted that the occupation of Iraq by the Coalition forces would meet serious and stubborn resistance, as has proved to be the case.
To describe the resistance as led by terrorists, fanatics and foreigners is neither convincing nor helpful.
Policy must take account of the nature and history of Iraq, the most complex country in the region.
... The military actions of the Coalition forces must be guided by political objectives and by the requirements of the Iraq theatre itself, not by criteria remote from them.
It is not good enough to say that the use of force is a matter for local commanders.
Heavy weapons unsuited to the task in hand, inflammatory language, the current confrontations in Najaf and Falluja, all these have built up rather than isolated the opposition.
... We share your view that the British government has an interest in working as closely as possible with the United States on both these related issues, and in exerting real influence as a loyal ally.
We believe that the need for such influence is now a matter of the highest urgency.
If that is unacceptable or unwelcome there is no case for supporting policies which are doomed to failure.
The signatories are: Brian Barder; Paul Bergne; John Birch; David Blatherwick; Graham Boyce; Julian Bullard; Juliet Campbell; Bryan Cartledge; Terence Clark; David Colvin; Francis Cornish; James Craig; Brian Crowe; Basil Eastwood; Stephen Egerton; William Fullerton; Dick Fyjis-Walker; Marrack Goulding; John Graham; Andrew Green; Vic Henderson; Peter Hinchcliffe; Brian Hitch; Archie Lamb and David Logan.

Also: Christopher Long; Ivor Lucas; Ian McCluney; Maureen MacGlashan; Philip McLean; Christopher MacRae; Oliver Miles; Martin Morland; Keith Morris; Richard Muir; Alan Munro; Stephen Nash; Robin O'Neill; Andrew Palmer; Bill Quantrill; David Ratford; Tom Richardson; Andrew Stuart; David Tatham; Crispin Tickell; Derek Tonkin; Charles Treadwell; Hugh Tunnell; Jeremy Varcoe; Hooky Walker; Michael Weir and Alan White.
http://news.bbc.co.uk/1/hi/uk_politics/3660837.stm
---
Premier Creeps to Texas Idiot
Apr 17 2004
By Daily Mirror chief political commentator Paul Routledge
http://www.mirror.co.uk/news/allnews/tm_objectid=14154586
TONY Blair last night took on the full-time job of cheerleader for George Bush in his bid to be re-elected president of the USA.
It was embarrassing. More than that, it should disgust every voter in the United Kingdom where - if Blair has his way - our destiny is tied ineluctably to the murderous bully boys in Washington.
At least Dumbo Dubya admitted that he could not remember the whys and wherefores of this great international crisis. He stumbled about like a Cub Scout who has lost his woggle.
The job of presenting America's case fell to Tony Blair. He did it with his usual skill. It sounded right. It was professional. But it was not the role of the Prime Minister of my country, locked as he is into the dirty politics of an American presidential election.
Last night, Blair bought totally into the Campaign for the Re-Election of the President. He emerged as the true CREEP to George Bush.
Bush called him "a stand up kind of guy". Standing up for what? The perpetuation of hard-line Right-wing Republican politics that crooked its way through the last presidential election and now aims to buy its way into future power?
Can it really be right that a Labour Prime Minister should articulate the scumbag direction of politics represented by George Dubya Bush? Say what you like, but I think not.
BLAIR stood behind the lies of the USA yesterday. When he could. When he could hang on to the mike when the Great Stumblebum did not steal it from him with idiot soundbites.
Tony likes being on the Bush stage, despite the humiliation regularly heaped on him by the Texan eejit. It makes him feel good. Just try being somebody under the heel of that American firepower. Agree - or die.
But we are not simply junior partners in this exercise. We are big payers towards US world domination. We have more than 10,000 troops in theatre, costing the British taxpayer untold billions.
Yet our humiliation at the hands of the Yanks is real. Yesterday, it began as it continued. Our Prime Minister stumbled out of a plane at Andrews Airbase, and there was nobody of consequence there to meet him.
Tony Blair naffed about on the runway, looking for a friendly face but not finding one until he was bundled into a waiting motor hanging around on the tarmac.
It was not a pretty sight - but a wholly predictable one.
America was determined to put Britain in its place. The televised humiliation of our Prime Minister fits perfectly with what followed.
President Bush hogged the limelight with his inane remarks.
The idea that this man is the most powerful military commander on earth should fill the heart of every mature, right-thinking person with fear.
For the Americans to fall for this junk is one thing. For Tony Blair to seek to con us is quite another. The plain fact is this: The USA will not "sub-contract" its power to anyone. America rules, OK?
Bush has no intention of handing over real power in Baghdad on June 30. This is a fake exercise in transference of sovereignty.
The Pentagon will still have more than 100,000 troops in Iraq, and the new "rulers" will not have the power to require the Americans to leave.
The US military, having given up bases in Saudi Arabia, intends to stay in Iraq for years, if not decades. And a country compelled to accept foreign troops on its soil is not free.
http://www.mirror.co.uk/news/allnews/tm_objectid=14154586
---
US tactics condemned by British officers
By Sean Rayment, Defence Correspondent
(Filed: 11/04/2004) Daily Telegraph
Senior British commanders have condemned American military tactics in Iraq as heavy-handed and disproportionate.
http://www.telegraph.co.uk/news/main.jhtml?xml=%2Fnews%2F2004%2F04%2F11%2Fwtact11.xml
One senior Army officer told The Telegraph that America's aggressive methods were causing friction among allied commanders and that there was a growing sense of "unease and frustration" among the British high command.
The officer, who agreed to the interview on the condition of anonymity, said that part of the problem was that American troops viewed Iraqis as untermenschen - the Nazi expression for "sub- humans".
Speaking from his base in southern Iraq, the officer said: "My view and the view of the British chain of command is that the Americans' use of violence is not proportionate and is over-responsive to the threat they are facing. They don't see the Iraqi people the way we see them. They view them as untermenschen. They are not concerned about the Iraqi loss of life in the way the British are. Their attitude towards the Iraqis is tragic, it's awful.
"The US troops view things in very simplistic terms. It seems hard for them to reconcile subtleties between who supports what and who doesn't in Iraq. It's easier for their soldiers to group all Iraqis as the bad guys. As far as they are concerned Iraq is bandit country and everybody is out to kill them."
The phrase untermenschen - literally "under-people" - was brought to prominence by Adolf Hitler in his book Mein Kampf, published in 1925. He used the term to describe those he regarded as racially inferior: Jews, Slaves and gipsies.
Although no formal complaints have as yet been made to their American counterparts, the officer said the British Government was aware of its commanders' "concerns and fears".
The officer explained that, under British military rules of war, British troops would never be given clearance to carry out attacks similar to those being conducted by the US military, in which helicopter gunships have been used to fire on targets in urban areas.
British rules of engagement only allow troops to open fire when attacked, using the minimum force necessary and only at identified targets.
The American approach was markedly different: "When US troops are attacked with mortars in Baghdad, they use mortar-locating radar to find the firing point and then attack the general area with artillery, even though the area they are attacking may be in the middle of a densely populated residential area.
"They may well kill the terrorists in the barrage but they will also kill and maim innocent civilians. That has been their response on a number of occasions. It is trite, but American troops do shoot first and ask questions later. They are very concerned about taking casualties and have even trained their guns on British troops, which has led to some confrontations between soldiers.
"The British response in Iraq has been much softer. During and after the war the British set about trying to win the confidence of the local population. There have been problems, it hasn't been easy but on the whole it was succeeding."
The officer believed that America had now lost the military initiative in Iraq, and it could only be regained with carefully planned, precision attacks against the "terrorists".
"The US will have to abandon the sledgehammer-to- crack-a-nut approach - it has failed," he said. "They need to stop viewing every Iraqi, every Arab as the enemy and attempt to win the hearts and minds of the people.
"Our objective is to create a stable, democratic and safe Iraq. That's achievable but not in the short term. It is going to take up to 10 years."
http://www.telegraph.co.uck/news/main.jhtml?xml=%2Fnews%2F2004%2F04%2F11%2Fwtact11.xml
---
01Apr04 - Al-Moharer.net - Iraqi Resistance Communique
http://www.al-moharer.net/mohhtm/moh_trans175.htm
http://anderson.ath.cx:8000/911/news55.html
Al-Moharer.net - earliest sighting of this document - Thursday 1st April 2004
http://maillists.uci.edu/mailman/public/ethnicstudies/2004-April.txt
Unofficial translation by Behnam Keryo, a staff member of Al-Moharer
O' you proud sons of Iraq,
O' you Arabs of honor,
O' you freedom lovers all around the world
In these days, a year will have gone by, since the British-US led aggression launched by Bush-Blair on behalf of Zionism against Iraq, the Land of the two rivers, the cradle of civilization and the center of glory and splendid history. Having lost all their pretexts to justify their aggression and to impose the logic of occupation, we see today these gangsters and thugs, loosing their minds in front of the mounting heroic resistance and the valiant attacks. You hear their leaders and their civil governor who have nothing else to announce to Iraqis but that more dark days are awaiting them. Yes God willing, there will be darker days for the invaders and aggressors. By the Grace of the almighty God and the will of our people, let the year 2004 be the year of complete liberation.
Ten months ago the National Council for the Iraqi Resistance was born, it included battalions of Mujahideen from the Baath militants, men of the armed forces, and heroes of the national security apparatus and with them, in a complete solidarity, tens of thousands of Iraqis patriots who refuse the occupation and humiliation. The noble Sheikhs of tribes, the religious Mujahideen and scores of Islamic forces have joined this courageous resistance, in order to form an organizational framework to conduct operations and to coordinate the resistance programmes and actions according to the development of the military situation and the political environment. In order to make things clear, the Unified National Council for the Iraqi Resistance, UNCIR announces its' political programme to all the Iraqis and all Arabs of honor. It calls upon those Iraqis who erred and faulted by serving the occupation in any way to think twice about what they are doing and to immediately change this non-honorable attitude, and return to the bosom of the Resistance. May God forgive them for what they have done in the past.
On this occasion, we like to assert the following:
1) An absolute global rejection of the occupation, its tools, its agents and whatever emanates out of it, such as structures, titles, and treacherous committees serving the invaders and betraying the people. We call upon everyone including the members of the Governing Council to repent at once and to distance themselves from this fire that will consume them soon, and to consider all its decisions and recommendations null because what has been built on a false base is false.
2) The continuity of the Resistance in all its armed forms, and the mobilization of masses through demonstrations and protests, boycott of the occupation and all its structures, through every possible means until the departing of the last soldier from Iraq, and we will never accept anything less than that. Let everyone know that he who resists and who takes upon himself the duty to resist the invaders and chase them to liberate Iraq, he is the one capable of directing Iraq and rebuilding it, and there will be no room inside Iraq for traitors, thugs or mercenaries.
3) Immediately after the departure of the invaders, and the liberation of Iraq, we call to the return of the State in all its sovereign national and organizational institutions and the return of the Army as a unified national institution as it existed before April9 th2003 .
4) The National Council will announce, at the right time, the constitution of a new National Union Transitional Government for two years. The transitional government will assume the role of sovereignty and representation of Iraq. It will accomplish the urgent national task of healing the wounds and to helping those who suffered among the people. It will be in charge of reconstructing the State managing structures and its vital services including the following national missions:
a) To organize, in two years time, new elections for the new national council supervised by the Arab League and international observers and respected international organizations concerned with democratic Processes.
b) To create an Advisory Council of 150 members known for their wisdom and honesty chosen from loyal Iraqis, those who did not maculate their hands with the invaders, to be considered as the Council of Wise men and providing advice and expressing views to the transitional government and participating with the Ministers Council to prepare a permanent Constitution for the country, which will contain all of the countrymen fundamental rights, thus safeguarding the unity of Iraq and its Arabic identity. This Constitution will be proposed via a popular referendum 18months after the departure of the invaders.
The Advisory Council and the Transitional Government will immediately act to abolish all emergency laws and decisions that were issued before.
c) After signing the permanent Constitution, the nationally elected Assembly meets the Advisory Council to elect the President of the Republic and his Vice-President for 5 years. The name of the President will be exposed to the people for a general Referendum, in which the candidate must obtain60 % of the votes in this election.
d) To establish political freedoms according to a specific law allowing the freedom of creating political parties, associations and civil society organizations, and the creation of newspapers and to establish freedom of the press taking into account the patriotic criteria, the 'good man in the good place' policy with loyalty as a base to procure employment in the civil services and to impose the notion of the State of the Law, the respect of the political system and the institutions.
e) To create High Council for Human Rights which will include personalities known for their rectitude and national loyalty. This Council will enjoy large powers to investigate and bring to accountability those who don't respect the Human Right of the Iraqis, or their dignity. The Council will report its resolutions and recommendations directly to the President of the Republic, the Prime Minister and the National Assembly, so as to act in the spirit of unity and to reject the ugly politics based on confessional background and sustain the principal of equality in front of the law.
f) To develop the law of autonomy for Iraqi Kurdistan, to guarantee the national and cultural rights of the Kurdish area inside the frame of a unified Iraq, its sovereignty, and discuss these matters in the spirit of dialogue and openness with the Kurdish forces, standing on the unalterable bases of the flag, sovereignty, foreign affairs and the national security of Iraq.
Finally, the Unified National Council for the Iraqi Resistance salute, with great pride and honor, the sacrifices of the glorious martyrs of Iraq, and also greet and salute all the hostages and detainees, imprisoned in the occupation jails.... and God willing the day of victory is coming so on as God has promised that the few shall vanquish a multitude, God willing.
The National Unified Council for the Iraqi Resistance UNCIR
The Political Branch
http://www.al-moharer.net/mohhtm/moh_trans175.htm
http://anderson.ath.cx:8000/911/news55.html
---
Bremer closes hardline newspaper and Iraqis ask: Is this democracy US-style?
By Robert Fisk in Baghdad - 30 March 2004
[See the above, a direct consequence of this totalitarian action by Bremer and his friends - ed.]
http://www.christusrex.org/www1/icons/ipc-3-30-04.html
http://www.robert-fisk.com/articles385.htm
Another little lesson in democracy. "The Americans and the Governing Council are kaffirs," the Iraqi Shias screamed yesterday from the minibus in Al-Hurriyah Square. Hurriyah means freedom. Kaffirs means infidels, atheists, apostates.
On Sunday morning, American troops blocked the four roads into the square and Iraqi policemen - 90, according to the journalists of the Al-Hawza al-Natiqa newspaper - entered the paper's offices on the square and presented the staff with a signed letter from Paul Bremer, the US proconsul, ordering them to close down the weekly for 60 days.
Then US troops searched the premises. A few biscuits were left lying on the sofa of the editor's office. And the gates were closed with a new lock, marked "American Made". "This is not America - this is Iraq," one of the paper's journalists said yesterday, pointing at the gate which had already been forced open by the staff.
Now let us not be romantic. Al-Hawza al-Natiqa means "The Spoken (Islamic) College" and the paper is a mouthpiece of Muqtada Sadr, whose "Mehdi's army" brings a chill even to the heart of Paul Bremer. Its sin, among many, was to criticise Mr. Bremer and - in his own words, for he signed the letter - "to provoke violence against the 'Coalition Forces'." For coalition, read occupation.
The letter was quite specific; anyone who disobeyed and dared to publish more "false reports" faced court, a possible year in prison and a $1,000 (£550) fine.
Mr Bremer was specific about the paper's alleged crimes. The letter was addressed to the manager of the paper, Sheikh Abbas al-Raba'i, and stated that his publishing licence was being revoked. He and his editor, Sheikh Abbas Hassan Zargani, were guilty of publishing "false" articles.
"I am satisfied that your newspaper ... published many articles ... that made the security situation unstable and that you are encouraging violence against the Coalition Forces and the Coalition Provisional Authority (CPA)."
To wit - as they say in the courts - an article on 26 February stating that the destruction of new Iraqi police barracks in Iskandariyah that same month was caused by a missile fired by an American helicopter.
"In the same edition," Bremer wrote, "you published an article entitled Bremer is following the example of Saddam". In that story, Bremer claimed, the paper had stated that the occupation authorities were, "making the Iraqi people hungry so that they will spend their time trying to find food and will not have the chance to demand their political and individual freedoms.
"This report is false and the CPA is doing its best to provide food and medical help for the Iraqi people and to repair the infrastructure of the country and put the fundamentals of political, economic and individual freedoms in place." These efforts, Bremer said, were previously "outside the dreams of the Iraqi people".
There then followed a list of further sins. On 6 August last year, the paper accused the United States of invading Iraq "not only to remove Saddam and steal Iraq's oil but to destroy the character and civilisation of the Iraqi people. On 21 August, the paper claimed that the Americans in Sadr City in Baghdad - a vast area of Shia slums - were "fighting Islam and its symbols." That represented "a serious threat of violence against the 'Coalition Forces' and against the Iraqi people who are co-operating with the CPA in the reconstruction of Iraq."
Mr. Bremer did not mention that in the incident a US helicopter crew took down an Islamic flag from a pole in Sadr City. Yesterday, the paper's staff replied. "Suppression of the press", they cried. Al-Hawza al-Natiqa was merely "letting our people know what is going on in secret ... ".
From the Balfour Declaration of 1917 - giving Britain's support for a Jewish homeland in Palestine - to the new "criminal constitution in Iraq", the people were lied to. The "honest voices" of journalists' could not be silenced.
In "Freedom Square" yesterday, there was no truck with the argument that the last thing the occupation would do was attack its own new creation, the "new" Iraqi army. Every time a police station or even the UN headquarters, is attacked, the rumour spreads that the Americans are to blame.
Nonsense, you may say. But does a weekly paper with a circulation of only 10,000 - in a population of 26 million - really pose a threat to the all-powerful occupying power? Was it worth this anger to put an American lock on the gate?
"Is this the democracy that the American angels came to give us?" the editors' reply asks. "Is this the transfer of free journalism that modern states wish to bestow upon Iraq?"
If Mr Bremer thinks he can give Iraqis things "beyond their dreams", it was "beyond their dreams" that they would be afraid of "black-belted suicide bombers" and destruction.
And, it should be added - though the paper's staff did not say so - the Shia of Iraq were the population most viciously treated by Saddam.
Indeed, Mr. Bremer's letter was addressed to the office of "the Martyr Sadr". Mohamed Sadeq al-Sadr was assassinated by Saddam's thugs in 1999, along with two of his sons. Muqtada is the surviving third son.
"This idiot Bremer closed our paper and look at the anger of the people," one of the paper's journalists, Mustafa al-Mohamediya, said yesterday. Well, not that many people. Fifty at most, with the black flags of Moharram, were demonstrating outside the offices of the paper in "Freedom Square".
It's a run-down quarter of Baghdad, where lovers carve their names on the trees. "God will kill the enemies of the Imams and give victory to their son Muqtada", it was written on a banner yesterday. The "war on terror" continues ...
http://www.christusrex.org/www1/icons/ipc-3-30-04.html
http://www.robert-fisk.com/articles385.htm
---
Britain's secret army in Iraq: thousands of armed security men who answer to nobody
http://news.independent.co.uk/world/middle_east/story.jsp?story=505826
By Robert Fisk in Baghdad and Severin Carrell in London
28 March 2004
So many British security firms are cashing in on the violence in Iraq that armed private security men now outnumber most of the national army contingents in the country.
Thousands of former soldiers and police officers from Britain, the US, Australia and South Africa are earning wages as high as £600 a day to protect Western officials, oil company executives and construction firm bosses in Iraq. The SAS is said to be suffering an unprecedented loss of personnel as its highly trained soldiers are lured by lucrative private security work.
With business of around £1bn, British companies are estimated to have the biggest share of private security contracts in Iraq. According to experts, between 1,200 and 1,500 former British soldiers and police officers, including former SAS, Marines, paratroopers and RUC officers, are working in Iraq. Some privately estimate that the total number of foreigners working for private security companies now exceeds the 8,700 British troops there.
Apart from the major US and British companies, dozens of small firms have set up shop in Iraq. Former British and American special forces members speak of their concern that smaller firms are hiring personnel with little experience with firearms and have no interest in setting out the circumstances in which their employees may use their weapons.
The presence of thousands of armed Westerners and others, including Gurkhas and Fijians, says much about America's fear of military casualties. Security firms are escorting convoys. Armed men from an American company are guarding US troops at night inside the former presidential palace where Paul Bremer, the American proconsul, has his headquarters. When a US helicopter crashed near Fallujah last year, an American security firm took control of the area and began rescue operations.
Details of the number of companies here - there may be as many as 400 - are further complicated by the number of security firms that are subcontracted by larger companies on a daily or weekly basis. Larger companies such as Control Risks complain that many are unregistered and uninsured.
Much of the money being earned by British companies is coming from the British taxpayer. The Independent on Sunday has learnt that the Foreign Office and Department for International Development have spent nearly £25m on hiring private bodyguards, armed escorts and security advisers to protect their civil servants. That figure is set to increase sharply in July when sovereignty is handed over to an Iraqi administration.
The largest contract is with Control Risks, which has earned £23.5m. It employs about 120 staff to protect about 150 British officials and contractors.
http://news.independent.co.uk/world/middle_east/story.jsp?story=505826
---
World condemns Yassin assassination
The World Today - Tuesday, 23 March , 2004 12:14:00
http://www.abc.net.au/worldtoday/content/2004/s1071909.htm
Reporter: Leigh Sales
HAMISH ROBERTSON: Senior Bush administration officials have been holding meetings all day with Israel's Foreign Minister, Silvan Shalom, where they discussed Israel's targeted killing of Sheikh Yassin, and prospects for the Road Map for peace in the Middle East. Sheikh Yassin's death has been met with outrage in the Arab community, and Israel's action has attracted worldwide condemnation.
But as Leigh Sales now reports from Washington, unlike other nations, the United States is refusing to condemn Israel, saying instead that it's "troubled".
LEIGH SALES: A chorus of international voices condemned Israel's targeted killing of Sheikh Yassin, from the United Nations in New York to the European Union in Brussels.
Irish Prime Minister Bertie Ahern expressed the view which has been the almost universal reaction.
BERTIE AHERN: Naturally we condemn the extrajudicial killings of Sheikh Yassin and seven other Palestinians by Israeli forces this morning. And the European Union has at present stated it has consistently opposed extrajudicial killings. Not only are extrajudicial killings contrary to international law, but they undermine the concept of the rule of law which is a key element in the fight against terrorism.
LEIGH SALES: He was backed by French President, Jacques Chirac.
"It is in this spirit, that we condemn the act conducted against Sheikh Yassin because it was against international law," the French leader said.
In Washington, the United States was at pains to point out the Israeli government hadn't given it advance warning of the mission. The US is still trying to mediate a peace deal between Israel and the Palestinians, and needs to try to maintain some appearance of impartiality.
Even so, its closeness to Israel made it politically impossible for the US to use the same strong language that other nations did in condemning the killing.
White House spokesman, Scott McClellan.
SCOTT MCLELLAN: During this time period we want to continue to urge all parties to show restraint. That's where our focus is, so that we can get back to moving forward on the peace process. Again, we've made it very clear this is not something we had advanced warning about.
LEIGH SALES: Israel's Foreign Minister Silvan Shalom met with senior Bush administration officials today, including Vice President Dick Cheney, National Security Advisor Condoleeza Rice and Secretary of State, Colin Powell.
Like the White House spokesman, Mr Shalom was also at pains to point out Israel had acted without US backing.
SILVAN SHALOM: This decision was taken by the Israeli Cabinet itself and it was not coordinated with the American administration like Hamas claimed this morning. We are taking our decisions on our own, by ourselves and it was a decision that was taken as self defence.
LEIGH SALES: The question now is whether the US-led Road Map for peace in the Middle East can be salvaged. The peace process has bounced back before from incredible setbacks, yet the progress always seems to last only until the next inevitable cycle of violence and retaliation begins.
This is Leigh Sales in Washington for The World Today.
http://www.abc.net.au/worldtoday/content/2004/s1071909.htm
The chilling implications of this state killing
Robert Fisk - 23 March 2004
http://www.thestar.co.za/index.php?fSectionId=132&fArticleId=381027 (Full Story)
It doesn't take an awful lot of courage to murder a paraplegic in a wheelchair. But it takes only a few moments to absorb the implications of the assassination of Sheik Ahmed Yassin yesterday. Yes, he enthusiastically endorsed suicide bombings - including the murder of Israeli children. Yes, if you live by the sword, you die by the sword, in a wheelchair or not. But something went wrong with the narrative of the news story yesterday, and something infinitely more dangerous - another sinister precedent - was set for our brave new world.
Take the old man himself. From the start, the Israeli line was simple. Yassin was the "head of the snake" - to use the words of the Israeli ambassador to London - the head of Hamas, "one of the world's most dangerous terrorist organisations".
But then came obfuscation from the world's media. Yassin, BBC World Service Television told us at lunchtime, was originally freed by the Israelis in a "prisoner exchange". Then, later in the day, the BBC told us that he had been freed "following a deal brokered by King Hussein".
Which was all very strange. He was a prisoner of the Israelis. This "head of the snake" was in an Israeli prison. And then - bingo - this supposed monster was let go because of a "deal". So let's remember what the "deal" was.
Yassin was set free by no less than Benjamin Netanyahu when he was prime minister of Israel. King Hussein wasn't a "broker" between two sides.
Two Israeli Mossad agents had tried to murder a Hamas official in Amman, the capital of an Arab nation which had a peace agreement with Israel.
They had injected the Hamas man with poison, and the late King Hussein called the US president in fury and threatened to put the captured Mossad men on trial if he wasn't given the antidote to the poison and if Yassin wasn't released.
Netanyahu immediately gave in. Yassin was freed and the Mossad lads went safely home to Israel.
So the "head of the snake" was let loose by Israel itself, courtesy of the then Israeli prime minister - a chapter in the narrative of history which was conveniently forgotten yesterday. Which is all very odd.
If the elderly cleric really was worthy of state murder, why did Netanyahu let him go in the first place? It was not a question that anyone wanted to ask yesterday.
But there was something infinitely more dangerous in all this. Yet another Arab had been assassinated. The Americans want to kill Bin Laden. They want to kill Mullah Omar. They killed Saddam's sons. Just as they killed three al-Qaeda men in Yemen.
The Israelis repeatedly threaten to murder Yasser Arafat. It's getting to be a habit.
No one has begun to work out the implications of all this. For years, there has been an unwritten rule in the cruel war of government-versus-guerrilla. You can kill the men on the street, the bomb-makers and gunmen, but the leadership was allowed to survive.
Now all has changed utterly. Anyone who advocates violence - even if they are palpably incapable of committing it - are now on a death list. So who can be surprised if the rules are broken by the other side?
The top guys are now in the firing line. Let us not say we didn't know.
http://www.robert-fisk.com
---
Fanning the flames of conspiracy
By Brian Wheeler - BBC - 16Mar04
At Oxford Old Assizes
http://news.bbc.co.uk/1/hi/uk_politics/3516486.stm
Someone - the fire service presumably - has hung a banner above the entrance to Oxford coroner's court showing a smouldering cigarette end.
"Put it out. Put it right out", the poster urges.
It is hard to imagine a more appropriate mantra for Oxfordshire coroner Nicholas Gardiner, as he battled in vain to extinguish the controversy surrounding the apparent suicide of Dr David Kelly.
As an exercise in firefighting, Tuesday's 15 minute hearing was doomed from the start - a fact ruefully acknowledged by Mr Gardiner himself.
"This hearing will do little to put an end to the controversy relating to the death of Dr Kelly," he said at one point in his statement.
How right he was.
Hutton refugees
The purpose of the hearing was to rule out an inquest into Dr Kelly's death, and hopefully draw a line under the long-running saga of Dr Kelly's apparent suicide.
In contrast to the modern, antiseptic environs of Court 76 at the Royal Courts of Justice, where I had heard the Hutton verdict delivered, The Old Assizes at Oxford, does at least feel like a real court; all wooden benches, red velvet and an air of faded Victorian splendour.
But there was little of the sense of drama that attended the Hutton hearings, as the outcome had been widely trailed in the press.
A small band of Hutton refugees, in anoraks and blazers, had made the trip to Oxford. But they were greatly outnumbered by journalists, who squashed into the pew-like press bench to hear Mr Gardiner's words.
The coroner began by acknowledging the public interest in the case.
'Interested parties'
He had received dozens of letters, e-mails and phone calls, he said, all of which had been read, if not necessarily acknowledged.
He did not "want to enter into correspondence" on the matter, he said.
There were clearly no shortage of interested parties in Dr Kelly's death. But within the conventions that govern such things, they were not "properly interested parties", Mr Gardiner explained.
"Members of the public" were not normally called as witnesses in court cases, so they would not be called in this case.
Jeremy Gompertz QC made a brief statement on behalf of the Kelly family. Mr Gardiner asked David Pearson, acting for the government if he had anything to say. He did not.
Case closed?
Having reviewed the evidence that had not been presented to the Hutton Inquiry, Mr Gardiner said he was satisfied there was no need for further investigation.
The Lord Chancellor believed there were no "exceptional reasons" why the inquest into the death of Dr Kelly should be re-convened and neither did he.
The Hutton Inquiry's findings - that Dr Kelly had killed himself - would stand.
This would be his final word on the matter. Case closed. Or so Mr Gardiner fondly hoped.
Out in the car park, the Kelly Inquiry Group (KIG) - a loose affiliation of barristers, doctors and other interested parties who have made Dr Kelly's death their business - were handing out press releases. They wanted answers.
Why had Dr Kelly's body apparently been moved after death?
Who were the "three individuals in black or dark clothing" seen "acting suspiciously" at the scene of Dr Kelly's death on the morning his body was found?
Why had the police tactical support operation - condemned "Mason" - started nine hours before Dr Kelly had been reported missing?
Murder claim
Michael Shrimpton, a barrister who said he was with the KIG, wanted to know why the forensic report could not confirm Dr Kelly had swallowed 29 co-proxamol tablets.
Could the drug have been injected, and the puncture marks hidden by the cut wounds to Dr Kelly's wrists?
Squinting at the Spring sunshine, Mr Shrimpton told a gaggle of television interviewers his personal belief was that Dr Kelly had been murdered.
But he wanted the matter "put before a jury".
"The British public will not be satisfied with the outcome of the Hutton Inquiry and it will not be satisfied with this hearing today."
The remaining Kelly heretics were still sharing their thoughts with an American television crew a good 20 minutes after the hearing had ended.
Mr Gardiner's wish that the Kelly family should be allowed to "grieve in peace" seemed a long way from coming true.
http://news.bbc.co.uk/1/hi/uk_politics/3516486.stm
---
THE MAN RESPONSIBLE FOR PREVENTING A LAWFUL INQUEST INTO DAVID KELLY'S DEATH
Oxfordshire Coroner: Nicholas Gardiner
City Coroners Office
New Post Mortem Suite
John Radcliffe Hospital
Headley Way
OXFORD
OX3 9DU
TEL. 01865 744011 - FAX. 01865 742453
---
The Strange Suicide of David Kelly
Questions for the coroner's inquest (since closed without hearing evidence)
by Renan Talieva - 28Feb04 -
http://www.deadscientists.blogspot.com/
With the release of his report last month, Lord Brian Hutton pronounced the death of scientist David Kelly a suicide. But the evidence given at the inquiry does not substantiate the finding. It is not yet known exactly how he died.
Members of the medical community and the general public are beginning to express growing skepticism about the stated cause of death. In response to their concerns, Oxfordshire coroner Nicholas Gardiner will hold a hearing in March to determine if 'exceptional reasons' compel him to reopen the original inquest. [1]
There is more than adequate cause to question the current interpretation of the scientist's demise, as set forth by the Hutton report (HR) and the public record of the Hutton inquiry (HI). The official version can be summarized as follows.
Between 3.00 and 3.20 pm on 17 July 2003, Dr Kelly left his Oxfordshire residence after telling his wife he was going for his regular walk. At about 9.20 am on 18 July, his body was found by volunteer searchers in a wooded area on Harrowdown Hill. On the body was a mobile telephone, glasses, key fob, and three 10-tablet blister packs of coproxamol with 1 tablet remaining. Near the body was a Barbour cap, wristwatch, Sandvig knife, and half-litre bottle of water.
From this it was concluded that although he suffered from no significant mental illness, by the afternoon of 17 July Dr Kelly was feeling isolated and hopeless. When he left the house he took with him several packets of his wife's prescription pain medication, a gardening knife from his desk drawer, and a bottle of water.
He proceeded to one of his favorite haunts, a peaceful and secluded spot, where sometime between 4.15 pm and 1.15 am he removed his watch and glasses, swallowed over 20 pills, and repeatedly slashed at his left wrist, leaving the radial artery intact but completely severing the ulnar artery which caused him to bleed to death, most of the blood soaking into the detritus of the woodland floor.
In the process of stumbling or thrashing about in the undergrowth he possibly sustained minor abrasions to the scalp and lower lip, along with bruising to the lower legs and left side of chest. His demise was further hastened by a less than fatal but more than therapeutic blood level of dextropropoxyphene and paracetamol, and by clinically silent coronary artery disease.
It is an odd and illogical tale, notable for its abundance of conjecture and conflicting witness accounts. The ten questions below highlight some disturbing anomalies.
Did Kelly cut his own wrist?
Forensic pathologist Nicholas Hunt gave no evidence specifying the direction in which the wounds were made to support a conclusion of self- infliction. The presumed scenario is that Dr Kelly drew the knife with his right hand across his left wrist (thumb to little finger).
But the location of arteries in the wrist suggests that in so doing he would have more easily damaged the superficial radial artery on the lateral aspect. It is not likely he would have left the radial artery intact while exerting enough pressure to completely sever the deeper, better protected ulnar artery at the medial aspect. [2]
And forensic biologist Roy Green observed that finding a bloodstain on the right sleeve of Dr Kelly's jacket was 'slightly unusual' [HI] in view of the presumed scenario. The pathologist did not mention blood on the right sleeve in his evidence.
Dr Hunt also made the questionable inference that the apparent removal of the watch 'whilst blood was already flowing' [HI], along with the removal of the spectacles, pointed toward an act of self harm. It seems more likely Dr Kelly would have removed the watch before inflicting the wounds and left his glasses on to facilitate the effort.
Then there is the alleged weapon. If Dr Kelly's intention was to efficiently open an artery, his choice of an old, blunt* gardening knife seems highly unlikely. As does the horizontal incision of a single wrist.
*Bluntness is assumed from the pathologist's description of the wound's crushed edges.
Did Kelly bleed to death?
Medical specialists have questioned whether the incised wounds as described by Dr Hunt could have led to fatal haemorrhage. Only the small ulnar artery was cut which, having been completely transected, would have defensively retracted and clotted while blood pressure slowed, thereby greatly inhibiting the flow of blood. [3]
And if one were to accept a verdict of death by exsanguination, why was there not more blood found in the vicinity?
It has been estimated that for a person of Dr Kelly's size to die of haemorrhage, he would need to lose about five pints of blood. But witness accounts did not indicate anything near that amount at the scene.
Paramedic Vanessa Hunt volunteered the observation that there was 'no obvious arterial bleeding. There was no spraying of blood or huge blood loss or any obvious loss on the clothing. ... As to on the ground, I do not remember seeing a sort of huge puddle or anything like that.' [HI] This was seconded by ambulance technician David Bartlett, who commented 'we was surprised there was not more blood on the body if it was an arterial bleed.' [HI]
In rebuttal to these comments, the forensic biologist referred to 'a fair bit of blood' [HI] around the body and surmised that much of it had probably been absorbed by leaf litter covering the ground. He does not appear from the evidence to have tested the premise.
The pathologist's conclusion that '[t]he arterial injury had resulted in the loss of a significant volume of blood,' [HI] seemed to derive from the fact that the artery had been cut rather than from specific evidence at the scene or the post mortem examination. He did not offer an assessment of the amount of blood remaining in the heart and large vessels to support a conclusion of haemorrhage.
Did Kelly take an overdose of his wife's medication?
Although the secondary cause of death was determined to be coproxamol ingestion, forensic toxicologist Alexander Allan reported finding merely 67 milligrammes of paracetamol in the stomach contents (equivalent to one-fifth of one tablet of coproxamol), and blood level concentrations per millilitre of 97 microgrammes for paracetamol and 1.0 microgrammes for dextropropoxyphene (equivalent to approximately 20 tablets).
Dr Allan acknowledged this amount to be three to four times lower than the medically accepted level for fatal overdose. Dr Hunt offered no post mortem evidence of respiratory depression or heart failure consistent with dextropropoxyphene overdose, or of liver damage from paracetamol overdose.
Lord Hutton noted that according to Dr Allan, 'the only way in which paracetamol and dextropropoxyphene could be found in Dr Kelly's blood was by him taking tablets containing them which he would have to ingest.' [HR p 95] But acquaintance Mai Pederson reportedly told police that Dr Kelly had difficulty swallowing pills -- a condition which could be confirmed by family, friends or physician. If true, it is doubtful that he would have voluntarily chosen to ingest over 20 of them.
In addition, as a scientist and biowarfare specialist Dr Kelly would presumably have known how much coproxamol was required to induce overdose, and have had knowledge of and access to faster and more lethal substances.
Nor was it adequately demonstrated at the inquiry that the blister packs found in Dr Kelly's jacket were taken from his wife's prescription.
In his report, Lord Hutton deemed it 'probable that the Coproxamol tablets which Dr Kelly took just before his death came from a store of those tablets which Mrs Kelly, who suffered from arthritis, kept in their home.' [HR p 96] This despite evidence from Detective Constable Eldridge that their identical batch numbers were shared with 1.6 million other packets sold throughout the country.
And Mrs Kelly did not confirm that an equivalent number of tablets were missing from her store at the house.
Was Kelly suicidal?
In the expert opinion of psychiatrist Keith Hawton it was 'well nigh certain' [HI] that Dr Kelly had committed suicide, a conclusion based largely on circumstantial evidence: isolated location of the site, wounds to the wrist, apparent use of a familiar object, presence of several empty blister packs. Less attention was given to the numerous contraindicators of suicidal ideation.
Professor Hawton told the inquiry that Dr Kelly was 'an intensely private man' who kept his emotions bottled up and whose self-esteem was tied to his work. [HI] He theorized that in the wake of the parliamentary hearings, Dr Kelly had begun to see himself as publicly disgraced and to fear the loss of his job. Receiving additional parliamentary questions at about 9.28 am on 17 July possibly led to a perception that the problem was escalating and increased his sense of hopelessness.
But these suppositions are not borne out by witness accounts or by Dr Kelly's own behavior.
According to MoD colleague Wing Commander John Clark, Kelly had reporting being in good spirits when they spoke by telephone on 17 July. Clark and Kelly had agreed on 25 July as the date for him to fly to Iraq to work with the survey group, and the evidence indicated he was eager to resume that effort.
At about 11.18 am that morning, Dr Kelly sent several e-mails to friends and colleagues, most anticipating that it would 'all blow over by early next week' [HI] and indicating his expectation of returning to Baghdad the following Friday. The e-mail messages given as evidence are not indicative of depression, despair, or hopelessness.
Nor did Dr Kelly seem uncharacteristically distraught in encounters with two neighbors after leaving the house. Sometime around 3.00 pm he stopped and chatted amiably for a few minutes with neighbor Ruth Absalom, who described him as '[j]ust his normal self, no different to any other time when I have met him.' [HI] Farmer Paul Weaver also saw Kelly walking through farmland that afternoon, as reported by the 20 July Observer. Weaver commented that Kelly 'seemed happy enough' and had smiled at him. [4]
Professor Hawton in his evidence mentioned three possible factors that might have acted as deterrents against Dr Kelly's suicide.
One was faith. Dr Kelly was acknowledged to have been a practicing member of the Baha'i faith, which strongly condemns the act of suicide.
Another was family. He had arranged with his daughter Rachel the night of 16 July to join him at his home the next evening for a walk and to visit a nearby foal. He was also looking forward to his daughter's wedding in October.
A third was the effect of a previous suicide by a family member, which may decrease the likelihood of the survivor choosing a similar course. Dr Kelly has been quoted by Mai Pederson as saying in regard to his mother's suicide, 'Good God no, I couldn't imagine ever doing that ... I would never do it.' [5]
These mitigating factors, coupled with Professor Hawton's observation that Dr Kelly's 'mood was predominantly reported as being quite upbeat in spite of all his difficulties' with no 'sense of a persistent depressive mood' [HI], and an historical lack of psychiatric problems, contrast sharply with Hawton's depiction of a man suddenly pushed over the edge by additional parliamentary questions and a terminal case of mortification.
Assistant Chief Constable Michael Page confirmed that 'based on early discussions with the inquiry it seemed entirely out of character' for Dr Kelly to have taken his own life. [HI]
Was Kelly's body moved?
Throughout the inquiry it was assumed that the body remained undisturbed until checked for vital signs by the ambulance crew. But there were marked discrepancies in descriptions of body position, particularly whether the body was lying flat or the head and shoulders rested against the tree, and whether the right arm was lying to the side of the body or across the chest.
By all accounts, the first person on the scene was Louise Holmes, a volunteer member of the search team who approached to within a few feet of the body. She stated: 'I could see a body slumped against the bottom of a tree. ... He was at the base of the tree with almost his head and his shoulders just slumped back against the tree. His legs were straight in front of him. His right arm was to the side of him. His left arm had a lot of blood on it and was bent back in a funny position.' [HI]
The second person to view the body was fellow searcher Paul Chapman. From a distance of 15 to 20 metres he saw: 'The body of a gentleman sitting up against a tree... He was sitting with his back up against a tree...' [HI]
Soon after, Detective Constable Graham Coe arrived at the scene. His description was quite different: 'It was laying on its back -- the body was laying on its back by a large tree, the head towards the trunk of the tree.' [HI] He also reported seeing a knife, watch, and small water bottle near the body. Holmes and Chapman did not mention seeing other objects, nor were they questioned about them at the inquiry.
Lord Hutton chose not to quote Chapman directly in his report but related that, 'Mr Chapman then took one of the police officers, Detective Constable Coe, to show him where the body was. Mr Chapman showed Detective Constable Coe the body lying on its back...' [HR p 86] Hutton later commented, 'I have seen a photograph of Dr Kelly's body in the wood which shows that most of his body was lying on the ground but that his head was slumped against the base of the tree - therefore a witness could say either that the body was lying on the ground or slumped against the tree.' [HR p 100]
But Chapman twice used the term 'sitting' to denote body position, which is not to be confused with 'lying.' And subsequent witnesses did not use the term 'slumped' at all, nor did they indicate that any part of the body was resting against the tree.
Police Constables Dean Franklin and Martyn Sawyer were next on the scene. PC Franklin described the victim as 'lying on his back with his right hand to his side and his left hand was sort of inverted with the palm facing down (Indicates), facing up on his back.' [HI] PC Sawyer described the body as '[l]ying on its back with its head at the base of a tree, a large tree. The head was tilted to the left. The right arm was by the side. The left arm was palm down.' [HI]
The ambulance crew arrived soon after and waited while police photographs were taken before checking for vital signs. Hunt stated: 'There was a male on his back, feet towards us. On his left arm, which was outstretched to the left of him, there was some dry blood. ... The only part of the body we moved was Dr Kelly's right arm, which was over the chest, to facilitate us to place the fourth lead on to the chest.' [HI] Bartlett stated: 'They led us up to where the body was laid, feet facing us, laid on its back, left arm out to one side (indicates) and the right arm across the chest.' [HI]
It is possible the body was moved for some reason by police. But no one gave evidence to that effect. DC Coe in particular made a point of telling the inquiry he observed the scene but 'did not go over the body.' [HI] As related by Lord Hutton, Coe 'remained about seven or eight feet away from the body and stayed in that position for about 25 or 30 minutes until two other police officers arrived...' [HR p 86]
The position of the head at the time the body was found is significant in relation to what Bartlett described as stains going from the 'corners of the mouth' towards the 'bottom of the ears.' [HI] These were confirmed by pathologist Hunt to be vomit streaks. The direction of the streaks indicate the head would have been lying flat, not slightly raised. If the head was resting against the tree at the time, the streaks would have come forward down the chin. This raises the further possibility that the body was moved after death but prior to discovery by Holmes.
These disparities could possibly be resolved using the digital photographs taken by search team leader PC Sawyer, supposedly before the body and surrounding area were disturbed. It does not appear that searchers Holmes and Chapman or ambulance crew members Hunt and Bartlett were asked to verify whether the photos accurately reflected the position in which they found the body.
Is there reason to suspect foul play?
ACC Page's stated confidence that Dr Kelly 'met his death at his own hand' [HI] derived from the absence of contravening evidence. But as noted by the following items, there were some intimations of outside involvement. It is not apparent that these were seriously explored by the inquiry.
On the morning of the day he went missing, Dr Kelly sent an e-mail message to Judith Miller, a journalist acquaintance with the New York Times, containing the line: 'I will wait until the end of the week before judging - many dark actors playing games.' [HI exhibit COM/1/15]
David Broucher, British ambassador to the disarmament conference, reported to the inquiry a conversation he recalled having with Dr Kelly at a Geneva meeting in February 2003 (the date and location of which are subject to debate). Broucher had asked Kelly what would happen if Iraq were invaded, and Kelly had replied, 'I will probably be found dead in the woods.'[HI] Professor Hawton dismissed this as 'pure coincidence' and without relevance to Dr Kelly's death. [HI] Others have strangely twisted it to represent a premonition of his impending suicide. Taken at face value, it could as readily be interpreted to mean he was aware of some threat to his safety.
The coproxamol and knife found at the scene are ideal choices for lending the appearance of suicide, especially if one starts out with that conclusion. Both items could easily be associated with the victim and shown to be readily available to him at his home. Of interest here is the comment by a Thames Valley Police spokesman reported in the 18 July Guardian, the day the body was found. 'Responding to questions about whether the dead man had died of gunshot wounds, the spokesman said that Dr Kelly was not a licensed firearms holder.' [6]
ACC Page gave evidence that he had been contacted by a witness who reported seeing three men dressed in dark or black clothing between 8.30 and 9.30 am on 18 July near the site where Dr Kelly's body was found. ACC Page said he was able to satisfy himself by plotting the movements of the approximately 50 officers at the scene that he was 'aware of the identity of these three individuals.' [HI] He declined to elaborate on their purported activities.
ACC Page told the inquiry that Dr Kelly's dentist had reported the following incident. Upon hearing on 18 July of Dr Kelly's death, she had attempted to retrieve his dental records from the filing cabinet and found them missing; two days later they had reappeared in their expected place in the filing cabinet. According to ACC Page, the police had investigated and 'found no trace of anything untoward.' [HI] There was no evidence from the dentist that she believed the records to have been misplaced.
Dr Hunt's post mortem examination noted three minor abrasions to the scalp, a small abrasion on the inner lower lip, a bruise below the left knee, two bruises below the right knee, and two bruises over the left side of the chest. His supposition that these injuries may have been sustained through contact with the undergrowth or by stumbling about in the brush merits further critical analysis.
Who is DC Coe?
According to evidence given at the inquiry, Detective Constable Graham Coe enjoyed some prominence in the police investigation. He initially took charge of the death scene, and by his own account supervised an exhibits officer during a search of the Kelly residence on 19 July. But he was not mentioned by ACC Page in connection with the case, nor did the search adviser or search team leader seem to be aware of his activities. There is also some question as to how he came to be the first police officer on the scene and who accompanied him.
Upon locating the body, searchers Holmes and Chapman notified Abingdon police station by mobile phone and were instructed to return to the car and wait for police officers to arrive. Within a few minutes, while walking back to the car, they encountered three men coming up the track, one of whom identified himself as DC Coe.
Chapman told the inquiry, 'As we were going down the path we met three police officers coming the other way that were from CID. We identified ourselves to them. They were not actually aware that (a) the body had been found or we were out searching this area. They I think had just come out on their own initiative to look at the area.' [HI]
DC Coe told the inquiry he had been called out to Abingdon police station at 6.00 am and instructed to 'make some house to house inquiries in the area where Dr Kelly lived.' After speaking to neighbor Ruth Absalom about her encounter with Dr Kelly the previous afternoon, DC Coe and a colleague, whom he identified as Detective Constable Shields, 'went to the area where she had last seen him and made a sort of search towards the river.' [HI]
But search adviser PC Franklin stated he had believed there were only two volunteers out searching at that time, and he had anticipated that after receiving the call he and search team leader PC Sawyer 'were going to be the first team out on the ground.' He evidenced surprise at having found DC Coe and the 'two uniformed police officers' there, commenting 'I had no idea what he was doing there or why he was there. He was just at the scene when PC Sawyer and I arrived.' [HI]
PC Sawyer stated: 'We continued walking up the hill, where I saw DC Coe and two uniformed officers. ...The three officers -- DC Coe and the two uniformed officers -- stayed on the path which leads through the woods.' [HI]
DC Coe affirmed he had only one companion. But at least four other witnesses contradicted his account, specifically stating (some more than once) that he had been accompanied by two other men. Lord Hutton dismissed these discrepancies by noting that 'entirely honest witnesses often give evidence as to what they saw at the scene which differs as to details.' [HR p 100]
It does not appear that the inquiry attempted to verify who DC Coe was with, why they were at the scene, and whether or not he and his two companions were the three men in dark clothing witnessed earlier that morning near Harrowdown Hill.
What is Operation 'Mason'?
One piece of evidence listed on the Hutton inquiry website was 'TVP Tactical Support Major Incident Policy Book: Operation 'Mason' Between 1430 17.07.03 and 0930 18.07.03, DCI Alan Young.' [HI exhibit TVP/10/0099-0105]
In the course of the inquiry PC Sawyer identified Detective Chief Inspector Alan Young as senior investigating officer for the case. ACC Page stated that upon being notified that Dr Kelly's body had been found, he had appointed an unnamed senior investigating officer to 'carry out the technical issues around the investigation.' [HI] It is assumed that both statements referred to the same individual. But the above exhibit indicates his participation began on the afternoon of the day before.
It does not appear that DCI Young gave evidence at the inquiry. Nor was anyone questioned about the tactical support operation under his command, which appears to have commenced at least half an hour before Dr Kelly left his home -- a full 10 hours before his family reported him missing -- and to have terminated at about the time the body was found.
Has all of the evidence been considered?
Unlike a coroner's inquest, the inquiry lacked the authority to request new evidence or compel witnesses to appear. Testimony was not given under oath, nor was it subject to aggressive cross-examination. Key pathological evidence, especially, was not introduced or queried.
The pathologist failed to include assessment of rigor mortis or to establish an approximate time of death -- he offered a nine-hour window based on a temperature reading taken seven hours after gaining access to the body. And his medical evidence did not substantiate haemorrhage, self-infliction, or coproxamol overdose.
In view of the nature of Dr Kelly's work, it is not unreasonable to suspect he may have been killed by someone familiar with the use of techniques and substances which are difficult to detect. But it is unclear whether the necessary sophisticated and exhaustive toxicological analysis was performed to address such a possibility.
As reported by ACC Page, about 500 people were contacted and 300 statements taken in the course of the police investigation, of which five individuals refused to permit their statements to be forwarded to Lord Hutton. The inquiry heard from about 70 individuals whose evidence the police deemed relevant to the proceedings. Those not heard from included Paul Weaver, Mai Pederson, and Gabriella Kraz-Wadsak.
Farmer Paul Weaver may have been the last person to see Dr Kelly alive. The 19 July Guardian reported that Weaver had seen Dr Kelly in the fields near his home on the afternoon of 17 July, and later that day he and councillor John Melling had searched for Kelly in the area between Southmoor and Longworth. [7]
Mai Pederson, considered a friend and confidante of Dr Kelly's, was interviewed by detectives after his death but declined to give evidence to the inquiry. In a 25 January interview with the Mail on Sunday she claimed to have told police of his aversion to swallowing pills, his feeling about suicide, and his sense that his life might be in danger. [8] Yet ACC Page stated that his conversation with Pederson 'added nothing that was of relevance to my inquiry at all.' [HI]
Gabriella Kraz-Wadsak was identified at the inquiry as an officer in the German army who had worked with Dr Kelly in Iraq and been in contact with him days before his death. In reference to her interview, ACC Page judged it also to be '[n]othing that furthered my inquiries...' [HI]
Conceivably, the missing witness statements and pathology details could shed additional light on Dr Kelly's state of mind or behavior. The coroner has indicated that his review of the case will include evidence not considered by the inquiry.
What really happened?
Lord Hutton was unequivocal in his finding of suicide. With all due respect for his juridical competence, such conviction is not warranted by the evidence offered. The preponderance of circumstantial evidence and the exaggerated political context makes questionable a definitive ruling.
As the pathologist noted, Dr Kelly's death has the appearance of typical self-inflicted injury 'if one ignores all the other features of the case.' [HI]
Throughout the inquiry, Lord Hutton neglected to challenge contradictory evidence or to pursue testimony suggesting an alternative scenario. The most obvious explanation in support of suicide was consistently seized upon with little regard for Dr Kelly's known character and disposition.
Despite the circumstantial evidence, it is doubtful that this particular individual would have chosen such an awkward, messy, and potentially ineffectual method. And notwithstanding expert opinion, it is unlikely that in this specific situation he would have gone to his death without attempting to vindicate himself or to put his affairs in order.
All that has been shown thus far is the circumstance under which Dr Kelly was found dead in the woods. It has not been shown that he went there to kill himself, or that he bled to death from self-inflicted injuries. The inquiry did not reliably establish when or how he died.
Lord Hutton's official version remains unproven, the facts as documented by the inquiry incomplete. A coroner's inquest is needed to render a plausible explanation of events based on rigorous examination of the toxicological and pathological evidence.
It is left to Mr Gardiner, wielding the instruments of subpoena and sworn testimony, to probe more deeply into these questions and uncover the truth about David Kelly's death.
About the author:
RENAN TALIEVA is a freelance writer living in the western US, trained in psychological research, with knowledge of suicidal thought and behaviour. He states: 'I have closely followed the Kelly case from the beginning and find it absolutely incredible that the public and the media accept without question the official story.'
Notes
HI The Hutton Inquiry http://www.the-hutton-inquiry.org.uk/
HR Lord Brian Hutton, Report of the Inquiry into the Circumstances Surrounding the Death of Dr David Kelly C.M.G., 28 January 2004 http://www.the-hutton-inquiry.org.uk/content/report/index.htm
1. Danny Kemp, 'Kelly Coroner May Examine Unseen Evidence,' The Scotsman, 29 January 2004 http://news.scotsman.com/latest.cfm?id=2468152
2. Jim Rarey, 'The Murder Of David Kelly,' 14 October 2003 http://www.worldnewsstand.net/MediumRare/31.htm
3. 'Our doubts about Dr Kelly's suicide,' The Guardian, 27 January 2004 http://www.guardian.co.uk/letters/story/0,3604,1131833,00.html
4. 'A haunted man,' The Observer, 20 July 2003 http://observer.guardian.co.uk/focus/story/0,6903,1001786,00.html
5. 'Dr Kelly 'did not kill himself',' femail.uk, 26 January 2004 http://www.femail.co.uk/pages/standard/article.html?in_article_id=206680&in_page_id=2
6. Tom Happold, 'Body matches Kelly's description,' The Guardian, 18 July 2003 http://politics.guardian.co.uk/iraq/story/0,12956,1000922,00.html
7. Steven Morris and Hugh Muir, 'Mystery of last, lonely walk,' The Guardian, 19 July 2003 http://www.guardian.co.uk/guardianpolitics/story/0,3605,1001358,00.html
8. Chris Marsden, 'More questions on Dr Kelly's death as a confidante rejects suicide claim,' World Socialist Web Site, 30 January 2004 http://www.wsws.org/articles/2004/jan2004/kell-j30.shtml
TO COMMENT OR TO JOIN KELLY INVESTIGATION GROUP MAILING LIST CONTACT: RowenaThursby@onetel.net.uk
http://www.deadscientists.blogspot.com/
---
How Britain and the US keep watch on the world
By Phillip Knightley
http://news.independent.co.uk/world/politics/story.jsp?story=495514
27 February 2004
From the National Security Agency's imposing headquarters at Fort Meade, Maryland, ringed by a double-chain fence topped by barbed wire with strands of electrified wire between them, America "bugs" the world.
Nothing politically or militarily significant, whether mentioned in a telephone call, in a conversation in the office of the secretary general of the United Nations, Kofi Annan, or in a company fax or e- mail, escapes its attention.
Its computers - measured in acres occupied by them rather than simple figures - "vacuum the entire electromagnetic spectrum", homing in on "key words" which may suggest something of interest to NSA customers is being conveyed.
The NSA costs at least $3.5bn (£1.9bn) a year to run. It employs at least 20,000 officers (not counting the 100,000 servicemen and civilians around the world over whom it has control). Its shredders process 40 tons of paper a day.
Its junior partner is Britain's Government Communications Headquarters (GCHQ) at Cheltenham, Gloucestershire, the eavesdropping organisation for which Katharine Gun worked. Like NSA, GCHQ is a highly secret operation. Until 1983, when one of its officers, Geoffrey Prime, was charged with spying for the Russians, the Government had refused to reveal what GCHQ's real role was, no doubt because its operations in peacetime were without a legal basis. Its security is maintained by massive and deliberately intimidating security.
Newspapers have been discouraged from mentioning it; a book by a former GCHQ officer, Jock Kane, was seized by Special Branch police officers and a still photograph of its headquarters was banned by the Independent Broadcasting Authority, leaving a blank screen during a World in Action programme. As with NSA, the size of GCHQ's staff at Cheltenham, about 6,500, gives no real indication of its strength. It has monitoring stations in Cyprus, West Germany, and Australia and smaller ones elsewhere. Much of its overseas work is done by service personnel.
Its budget is thought to be more than £300m a year. A large part of this is funded by the United States in return for the right to run NSA listening stations in Britain - Chicksands, Bedfordshire; Edzell, Scotland; Mentworth Hill, Harrogate; Brawdy, Wales - and on British territory around the world.
The collaboration between the two agencies offers many advantages to both. Not only does it make monitoring the globe easier, it solves tricky legal problems and is the basis of the Prime Minister's statement yesterday that all Britain's bugging is lawful. The two agencies simply swap each other's dirty work.
GCHQ eavesdrops on calls made by American citizens and the NSA monitors calls made by British citizens, thus allowing each government plausibly to deny it has tapped its own citizens' calls, as they do. The NSA station at Menwith Hill intercepts all international telephone calls made from Britain and GCHQ has a list of American citizens whose phone conversations interest the NSA.
The NSA request to GCHQ for help in bugging the diplomats from those nations who were holding out for a second Security Council resolution to authorise an attack on Iraq is unsurprising. Nor is it surprising that both organisations wanted to provide their political masters with recordings of private conversations of high-ranking international diplomats.
It is not difficult. Listening "bugs" can be planted in phones, electrical plugs, desk lamps and book spines. Given a clear line of sight, one device enables someone to detect and and interpret sound waves vibrating against the glass window panes of an office.
Bugging the world is not the problem. The problem is avoiding drowning in a sea of information. We should not be surprised that GCHQ and NSA eavesdrop on us. We pay them to do it. We should be asking: "Do they earn their keep?" And, unless we get a few more whistle-blowers like Ms Gun, we will not know, because both agencies surround themselves with a wall of secrecy.
WHO DO WE BUG?
Although under domestic law GCHQ needs a warrant from the Home Secretary to tap telephones in Britain, it can do so abroad without such authorisation.
But the United Nations headquarters in New York is considered sovereign territory, and placing a bug there would be illegal under international law.
Intelligence services spy on hostile and friendly countries, the latter mainly for commercial reasons, but also to gain an edge in diplomatic negotiations. Nato allies are not always immune from intelligence operations by Britain.
Staff working for the UN inspection teams in Iraq were convinced they were under surveillance.
France, Germany and Russia complained of a rise in espionage against them. There was intense activity directed at Jordan and Syria, as well as Saudi Arabia, Yemen and Egypt.
Officials say the only shock about Katharine Gun's discovery of an e-mail from the National Security Agency is that she was surprised by it.
Kim Sengupta
http://news.independent.co.uk/world/politics/story.jsp?story=495514
---
IOF Stage Armed Robbery of $7-9m from 400 Palestinian Accounts
http://www.palestinechronicle.com/story.php?sid=20040226130934688
Thursday, February 26 2004 @ 01:09 PM EST
"The US State Department criticized Israel for raiding the banks without coordinating with Palestinian financial authorities .."
RAMALLAH, West Bank - In a "Mafia-like" robbery, Israeli Occupation Forces (IOF) on Wednesday morning raided Palestinian bank branches in the West Bank city of Ramallah, confiscating around $7-9 million from 400 Palestinian accounts, in a raid condemned by the Palestinian government and criticized by the United States.
"We seized between seven and nine million dollars in cash from 400 accounts of private individuals, families and institutions," an Israeli official told a press conference in Tel Aviv on Wednesday.
Israeli "Defense" Minister Shaul Mofaz claimed in a statement that the confiscated sums would go towards "humanitarian actions" for the Palestinian people.
The Palestine National Authority (PNA) blasted the IOF assault as a violation of Palestinian – Israeli accords and a breach of an understanding with the United States.
"This is a Mafia-like assault, no more no less, that should be dealt with by a very serious way," Palestinian Prime Minister Ahmad Qurei said on Wednesday.
Presidential Secretary General Al- Tayeb Abdel-Rahim told Reuters, "This is provocation. They are asking for Palestinian retaliation. I do not see any justification (for their action)."
Palestinian Minister of Finance Salam Fayyad said that there is a Palestinian- US-Israeli understanding prohibiting any Israeli activity against the Palestinian banking system, adding: "The aggression against the banks in Ramallah yesterday is a flagrant violation of the agreements between the Palestinian and Israeli sides. It hurts the Palestinian economy and its institutions."
Similarly, the Governor of the Palestine Monetary Authority (PMA) Amin Haddad condemned the Israeli assault on Palestinian banks as "a violation of all the accords and rules that govern Palestinian-Israeli relationship" regarding the Palestinian banking system.
Haddad appealed to all international institutions and states to confront this Israeli assault, which will only create chaos and complicate the economic crisis of the PNA.
Palestinian Cabinet Minister for Negotiations Saeb Erekat said the raids were unjustified and could provoke a run on the banks Thursday.
"This is destructive to the Palestinian economy and people are really worried," Erekat said.
US: Israel Should Have Coordinated with PNA
The US State Department criticized Israel for raiding the banks without coordinating with Palestinian financial authorities and said the raids could destabilize the Palestinian banking system.
State Department spokesman Richard Boucher said, "We certainly recognize the need to cut off funding for terror organizations" but added that Israel should work closely with the authorities who supervise Palestinian banks to ensure the money does not get to terror groups.
"Some of these actions that were taken risk destabilizing the Palestinian banking system, so we would prefer to see Israeli coordination with the Palestinian financial authorities in order to stem the flow of funds to terrorist groups," he said.
Boucher said the United States, Israel and the Palestinians, working together, have introduced better accounting procedures and more openness about the flow of funds over the past year and a half.
"That's been a positive thing, both for the Israelis but especially for the Palestinians, who see where their money goes and who see this being handled appropriately for the people who live in these territories," Boucher said.
Targeted Accounts: Israeli Claims
A statement by Israel's Government Press Office claimed late Wednesday that the operation targeted bank accounts that were controlled by or that had received money from three organizations: Lebanese Hezbollah, Palestinian Islamic Jihad and the Islamic Resistance Movement, known as Hamas.
An Israeli security official said the raids also targeted accounts of "terrorist operatives" and their families and "outlawed organizations," principally Islamic charities that are suspected of funneling money to "terrorist" groups.
"The goal of today's operation is to impede the terrorists organizations' activities and reduce their financial capabilities on the ground," the statement said.
Four branches of two banks, the Arab Bank and the Cairo-Arab Bank, were raided, Israeli security officials indicated. Israeli occupation police had search warrants for specific accounts, and "the banks will get a list of the accounts," one of the officials said. "We are giving the banks clear notice of what we've done."
IOF soldiers covered up or disabled bank security cameras and confined employees to back rooms, witnesses said. Customers were allowed to leave after ID checks.
The Israeli officials said that the account holders who had funds confiscated would be allowed to appeal the seizure.
The stolen funds will be used for Palestinian "human" goals, the IOF claimed.
"Mofaz, this evening (Wednesday), February 25, 2004, directed Coordinator of Government Activities in the Territories Maj.-Gen. Yosef Mashlev to immediately plan how to transfer forthwith all of the terrorist funds that were seized in today's operation in Ramallah to a series of humanitarian goals in Palestinian society," Mofaz's media adviser said in a statement Wednesday.
Mofaz will submit the aforementioned directive to the Israeli Cabinet, the statement added.
At Least 45 Palestinians Wounded
At least 45 Palestinian protesters against the IOF raid into Ramallah banks were injured, four seriously, Palestinian hospital officials told the Washington Post.
The IOF raid on Wednesday was one of the largest invasions in months in the city, a major political and commercial town just north of Jerusalem where Palestinian President Yaser Arafat's headquarters, besieged and battered since December 2001, is located.
Witnesses said Palestinian protesters threw stones at IOF troops and Molotov cocktails at military jeeps, armored personnel carriers and trucks that fanned out in several neighborhoods of down town Ramallah to enforce a curfew during the raid.
IOF soldiers responded with stun grenades and fired tear gas and rubber- coated steel bullets as police from Shin Bet, Israel's general security service, entered the banks and searched computer and account records.
Two of the protesters were shot with live bullets, one in the chest and one in the leg, said Abed Rahmas Salim, an emergency room doctor at Sheik Zayyed New Ramallah Emergency Hospital, where 29 people were treated for mostly minor injuries.
Another 16 people were treated at Ramallah Government Hospital, a spokesman said.
Source: Palestine Media Center - PMC - www.palestine-pmc.com
http://www.palestinechronicle.com/story.php?sid=20040226130934688
Israeli troops storm four Ramallah banks, NGO
http://195.224.230.11/english/?id=9032
Middle East Online - 25Feb04
Troops arrest computer engineers of Arab Bank and Cairo-Amman Bank, search their computer rooms.
By Hossam Ezzedin - RAMALLAH, West Bank
Israeli troops raided this central West Bank town Wednesday morning and forced their way into four of its banks and the headquarters of a local rights organization, Palestinian security sources and witnesses said.
Clashes broke out between soldiers and stone-throwing youths. The army used rubber bullets and tear-gas to disperse the youths and also beat up some of them with the butts of their assault rifles.
The head of Ramallah hospital, Hosni al-Aatari, said 16 people were wounded, one of them moderately in his chest, requiring an operation.
He said two of the wounded were women, including one foreign national.
The Arab Bank in downtown Ramallah and another branch in El-Bireh neighborhood, the International Palestinian Bank and the Cairo-Amman bank were taken over by troops as soldiers proceeded to cover surveillance cameras with pieces of cloth, Palestinian security sources said.
Palestinian security sources said Mohammed Abu Ghosh, a computer engineer at the Arab Bank and Rateb Aataya, holding the same job at the Cairo- Amman Bank, were arrested overnight.
Witnesses at the Cairo-Amman bank said troops were accompanied by Aataya, whom they were holding by force, when they broke into the computer room Wednesday.
They said soldiers were filming the room with a video camera and taking pictures of other parts of the bank with a regular camera.
The bank's customers and clerks were evacuated at around 0930 GMT, an hour and a half after the troops first pushed into the bank, employee Badya al-Shaeb said.
She said the management and computer clerks were kept hostage inside the bank.
Witnesses at the downtown Ramallah Arab Bank also said most people had been evacuated and that troops were searching the computer room.
Troops also barged into the offices of the Health, Development, Information and Policy Institute (HDIP) headed by rights activist Mustafa Barghuti, employees said.
They said soldiers were searching the office of the accountant and going through the organization's financial files.
Security sources said areas around the banks and HDIP were closed to traffic and that 15 jeeps and several army personnel carriers (APCs) were roaming through the town.
Israeli military sources confirmed "there is an operation going on in Ramallah in several places. It should be over within 24 hours," but did not further elaborate.
http://195.224.230.11/english/?id=9032
---
http://www.guardian.co.uk/comment/story/0,3604,1133697,00.html
The Hutton saga is a sideshow. The real issue is who will pay the price for war and occupation
Seumas Milne
Thursday January 29, 2004
The Guardian
We have been here before. In April 1972, the former brigadier Lord Widgery published his now notorious report into the killing of 14 unarmed civil rights demonstrators by British paratroopers in Northern Ireland three months earlier on Bloody Sunday. Widgery cleared the soldiers of blame, insisting, in defiance of a mass of evidence, that they had only opened fire after coming under attack. The Widgery report was so widely seen as a flagrant establishment whitewash, and continued to be such a focus of nationalist anger, that a quarter of a century later Tony Blair felt compelled to set up another Bloody Sunday inquiry under Lord Saville, still sitting today.
Lord Hutton - a scion of the Northern Irish protestant ascendancy who himself represented British soldiers at the Widgery inquiry - has, if anything, outdone Widgery in his service to the powers that be. Hutton's embrace of any construction of the evidence surrounding David Kelly's death that might be helpful to the government is breathtaking in its sweep. Instead of a prime minister who took the country to war on the basis of discredited dossiers about Iraqi weapons of mass destruction, it is the BBC that now finds itself in the dock - and its chairman who was last night forced to resign. Hutton's report could scarcely have been more favourable if it had been drafted, or even sexed up, by Tony Blair's former spinmeister Alastair Campbell himself. The prime minister certainly knew his man when he appointed the one-time Diplock court judge to head the inquiry into Dr Kelly's death.
Fortunately, we have the inquiry transcripts to test against Lord Hutton's almost comically tendentious conclusions. We know, for example, that Blair's chief of staff Jonathan Powell asked the joint intelligence committee's John Scarlett to redraft that part of the September dossier which suggested Saddam Hussein might use chemical and biological weapons "if he believes his regime is under threat" - and Scarlett did so, by taking out the qualifications. We know that Campbell asked Scarlett to change a claim that the Iraqi military "may be able" to deploy chemical or biological weapons within 45 minutes to "are able". But Lord Hutton is of the view that this is not at all the "sexing up" that the BBC reporter Andrew Gilligan quoted Kelly as complaining about. We also know that Blair chaired the meeting at which the strategy for outing Kelly was adopted, even though the prime minister later denied having anything to do with it. But, in the Alice-in-Wonderland world of Lord Hutton, that was entirely consistent and honourable.
There are different ways of reading the spectacular one- sidedness of Hutton's conclusions. One is that the Ulster law lord might be a touch naive about the seamier side of 21st century political life; another, that the legalistic defence offered by Blair, Hoon and senior civil servants naturally appealed to a conservative judge far more than the BBC journalists' case that the main thrust of their story was in fact right; a third that, as a lifelong servant of the British crown, he knew where his duty lay when the credibility of the state was at risk.
But whatever the mixture of motives, Hutton's unqualified endorsement of the government's behaviour is bound, in the current climate, to be widely regarded in the country as a cover- up. It will have no credibility for millions who opposed the war on Iraq; it will merely add to the sense that the political system is unable to deal with the crisis triggered by Britain's participation in the illegal invasion and occupation.
The Hutton saga has in reality been a very British sideshow to that central issue - and the now barely-contested consensus that the reasons given for joining the war were false. Next to the national and global implications of what has been done - and the more than 15,000 people estimated to have died as a result - a loosely worded 6.07am BBC radio broadcast, and even the grim death of Dr Kelly, pale into insignificance. By setting up an inquiry into the Kelly affair, Blair created a partially successful diversion from the far more serious - and more threatening to him personally - questions raised by the war itself.
Those are the questions - rather than the BBC's systems of editorial control - that need urgently to be addressed. Armed with Lord Hutton's report, Tony Blair will now try to "draw a line" under the war and "move on", as he likes to say. That will be impossible. The failure to turn up any of the weapons used as the pretext for Britain's unprovoked attack on Iraq last March has been cruelly highlighted by the queue of US officials and politicians now prepared to concede publicly that they didn't actually exist.
Last summer, Blair was telling us to wait for the Iraq Survey Group to produce his smoking guns. Now David Kay, who has been in charge of the group, says of the phantasmic Iraqi weapons: "I don't think they existed". His replacement, Charles Duelfer, thinks "they're probably not there".
Meanwhile, the misery of the occupation of Iraq grows, as US and British claims to have liberated the country are exposed as a fraud. While the resistance continues to inflict daily casualties on the occupation forces in the centre and north of Iraq - regardless of the capture of Saddam Hussein - the Shia religious leader Ayatollah Ali Sistani has put himself at the head of a mass popular movement for democracy, opposed by the very US occupiers who insisted they were invading to trigger a democratic revolution across the Middle East.
There are now around 13,000 Iraqis imprisoned without trial; evidence of torture and brutality by US and British occupation forces is growing; and the CIA has warned that Iraq is at risk of slipping into a three-way civil war. For most Iraqis, life has got worse under the occupation and even on the crudest calculus, many more have been killed since Saddam Hussein was overthrown than in his last period in power: as the US-based Human Rights Watch pointed out this week, Saddam's worst atrocities date from the days when he was backed by the west.
This is the legacy of the decision by Tony Blair and George Bush to invade a country that posed no threat either to Britain or to the US. There is no way in which the Iraq war can somehow be put behind us. That is not only because of what is now happening on the ground in Iraq, but because of the increased threat of terror attacks it has brought about, the precedent of pre-emptive war it has created, and the poison released in the British political system by a war launched on a false prospectus. Nor is it enough for the prime minister to say he believed there was a threat at the time. If that is the case, he is guilty of reckless incompetence.
The priority must now be to bring the Iraqi occupation to an end and for those who launched the war to be held to account. That process could begin in Britain with the independent inquiry into the war demanded by the opposition parties and anti-war movement. But it needs to go further. The Hutton report is no more likely to lift Iraq's shadow from British public life than Widgery did Bloody Sunday's. Until the prime minister who took the decision to go to war has been brought to account, that shadow will remain.
s.milne@guardian.co.uk
http://www.guardian.co.uk/comment/story/0,3604,1133697,00.html
---
Vote Rigging: how organised criminals have stolen U.S. democracy
25Feb04 - Alf Mendes
A Bilderberg site exclusive
A COMMON SENSE VIEWPOINT
Hi-Tech computer voting is now the order-of-the-day in America. In October 2002, the US Administration passed the Help America Vote Act (HAVA) which authorised the funding of $4 billion for states to use the Direct Recording Election system (DRE) equipment which would have to meet certain standards (set by the Act ) by the year 2006, at which point, they (the states) will be under obligation to have purchased said new equipment. As of December 2003, 36 states have agreed to these obligations. [1] Note that in DRE, votes are stored electronically, and, as such , therefore under proprietary ownership of the equipment companies: the voter is therefore denied access!
As always, the above needs to be seen within an historical context if it is to be properly assessed, and the following facts, at first glance, may seem to be of little pertinence to the opening paragraph - but, hopefully, this will be clarified by the further facts that follow.
In 1933, in answer to the economic Depression that prevailed then, FDR set up the Business Advisory Council (BAC) - a cabal of prestigious corporate capitalists who would subsequently become a crucial adjunct to the US Department of Commerce. This depression lasted throughout the '30's into the very early '40's as evidenced by queues of jobless, among whom it soon became common knowledge that there was no need to apply at certain companies if you were either a Jew or Irish.
In 1961, JFK was elected president by a very small majority and appointed Republicans to all his cabinet posts -but that of Secretary of State. Not long after, as noted by G. William Domhoff in his book 'The Powers That Be': the BAC had "...made a unilateral withdrawal from its quasi governmental status in 1962", and dropping the term 'Advisory' from its title, it would from now on be known as 'The Business Council' (BC). The reason for this break in relations was that JFK's Secretary of Commerce, Luther H. Hodges, had demanded a more open-style Council, the chairman of which, Ralph Cordinger (of General Electric), had become involved in a gigantic price-fixing scandal in the electrical equipment industry. As a result, the Council declared it would become an 'independent organisation' which would offer its advice to all agencies of government. Domhoff added "Despite the fact that the Business Council was no longer an official advisory group to the Department of Commerce, it continued the prominent role it had developed during the Eisenhower administration, supplying businesspeople for government positions and meeting regularly in Hot Springs with government officials. It was especially close to the Johnson administration."[2] The BC was not pleased with JFK.
(The following events of JFK's presidency will, of necessity, heavily rely on Mark Lane's book, 'Plausible Denial' - inasmuch as it is the most comprehensive published coverage of the assassination - to say nothing of the attendant cover-ups. After all, Lane was personally involved in much of the legal activity in this affair, and had much access to documents)
But before going further, it is important to note that JFK had inherited another brewing problem: namely, the Cuban revolution of 1959 had led to the expulsion from that island of the American Mafia, who were soon co-opted by the CIA in the latter's secretive plans to 'remove' Castro. A dangerous precedent was hereby set in motion.
In April 1961, the CIA-led 'Bay of Pigs' operation against Cuba failed, and, as Col. L. Fletcher Prouty confirms to Mark Lane, JFK decided to dismantle the CIA by initially firing top officers Allen Dulles (Director), Cabell (deputy Director - whose brother was Mayor of Dallas), and Bissell (Director for Plans). Prouty added that "..The task of breaking up the CIA was scheduled for 1964, after the foreseen Kennedy re-election". (NB: From '55 to '63, Prouty had held the following key positions: chief of special operations in (a) the Joint Chiefs of Staff; (b) the Office of the Secretary of Defense; and (c) The US Air Force.) [3]
In the aftermath of the Bay of Pigs fiasco, JFK set up the Cuban study group to determine the future of the CIA (Dulles was part of that group!). This resulted in the three National Security Action Memoranda (NSAM) 55, 56, & 57 aimed at drastically curbing any future CIA activities. This turned out to be a somewhat futile gesture on Kennedy's part - the illegal activities of the CIA continued. [4]
Soon after being elected, and on the advice of his administration (mainly Republicans, as noted above), he had authorised a 12-fold increase in US troops to be sent to Vietnam - to the satisfaction of the Military-Industrial complex. It did not take him long to realise his mistake. In 1963, now determined to withdraw the 16,000 American troops from Vietnam, JFK sent Gen. Maxwell Taylor and Sec. of Defense Robert McNamara to Vietnam to 'prepare' a report known as the Trip Report (already drawn up by Maj. Gen. Victor Krulak & Col. Prouty) recommending such withdrawal. (Understandable, when it is recalled that, as Senator, he (JFK) had visited Vietnam in 1951 and written the following complaint in his book "Strategy of Peace" (p.89): "In Indo-China we have allied ourselves to the desperate effort of a French régime to hang on to the remnants of empire.There is no broad general support of the native Vietnam government among the people of that area.")
Now, this Trip report was duly signed and delivered to the president. Result? The very crucial NSAM 263 of 2nd October 1963 which called for the immediate removal of 1000 'military advisers' and a timetable for the withdrawal of all remaining troops. According to Col. Prouty: "The Pentagon was outraged. JFK was a curseword in the corridors". On the 10th of November 1963, Prouty was posted to the South Pole by Maj. Gen. Edward G. Lansdale, CIA liaison to McNamara. He was therefore not in Dallas when JFK was assassinated on November the 22nd. [5]
The dissimulative manner in which the investigation of the assassination was conducted by the police, the FBI, the Warren Commission, and the conniving media - all accompanied by numerous contradictory statements - naturally aroused suspicion in the eyes of many, including witnesses to the assassination. Now, suspicion, in the absence of rational facts, prompts assumptions, one of which is a very common-sensical one: namely, in view of the facts above, it was now self-evident that JFK's relationship with the CIA and the Military-Industrial Complex (as was Eisenhower's wont to call it) was of such an inimical nature that he was now regarded as a threat to the latter's strategy of global domination - and would therefore have to be killed sooner rather than later - preferably before the coming election. Indeed, in 1979, the House Select committee on Assassinations concluded that JFK was assassinated 'as a result of a conspiracy'. As for the consequences of such an act - the Establishment's economic/political clout was such that they were confident of their ability to cope with them. They wasted no time - with not a little help from the new president, LBJ, who had had little love for JFK. Now, it was becoming increasingly necessary to cover the whole matter with a veil of secrecy, with much assistance from the corporate-owned media - but more crucially, subsequent elections would have to be better 'controlled' in order to ensure that the JFK débacle would not be repeated. The new hi-tech computerised machines would later prove essential to this aim.
Secrecy was of paramount importance to this project, and the first step taken to ensure this was the unpublicised setting up, in August 1964, of the News Election Service (NES), a consortium of the three major television networks: ABC, NBC and CBS (CNN was to join later), plus the Associated Press wire service, the New York Times, the Washington Post and other news-gathering organizations, their job being to compile computer-voting results at election time and feed them to the major media. That this veil of secrecy was later lifted (but only to a certain extent), was due to the investigatory work of two brothers, Jim and Ken Collier - entrepreneurs - who wrote a book 'Votescam:The Stealing of America' which exposed in comprehensive detail how votes at elections were being manipulated from now on. But it must be hastily added that the major book chains banned publication of the book (though it is now available on the internet. [6]). The Colliers knew what they were writing about: Ken had run for Congress in Florida in 1970.
It goes without saying that, in order to gain a clearer understanding of any subject matter, it is helpful to view it from an historical perspective - and so it is with the matter of voting methodology. It should come as no surprise to learn that the paper-balloting system was first adopted by Australia in 1856: after all, this was in effect a symbolic gesture on the part of the many British/Irish who had previously been expelled from their homelands to a strange land thousands of miles away, there to serve their prison sentences on criminal charges! These (now) Aussies were merely giving Britain a 2-finger salute: "Up yours, you Pommies!". The Pommies got-the-message and subsequently adopted this method of voting - which they still follow to this day. (In America, as of 1996, only 1.7% of registered voters used this system!).
The subsequent evolution in voting methods, from the mechanical lever machine of 1892; through the punchcard, as used in the 1964 'primaries'; to the marksense optical scan; to the latest Direct Recording Electronic (DRE) system (see opening para. above) - all reveal one significant, indisputable fact: namely, voting methodology has become not only increasingly complex , but, more importantly, more vulnerable to being manipulated illegally. This is not to say that the simple paper ballot cannot be rigged (after all, a vote can be 'bought' in more than one way) - but it is verifiable - whereas the subsequent methods (particularly the more recent ones such as the DRE) are not verifiable, because of the legally-held proprietary rights of the machine owners. In simple terms - the voter has no access to the vote-count!
One of the earlier punch-card voting devices used was the Harris-designed IBM Votomatic. "The punch card machine was first used officially in 1965 in Fulton and DeKalb Counties, Georgia. .. problems often occur with the ballot when it is put through the reading machine. Although punch card machines are extremely fallible", they were widely used [7] "After several years, IBM realized that the Votomatic voting machine... was actually a Pandora's box...and IBM eventually sold its rights in the company after IBM's president, Thomas Watson, read an article that implied he might be trying to install IBM voting machines in enough precincts to win him the first electronically rigged election for President of the United States".... "With voting machines attached to telephone lines it was possible to meddle with the actual vote from a telephone miles away. Getting caught was not possible. 'Deniability' and 'untrackability' were built into the secret source codes that animated the machines.".... "Most Americans did not realize that such an anti-democratic virus had infected their vote. Most do not realize it today." [8]
Spurred by reports and rumours of earlier cases of vote-rigging in Dade county (when, in a referendum held in1959, the 27 municipalities had lost their autonomous powers to an outside, elitist group, the Metro) the Collier brothers decided that one of them, Ken, would run for Congress against the sitting Democrat congressman, Claude Pepper, in the 1970 election in Dade County, Florida. Pepper won in what the brothers soon realised had been a manipulated, rigged vote involving county officers, police, FBI, and judiciary! They were shocked, but determined - and their subsequent years of detailed, thorough investigation only confirmed their earlier fears. Vote-rigging was alive and well in America - to say nothing of corruption in the higher reaches of the Justice System in Washington!
One episode covering the Collier's investigation in the aftermath of the 1970 election is pertinently fascinating: again, they had learned from earlier rumours/reports (see above) that the 1,648 mechanical lever vote machines used in their election were probably stored at the Opa-Locka airport hangar (Jim had learned to fly there)., and the brothers were determined to see them - and learn from them. They obtained a court order and went to said hangar - to find the machines there. Producing their court order, and indicating one of the machines stored there, Ken asked the man in charge "How can you rig this thing?". The man, assuming that their presence had been authorised, explained that there were 2 simple ways: either by putting decals over the counter, or by predeterming the counter reading "by shaving the plastic wheel inside so that it slips ahead 100 or 200 or 300 votes. Any good mechanic can do it with a razor blade." And he gave them a shaved 'predetermining' counter to keep. [9] They now had another item of evidence in hand - and there were many more to come! (These machines, made by Automatic Voting Machine Co. of New York were evidently not as efficient as the later more complex computer machines that were to follow).
As unearthed by the Collier bros. from the Library of Congress: in 1980, a study was commissioned by the CIA-linked Air Command and Staff College in cooperation with the University of New Mexico to examine the US electoral system. This important, candid study was subsequently distributed to selected government agencies. Following are brief quotes from same (NB: underlining is this author's): "The United States government has no elections office and does not attempt to administer congressional elections."..."The responsibility for the administration of elections and certification of winners in the United States national election rests with a consortium of private entities, including 111,000 members of the national League of Women Voters."..."In the case of counting actual ballots on national election night, public officials have abdicated responsibility of aggregation of election night vote totals to a private organization, News Election Service of New York (NES)".." This private organization performs without a contract: without supervision by public officials. It makes decisions concerning its duties according to its own criteria."..."The question and accountability of News Election Service has not arisen in the nation's press because the responsibility NES now has in counting the nation's votes was assumed gradually over a lengthy period without ever being evaluated as an item on the public agenda." [10]
In 1990, due to a merger, NES became Voter Research & Surveys (VRS), which, in turn, in 1993, became Voter News Service (VNS), which, because of its exposed vote-rigging activities, was disbanded in early 2003 - to be replaced by the National Election Pool (NEP), a consortium of ABC, AP, CBS, CNN, Fox, and NBC, "to provide tabulated vote counts and exit poll surveys for the 2004 major presidential primaries and the November general election. These six major news organizations, in a joint decision, have appointed Edison Media Research and Mitofsky International as the sole provider of exit polls for the most important political races of 2004. The AP (group) will tally the vote". [11]..A case of many differing titles - but basically all the same consortium! - perhaps best exemplified by the facts that the president of Mitovsky International, Warren Mitofsky had been (a) executive director of the CBS News election and survey unit from 1967 to 1990; (b) started and directed Voter Research & Surveys from 1990 to 1993,"; and (c) had started the CBS News/New York Times Poll in 1975 and directed it for CBS for its first 15 years." (He had even "conducted the only exit polls for the Russian presidential elections in 1996 and 2000"; polled for the 1993 and 1999 [Russian] Duma elections; and in 1994, "conducted the only exit poll and quick count for the Mexican presidential election"). [12]
The following examples of vote-rigging of a high profile nature should serve to illustrate the endemic corruption in the system:
(A) In 1988, ex-CIA Director George Bush snr. was elected President. As is well-known, the New Hampshire primary is a crucial forerunner for any presidential candidate. Senator Robert Dole was the clear favorite for the Republicans - but Bush snr. won unexpectedly. How come? The Governor of New Hampshire was one John Sununu, a computer engineer, and the computer voting machine being used was a 'Shouptronic' Direct Recording Electronic (DRE) voting machine, supplied by Ransom Shoup, who "had been twice convicted of vote fraud in Philadelphia.".. "It completely lacked an 'audit trail,' an independent record that could be checked in case the machine 'broke down' or its results were challenged."... "A source close to Gov. Sununu insists that Sununu knew from his perspective as a politician, and his expertise as a computer engineer, that the Shouptronic was prime for tampering. The concept is clear, simple and it works. Computerized voting gives the power of selection, without fear of discovery, to whomever controls the computer." On becoming president, Bush appointed Sununu Chief of Staff in his administration. [13]
(B) Chuck Hagel was CEO of American Information Systems (AIS), a computer voting machine company, until 1995, when he resigned in order to run for the Senate in Nebraska in 1996. He unexpectedly won and thus became the first Republican to do so in 26 years! AIS counted the votes. In 1999 AIS merged with Electronic Systems & Software (ES&S). In the following 2002 election, Hagel retained his seat, this time by a landslide (83%). ES&S counted the votes!
AIS had been founded by brothers Bob and Todd Urosevich, in turn funded by the Howard F. Ahmanson Co. - who therefore still have a stake in what is now ES&S. (Howard Ahmanson belongs to the Council for National Policy, a hard right wing organization, and also helps finance The Chalcedon Institute, a fundamentalist religious group). The parent company of ES&S, in turn, was McCarthy & Co., founded in the '90's by Michael McCarthy who subsequently acted as campaign director to Hagel in his two elections - and is now Chuck Hagel's treasurer. Further, Hagel had been president of McCarthy & Company, but resigned following his election in '96 - but remains a major investor in the company!. It is of pertinence to note here that ES&S also has a connection to the Bush family. Jeb Bush's first choice as running mate in 1998 was Sandra Mortham who was a paid lobbyist for ES&S and received a commission for every county that bought its touch-screen machines. [14]
(C) Jeffrey W. Dean was the senior vice president and a director of Global Election Systems in 2000 and 2001. He had been released from prison in August 1995 after having served a sentence for theft in the first degree. "Defendants thefts occurred over a two-&-a-half year period." While in prison, he had become friends with John Elder, who had subsequently been released in November 1996 after doing 5 years for cocaine trafficking. After release, Dean and his wife became owners of Spectrum Printing & Mailing (the funding for this remains a mystery) - and in 2000 sold this firm to Global Election Systems (GES) for $1.6 million - as a result of which, Dean served as Snr. Vice-President and director of GES (noted above). In January 2002, GES was bought out by one of the larger computer-voting companies, Diebold Election System, who, in 2001, had contracted to build voting machines for GES. Dean was retained as consultant for Diebold.
On 4th February 2002, John Elder (see above) was made general manager of the Printed Products branch of Diebold. Weldon O'Dell, CEO of Diebold, had donated over $200,000 to the Republican Party in the 2000 and 2002 campaigns - but is better known for his recent letter in which he promised to deliver Ohio's votes to George W. Bush in 2004! [15]
(D) Database Technologies (DBT Online) was founded by Hank Asher, and was a company involved in the George Bush jnr. election fraud. The group once had a data management contract with the FBI. However, this was terminated following allegations that Asher was associated with Bahamian drug dealers. In 1998, the state of Florida signed a $4 million contract with (DBT Online), which later merged into ChoicePoint, for the purposes of providing a central voter file listing those barred from voting. (As of 2002, Florida is the only state which hires a private firm for these purposes).. The state Florida contracted with DBT in November 1998, following the controversial Miami mayoral race of 1997. The 1998 contracting process involved no bidding and was worth $2,317,800!
On 17th April 2000, at a special Congressional hearing in Atlanta, ChoicePoint Vice-President James Lee testified that Florida had ordered DBT to add to the list voters who matched 80% of an ineligible voter's name, and on February 16, 2001, DBT Senior Vice-President George Bruder testified before the US Civil Rights Commission that the company had misinformed the Florida Supervisors of Elections regarding the usage of race in compiling the list.
ChoicePoint Vice President Martin Fagan admitted that at least 8,000 names were incorrectly listed in this fashion when, the company was passed on a list given by the state of Texas, these 8,000 names were removed prior to the election.He described the error as a "minor glitch". He is also quoted as saying ""Given the outcome of our work in Florida and with a new president in place, we think our services will expand across the country." In January 2000, Pennsylvania terminated its contract with ChoicePoint after alleging that the firm had illegally sold citizens' personal information. In 2002, ChoicePoint generated earnings of $200 million on revenue of $791 million. The company employs 3,500 people at 52 locations within 26 states. [16]
(E) According to Mark Lewellen-Biddle of Purdue university, "the three largest voting machine companies in America are Election Systems and Software, Sequoia and Diebold", Sequoia being the second largest "with roughly one third of the voting machine market. In 1999, the Justice Department filed federal charges against Sequoia alleging that employees paid out more than $8 million in bribes. In 2001, election officials in Pinellas County, Florida, cancelled a $15.5 million contract for voting equipment after discovering that Phil Foster, a Sequoia executive, faced indictment in Louisiana for money laundering and corruption." [17] And for good measure, Alex Lefebvre added that Sequoia is largely controlled by the British cash-printing firm De La Rue, whose parent , "private equity firm Madison Dearborn, is a partner of the Carlyle Group, the investment firm that employs the current president's father, former president George Herbert Walker Bush." [18]
The above examples are by no means comprehensive , but they are surely adequate enough to illustrate that the criminal element could only have permeated the electoral process - and for so many years - with, at the very least, the connivance of the higher echelons within the political structure of the country. Which brings us back to the Help America Vote Act of 2002 (a duplicitous misnomer, if there ever was one!), and its effect on the coming presidential election this year - to say nothing of its effect on the crucially important 'primaries' very soon. Of one thing we can be sure: the votes will once again be rigged, as illustrated above, and confirmed as promised by Weldon O'Dell of Diebold above - unless the American enfranchised public wake up very quickly and take the matter into their own hands. There is little sign of this so far.
The very concept of democracy is at stake.
ENDNOTES
[1] http://www.wsws.org/articles/2003/dec2003/vote-d24.shtml.
[2] www.thirdworldtraveler.com/Ruling_Elites/Policy_Formation_TPTB.html
[3] "Plausible Denial" by Mark Lane 1992 Plexus Publishing ltd. (p. 98)
[4] Ibid (pp 99,100)
[5] Ibid (pp102,103)
[6] http://www.votescam.com/orderbook.html
[7] http://nairobi.mwc.edu/~rdean8it/HIST200R/types.html.
[8] "Votescam: The Stealing of America" by James & Kenneth Collier 2000 Vistoria House Press (pp18,19)
[9] Ibid. (pp84-88)
[10] Ibid. (pp22,23)
[11] http://www.exit-poll.net/pool.html..
[12] http://seattletimes.nwsource.com/html/election/2001844416_exitpolls27.html.
[13] op.cit."Votescam" (pp13-16)
[14] http://www.globalresearch.ca/articles/INF307A.html.
[15] http://www.scoop.co.nz/mason/stories/HL0312/S00191.htm.
[16] http://en2.wikipedia.org/wiki/ChoicePoint.
[17] http://www.inthesetimes.com/comments.php?id=490_0_1_0_C
[18] http://www.wsws.org/articles/2003/dec2003/vote-d24.shtml.
Additional links related to this article
Scoop: Inside A US Election Vote Counting Program
www.scoop.co.nz/mason/stories/HL0307/S00065.htm
US election fraud scandal looms?
www.theinquirer.net/?article=10393
Black Box Voting: Ballot - Tampering in the 21st Century
http://www.blackboxvoting.com/
New Scientist E-voting system flaws 'risk election fraud'
http://www.newscientist.com/news/news.jsp?id=ns99994862
Infernal Press: How George W. Bush Won the 2004 election
http://www.infernalpress.com/Columns/election.html
Guardian Unlimited - US elections 2004 - The hacks in the machine
http://www.guardian.co.uk/uselections2004/
Electronic Voting: A Path to Election Fraud
http://www.rossde.com/editorials/edtl_voting.html
US Electronic Voting Machines - not trustworthy
http://www.stevenbryant.com/election_fraud.php
US Vote Fraud - How To Rig An Election In The United States
http://www.whatreallyhappened.com/vote_fraud.html
Voting machine companies: Ownership disclosure
http://www.talion.com/election-machines.html
PBS -Why the Best Voting Technology May Be No Technology at All
http://www.pbs.org/cringely/pulpit/pulpit20031211.html
Electronic Voting System Is Vulnerable To Tampering: Computer
http://www.sciencedaily.com/releases/2003/07/030725081820.htm
Election FRAUD
http://www.betterworldlinks.org/book109h.htm
---
George W Bush and the real state of the Union
http://news.independent.co.uk/world/americas/story.jsp?story=482947
Today the President gives his annual address. As the election battle begins, how does his first term add up?
20 January 2004
232: Number of American combat deaths in Iraq between May 2003 and January 2004
501: Number of American servicemen to die in Iraq from the beginning of the war - so far
0: Number of American combat deaths in Germany after the Nazi surrender to the Allies in May 1945
0: Number of coffins of dead soldiers returning home from Iraq that the Bush administration has allowed to be photographed
0: Number of funerals or memorials that President Bush has attended for soldiers killed in Iraq
100: Number of fund-raisers attended by Bush or Vice-President Dick Cheney in 2003
13: Number of meetings between Bush and Tony Blair since he became President
10 million: Estimated number of people worldwide who took to the streets in opposition to the invasion of Iraq, setting an all-time record for simultaneous protest
2: Number of nations that Bush has attacked and taken over since coming into the White House
9.2: Average number of American soldiers wounded in Iraq each day since the invasion in March last year
1.6: Average number of American soldiers killed in Iraq per day since hostilities began
16,000: Approximate number of Iraqis killed since the start of war
10,000: Approximate number of Iraqi civilians killed since the beginning of the conflict
$100 billion: Estimated cost of the war in Iraq to American citizens by the end of 2003
$13 billion: Amount other countries have committed towards rebuilding Iraq (much of it in loans) as of 24 October
36%: Increase in the number of desertions from the US army since 1999
92%: Percentage of Iraq's urban areas that had access to drinkable water a year ago
60%: Percentage of Iraq's urban areas that have access to drinkable water today
32%: Percentage of the bombs dropped on Iraq this year that were not precision-guided
1983: The year in which Donald Rumsfeld gave Saddam Hussein a pair of golden spurs
45%: Percentage of Americans who believed in early March 2003 that Saddam Hussein was involved in the 11 September attacks on the US
$127 billion: Amount of US budget surplus in the year that Bush became President in 2001
$374 billion: Amount of US budget deficit in the fiscal year for 2003
1st: This year's deficit is on course to be the biggest in United States history
$1.58 billion: Average amount by which the US national debt increases each day
$23,920: Amount of each US citizen's share of the national debt as of 19 January 2004
1st: The record for the most bankruptcies filed in a single year (1.57 million) was set in 2002
10: Number of solo press conferences that Bush has held since beginning his term. His father had managed 61 at this point in his administration, and Bill Clinton 33
1st: Rank of the US worldwide in terms of greenhouse gas emissions per capita
$113 million: Total sum raised by the Bush-Cheney 2000 campaign, setting a record in American electoral history
$130 million: Amount raised for Bush's re-election campaign so far
$200m: Amount that the Bush-Cheney campaign is expected to raise in 2004
$40m: Amount that Howard Dean, the top fund-raiser among the nine Democratic presidential hopefuls, amassed in 2003
28: Number of days holiday that Bush took last August, the second longest holiday of any president in US history (Recordholder: Richard Nixon)
13: Number of vacation days the average American worker receives each year
3: Number of children convicted of capital offences executed in the US in 2002. America is only country openly to acknowledge executing children
1st: As Governor of Texas, George Bush executed more prisoners (152) than any governor in modern US history
2.4 million: Number of Americans who have lost their jobs during the three years of the Bush administration
221,000: Number of jobs per month created since Bush's tax cuts took effect. He promised the measure would add 306,000
1,000: Number of new jobs created in the entire country in December. Analysts had expected a gain of 130,000
1st: This administration is on its way to becoming the first since 1929 (Herbert Hoover) to preside over an overall loss of jobs during its complete term in office
9 million: Number of US workers unemployed in September 2003
80%: Percentage of the Iraqi workforce now unemployed
55%: Percentage of the Iraqi workforce unemployed before the war
43.6 million: Number of Americans without health insurance in 2002
130: Number of countries (out of total of 191 recognised by the United Nations) with an American military presence
40%: Percentage of the world's military spending for which the US is responsible
$10.9 million: Average wealth of the members of Bush's original 16-person cabinet
88%: Percentage of American citizens who will save less than $100 on their 2006 federal taxes as a result of 2003 cut in capital gains and dividends taxes
$42,000: Average savings members of Bush's cabinet are expected to enjoy this year as a result in the cuts in capital gains and dividends taxes
$42,228: Median household income in the US in 2001
$116,000: Amount Vice-President Cheney is expected to save each year in taxes
44%: Percentage of Americans who believe the President's economic growth plan will mostly benefit the wealthy
700: Number of people from around the world the US has incarcerated in Guantanamo Bay, Cuba
1st: George W Bush became the first American president to ignore the Geneva Conventions by refusing to allow inspectors access to US-held prisoners of war
+6%: Percentage change since 2001 in the number of US families in poverty
1951: Last year in which a quarterly rise in US military spending was greater than the one the previous spring
54%: Percentage of US citizens who believe Bush was legitimately elected to his post
1st: First president to execute a federal prisoner in the past 40 years. Executions are typically ordered by separate states and not at federal level
9: Number of members of Bush's defence policy board who also sit on the corporate board of, or advise, at least one defence contractor
35: Number of countries to which US has suspended military assistance after they failed to sign agreements giving Americans immunity from prosecution before the International Criminal Court
$300 million: Amount cut from the federal programme that provides subsidies to poor families so they can heat their homes
$1 billion: Amount of new US military aid promised Israel in April 2003 to offset the "burdens" of the US war on Iraq
58 million: Number of acres of public lands Bush has opened to road building, logging and drilling
200: Number of public-health and environmental laws Bush has attempted to downgrade or weaken
29,000: Number of American troops - which is close to the total of a whole army division - to have either been killed, wounded, injured or become so ill as to require evacuation from Iraq, according to the Pentagon
90%: Percentage of American citizens who said they approved of the way George Bush was handling his job as president when asked on 26 September, 2001
53%: Percentage of American citizens who approved of the way Bush was handling his job as president when asked on 16 January, 2004
Sources: Vanity Fair magazine, Harper's Index, Amnesty International, Human Rights Watch, US Army (Washington), US Department of Defence, Iraqbodycount.net, Citizens for Tax Justice, Bureau of Economic Analysis (Washington), New York Times/CBS News Poll (NYC), US Department of Commerce, Cap Gemini Ernst & Young (NYC), Coalition Provisional Authority (Baghdad), World Health Organisation (Geneva), Office of Management and Budget (Washington), Centre for Responsive Politics (Washington), Bush- Cheney '04, Inc (Arlington, Va), Election Systems & Software (Omaha), United States Central Command (Tampa)
http://news.independent.co.uk/world/americas/story.jsp?story=482947
---
Terror war 'could last 50 years'
http://news.bbc.co.uk/1/hi/uk/3388797.stm
By Alfred Hermida - 12Jan03
BBC News Online technology editor in Las Vegas
The war on terror could last up to 50 years, a senior UK intelligence officer has warned.
Speaking at a US Government sponsored conference in Las Vegas, Superintendent Stuart Harrison offered a rare insight into the intelligence community.
He said "remorseless effort" was needed before the world returned to normal.
Superintendent Harrison, a counter-terrorism expert, was at the conference to share the UK's experiences in dealing with al-Qaeda.
'Bigger than imagined'
Security forces on both sides of the Atlantic have been forced to reassess their way of working following the 11 September terror attacks on the US.
Superintendent Harrison outlined how the UK had reorganised its counter-terrorism efforts in the face of what he described as a new threshold of threat.
"This is bigger than everything we have ever imagined before", he said, "we are in this for the long run. It will be 35 to 50 years before we get it cracked."
Throughout 2003, there was a catalogue of events which highlighted the danger to the UK.
They ranged from the discovery of traces of the toxin ricin in North London to British citizens mounting suicide bombings in Israel.
Underlining the degree of danger, Superintendent Harrison said that there had been 558 arrests in connection with Islamic terrorism in the last year.
As the Counter Terrorist Police Military Liaison Officer for the Association of Chief Police Officers, he has first-hand knowledge of the potential threats against the UK.
Bombing fears
In his address to the Vegas conference, he painted an alarming picture of the greatest risks at the moment, such as from shoulder-launched anti-aircraft missiles.
"The threat is very very real," he said. "We are fairly certain there are SAM 7 [anti-aircraft missiles] within the UK with al- Qaeda cells waiting for an opportunity to use them."
Perhaps more worryingly, he also spoke about the likelihood of suicide bombings within the UK.
"Suicide attacks are inevitable," he said. "We are seeing UK being attacked overseas but it is by no means certain we will avoid an attack for very long."
He added that police had already found belt bombs being manufactured in Britain.
Quick response
On the positive side, he told his American counterparts that the UK was well experienced in dealing with terrorists due to the Northern Ireland troubles.
"Northern Ireland has been the best training ground in peace support operations than any police force has had in the world," he said.
In addition, the UK has responded to the realities of a post 9/ 11 world by improving coordination between the police, military and intelligence community.
"We set up structures to ensure that the key intelligence could be passed on to those who needed it within an hour."
When there was a threat to the funeral of the Queen Mother, the information was received from Northern Ireland and passed to the officers on the street within 20 minutes.
"We need to understand who we are fighting against, develop our technology and most of all have the people who are skilled at dealing with the threat," said Superintendent Harrison.
The US Government Convention on Emerging Technologies was held in Las Vegas last week to coincide with the Consumer Electronics Show.
http://news.bbc.co.uk/1/hi/uk/3388797.stm
---
http://www.onlinejournal.com/Commentary/011004Hasty/011004hasty.html
By Michael Hasty
Online Journal Contributing Writer
January 10, 2004—
Just before his death, James Jesus Angleton, the legendary chief of counterintelligence at the Central Intelligence Agency, was a bitter man. He felt betrayed by the people he had worked for all his life. In the end, he had come to realize that they were never really interested in American ideals of "freedom" and "democracy." They really only wanted "absolute power."
Angleton told author Joseph Trento that the reason he had gotten the counterintelligence job in the first place was by agreeing not to submit "sixty of Allen Dulles' closest friends" to a polygraph test concerning their business deals with the Nazis. In his end-of-life despair, Angleton assumed that he would see all his old companions again "in hell."
The transformation of James Jesus Angleton from an enthusiastic, Ivy League cold warrior, to a bitter old man, is an extreme example of a phenomenon I call a "paranoid shift." I recognize the phenomenon, because something similar happened to me.
Although I don't remember ever meeting James Jesus Angleton, I worked at the CIA myself as a low-level clerk as a teenager in the '60s. This was at the same time I was beginning to question the government's actions in Vietnam. In fact, my personal "paranoid shift" probably began with the disillusionment I felt when I realized that the story of American foreign policy was, at the very least, more complicated and darker than I had hitherto been led to believe.
But for most of the next 30 years, even though I was a radical, I nevertheless held faith in the basic integrity of a system where power ultimately resided in the people, and whereby if enough people got together and voted, real and fundamental change could happen.
What constitutes my personal paranoid shift is that I no longer believe this to be necessarily true.
In his book, "Rogue State: A Guide to the World's Only Superpower," William Blum warns of how the media will make anything that smacks of "conspiracy theory" an immediate "object of ridicule." This prevents the media from ever having to investigate the many strange interconnections among the ruling class—for example, the relationship between the boards of directors of media giants, and the energy, banking and defense industries. These unmentionable topics are usually treated with what Blum calls "the media's most effective tool—silence." But in case somebody's asking questions, all you have to do is say, "conspiracy theory," and any allegation instantly becomes too frivolous to merit serious attention.
On the other hand, since my paranoid shift, whenever I hear the words "conspiracy theory" (which seems more often, lately) it usually means someone is getting too close to the truth.
Take September 11—which I identify as the date my paranoia actually shifted, though I didn't know it at the time.
Unless I'm paranoid, it doesn't make any sense at all that George W. Bush, commander-in-chief, sat in a second-grade classroom for 20 minutes after he was informed that a second plane had hit the World Trade Center, listening to children read a story about a goat. Nor does it make sense that the Number 2 man, Dick Cheney— even knowing that "the commander" was on a mission in Florida— nevertheless sat at his desk in the White House, watching TV, until the Secret Service dragged him out by the armpits.
Unless I'm paranoid, it makes no sense that Defense Secretary Donald Rumsfeld sat at his desk until Flight 77 hit the Pentagon— well over an hour after the military had learned about the multiple hijacking in progress. It also makes no sense that the brand-new chairman of the Joint Chiefs of Staff sat in a Senate office for two hours while the 9/11 attacks took place, after leaving explicit instructions that he not be disturbed—which he wasn't.
In other words, while the 9/11 attacks were occurring, the entire top of the chain of command of the most powerful military in the world sat at various desks, inert. Why weren't they in the "Situation Room?" Don't any of them ever watch "West Wing?"
In a sane world, this would be an object of major scandal. But here on this side of the paranoid shift, it's business as usual.
Years, even decades before 9/11, plans had been drawn up for American forces to take control of the oil interests of the Middle East, for various imperialist reasons. And these plans were only contingent upon "a catastrophic and catalyzing event, like a new Pearl Harbor," to gain the majority support of the American public to set the plans into motion. When the opportunity presented itself, the guards looked the other way . . . and presto, the path to global domination was open.
Simple, as long as the media played along. And there is voluminous evidence that the media play along. Number one on Project Censored's annual list of underreported stories in 2002 was the Project for a New American Century (now the infrastructure of the Bush Regime), whose report, published in 2000, contains the above "Pearl Harbor" quote.
Why is it so hard to believe serious people who have repeatedly warned us that powerful ruling elites are out to dominate "the masses?" Did we think Dwight Eisenhower was exaggerating when he warned of the extreme "danger" to democracy of "the military industrial complex?" Was Barry Goldwater just being a quaint old- fashioned John Bircher when he said that the Trilateral Commission was "David Rockefeller's latest scheme to take over the world, by taking over the government of the United States?" Were Teddy and Franklin Roosevelt or Joseph Kennedy just being class traitors when they talked about a small group of wealthy elites who operate as a hidden government behind the government? Especially after he died so mysteriously, why shouldn't we believe the late CIA Director William Colby, who bragged about how the CIA "owns everyone of any major significance in the major media?"
Why can't we believe James Jesus Angleton—a man staring eternal judgment in the face—when he says that the founders of the Cold War national security state were only interested in "absolute power?" Especially when the descendant of a very good friend of Allen Dulles now holds power in the White House.
Prescott Bush, the late, aristocratic senator from Connecticut, and grandfather of George W Bush, was not only a good friend of Allen Dulles, CIA director, president of the Council on Foreign Relations, and international business lawyer. He was also a client of Dulles' law firm. As such, he was the beneficiary of Dulles' miraculous ability to scrub the story of Bush's treasonous investments in the Third Reich out of the news media, where it might have interfered with Bush's political career . . . not to mention the presidential careers of his son and grandson.
Recently declassified US government documents, unearthed last October by investigative journalist John Buchanan at the New Hampshire Gazette, reveal that Prescott Bush's involvement in financing and arming the Nazis was more extensive than previously known. Not only was Bush managing director of the Union Banking Corporation, the American branch of Hitler's chief financier's banking network; but among the other companies where Bush was a director —and which were seized by the American government in 1942, under the Trading With the Enemy Act—were a shipping line which imported German spies; an energy company that supplied the Luftwaffe with high-ethyl fuel; and a steel company that employed Jewish slave labor from the Auschwitz concentration camp.
Like all the other Bush scandals that have been swept under the rug in the privatized censorship of the corporate media, these revelations have been largely ignored, with the exception of a single article in the Associated Press. And there are those, even on the left, who question the current relevance of this information.
But Prescott Bush's dealings with the Nazis do more than illustrate a family pattern of genteel treason and war profiteering—from George Senior's sale of TOW missiles to Iran at the same time he was selling biological and chemical weapons to Saddam Hussein, to Junior's zany misadventures in crony capitalism in present-day Iraq.
More disturbing by far are the many eerie parallels between Adolph Hitler and George W. Bush:
A conservative, authoritarian style, with public appearances in military uniform (which no previous American president has ever done while in office). Government by secrecy, propaganda and deception. Open assaults on labor unions and workers' rights. Preemptive war and militant nationalism. Contempt for international law and treaties. Suspiciously convenient "terrorist" attacks, to justify a police state and the suspension of liberties. A carefully manufactured image of "The Leader," who's still just a "regular guy" and a "moderate." "Freedom" as the rationale for every action. Fantasy economic growth, based on unprecedented budget deficits and massive military spending.
And a cold, pragmatic ideology of fascism—including the violent suppression of dissent and other human rights; the use of torture, assassination and concentration camps; and most important, Benito Mussolini's preferred definition of "fascism" as "corporatism, because it binds together the interests of corporations and the state."
By their fruits, you shall know them.
What perplexes me most is probably the same question that plagues most paranoiacs: why don't other people see these connections?
Oh, sure, there may be millions of us, lurking at websites like Online Journal, From the Wilderness, Center for Cooperative Research, and the Center for Research on Globalization, checking out right-wing conspiracists and the galaxy of 9/11 sites, and reading columnists like Chris Floyd at the Moscow Times, and Maureen Farrell at Buzzflash. But we know we are only a furtive minority, the human remnant among the pod people in the live- action, 21st-century version of "Invasion of the Body Snatchers."
And being paranoid, we have to figure out, with an answer that fits into our system, why more people don't see the connections we do. Fortunately, there are a number of possible explanations.
First on the list would have to be what Marshal McLuhan called the "cave art of the electronic age:" advertising. Joseph Goebbels, Hitler's Karl Rove, gave credit for most of his ideas on how to manipulate mass opinion to American commercial advertising, and to the then-new science of "public relations." But the public relations universe available to the corporate empire that rules the world today makes the Goebbels operation look primitive. The precision of communications technology and graphics; the century of research on human psychology and emotion; and the uniquely centralized control of triumphant post-Cold War monopoly capitalism, have combined to the point where "the manufacture of consent" can be set on automatic pilot.
A second major reason people won't make the paranoid shift is that they are too fundamentally decent. They can't believe that the elected leaders of our country, the people they've been taught through 12 years of public school to admire and trust, are capable of sending young American soldiers to their deaths and slaughtering tens of thousands of innocent civilians, just to satisfy their greed— especially when they're so rich in the first place. Besides, America is good, and the media are liberal and overly critical.
Third, people don't want to look like fools. Being a "conspiracy theorist" is like being a creationist. The educated opinion of eminent experts on every TV and radio network is that any discussion of "oil" being a motivation for the US invasion of Iraq is just out of bounds, and anyone who thinks otherwise is a "conspiracy theorist." We can trust the integrity of our 'no-bid" contracting in Iraq, and anyone who thinks otherwise is a "conspiracy theorist." Of course, people sometimes make mistakes, but our military and intelligence community did the best they could on and before September 11, and anybody who thinks otherwise is a "conspiracy theorist."
Lee Harvey Oswald was the sole assassin of JFK, and anyone who thinks otherwise is a "conspiracy theorist."
Perhaps the biggest hidden reason people don't make the paranoid shift is that knowledge brings responsibility. If we acknowledge that an inner circle of ruling elites controls the world's most powerful military and intelligence system; controls the international banking system; controls the most effective and far-reaching propaganda network in history; controls all three branches of government in the world's only superpower; and controls the technology that counts the people's votes, we might be then forced to conclude that we don't live in a particularly democratic system. And then voting and making contributions and trying to stay informed wouldn't be enough. Because then the duty of citizenship would go beyond serving as a loyal opposition, to serving as a "loyal resistance"—like the Republicans in the Spanish Civil War, except that in this case the resistance to fascism would be on the side of the national ideals, rather than the government; and a violent insurgency would not only play into the empire's hands, it would be doomed from the start.
Forming a nonviolent resistance movement, on the other hand, might mean forsaking some middle class comfort, and it would doubtless require a lot of work. It would mean educating ourselves and others about the nature of the truly apocalyptic beast we face. It would mean organizing at the most basic neighborhood level, face to face. (We cannot put our trust in the empire's technology.) It would mean reaching across turf lines and transcending single- issue politics, forming coalitions and sharing data and names and strategies, and applying energy at every level of government, local to global. It would also probably mean civil disobedience, at a time when the Bush regime is starting to classify that action as "terrorism." In the end, it may mean organizing a progressive confederacy to govern ourselves, just as our revolutionary founders formed the Continental Congress. It would mean being wise as serpents, and gentle as doves.
It would be a lot of work. It would also require critical mass. A paradigm shift.
But as a paranoid, I'm ready to join the resistance. And the main reason is I no longer think that the "conspiracy" is much of a "theory."
That the US House of Representatives Select Committee on Assassinations concluded that the murder of John Fitzgerald Kennedy was "probably" the result of "a conspiracy," and that 70 percent of Americans agree with this conclusion, is not a "theory." It's fact.
That the Bay of Pigs fiasco, "Operation Zapata," was organized by members of Skull and Bones, the ghoulish and powerful secret society at Yale University whose membership also included Prescott, George Herbert Walker and George W Bush; that two of the ships that carried the Cuban counterrevolutionaries to their appointment with absurdity were named the "Barbara" and the "Houston"—George HW Bush's city of residence at the time—and that the oil company Bush owned, then operating in the Caribbean area, was named "Zapata," is not "theory." It's fact.
That George Bush was the CIA director who kept the names of what were estimated to be hundreds of American journalists, considered to be CIA "assets," from the Church Committee, the US Senate Intelligence Committe chaired by Senator Frank Church that investigated the CIA in the 1970s; that a 1971 University of Michigan study concluded that, in America, the more TV you watched, the less you knew; and that a recent survey by international scholars found that Americans were the most "ignorant" of world affairs out of all the populations they studied, is not a "theory." It's fact.
That the Council on Foreign Relations has a history of influence on official US government foreign policy; that the protection of US supplies of Middle East oil has been a central element of American foreign policy since the Second World War; and that global oil production has been in decline since its peak year, 2000, is not "theory." It's fact.
That, in the early 1970s, the newly-formed Trilateral Commission published a report which recommended that, in order for "globalization" to succeed, American manufacturing jobs had to be exported, and American wages had to decline, which is exactly what happened over the next three decades; and that, during that same period, the richest one percent of Americans doubled their share of the national wealth, is not "theory." It's fact.
That, beyond their quasi-public role as agents of the US Treasury Department, the Federal Reserve Banks are profit-making corporations, whose beneficiaries include some of America's wealthiest families; and that the United States has a virtual controlling interest in the World Bank, the International Monetary Fund, and the World Trade Organization, the three dominant global financial institutions, is not a "theory." It's fact.
That—whether it's heroin from Southeast Asia in the '60s and '70s, or cocaine from Central America and heroin from Afghanistan in the '80s, or cocaine from Colombia in the '90s, or heroin from Afghanistan today—no major CIA covert operation has ever lacked a drug smuggling component, and that the CIA has hired Nazis, fascists, drug dealers, arms smugglers, mass murderers, perverts, sadists, terrorists and the Mafia, is not "theory." It's fact.
That the international oil industry is the dominant player in the global economy; that the Bush family has a decades-long business relationship with the Saudi royal family, Saudi oil money, and the family of Osama bin Laden; that, as president, both George Bushes have favored the interests of oil companies over the public interest; that both George Bushes have personally profited financially from Middle East oil; and that American oil companies doubled their records for quarterly profits in the months just preceding the invasion of Iraq, is not "theory." It's fact.
That the 2000 presidential election was deliberately stolen; that the pro-Bush/anti-Gore bias in the corporate media had spiked markedly in the last three weeks of the campaign; that corporate media were then virtually silent about the Florida recount; and that the Bush 2000 team had planned to challenge the legitimacy of the election if George W had won the popular, but lost the electoral vote —exactly what happened to Gore—is not "theory." It's fact.
That the intelligence about Iraq's weapons of mass destruction was deceptively "cooked" by the Bush administration; that anybody paying attention to people like former UN weapons inspector Scott Ritter, knew before the invasion that the weapons were a hoax; and that American forces in Iraq today are applying the same brutal counterinsurgency tactics pioneered in Central America in the 1980s, under the direct supervision of then-Vice President George HW Bush, is not a "theory." It's fact.
That "Rebuilding America's Defenses," the Project for a New American Century's 2000 report, and "The Grand Chessboard," a book published a few years earlier by Trilateral Commission co- founder Zbigniew Brzezinski, both recommended a more robust and imperial US military presence in the oil basin of the Middle East and the Caspian region; and that both also suggested that American public support for this energy crusade would depend on public response to a new "Pearl Harbor," is not "theory." It's fact.
That, in the 1960s, the Joint Chiefs of Staff unanimously approved a plan called "Operation Northwoods," to stage terrorist attacks on American soil that could be used to justify an invasion of Cuba; and that there is currently an office in the Pentagon whose function is to instigate terrorist attacks that could be used to justify future strategically-desired military responses, is not a "theory." It's fact.
That neither the accusation by former British Environmental Minister Michael Meacham, Tony Blair's longest-serving cabinet minister, that George W Bush allowed the 9/11 attacks to happen to justify an oil war in the Middle East; nor the RICO lawsuit filed by 9/11 widow Ellen Mariani against Bush, Cheney, Rumsfeld and the Council on Foreign Relations (among others), on the grounds that they conspired to let the attacks happen to cash in on the ensuing war profiteering, has captured the slightest attention from American corporate media is not a "theory." It's fact.
That the FBI has completely exonerated—though never identified— the speculators who purchased, a few days before the attacks (through a bank whose previous director is now the CIA executive director), an unusual number of "put" options, and who made millions betting that the stocks in American and United Airlines would crash, is not a "theory." It's fact.
That the US intelligence community received numerous warnings, from multiple sources, throughout the summer of 2001, that a major terrorist attack on American interests was imminent; that, according to the chair of the "independent" 9/11 commission, the attacks "could have and should have been prevented," and according to a Senate Intelligence Committee member, "All the dots were connected;" that the White House has verified George W Bush's personal knowledge, as of August 6, 2001, that these terrorist attacks might be domestic and might involve hijacked airliners; that, in the summer of 2001, at the insistence of the American Secret Service, anti-aircraft ordnance was installed around the city of Genoa, Italy, to defend against a possible terrorist suicide attack, by aircraft, against George W Bush, who was attending the economic summit there; and that George W Bush has nevertheless regaled audiences with his first thought upon seeing the "first" plane hit the World Trade Center, which was: "What a terrible pilot," is not "theory." It's fact.
That, on the morning of September 11, 2001: standard procedures and policies at the nation's air defense and aviation bureaucracies were ignored, and communications were delayed; the black boxes of the planes that hit the WTC were destroyed, but hijacker Mohammed Atta's passport was found in pristine condition; high- ranking Pentagon officers had cancelled their commercial flight plans for that morning; George H.W. Bush was meeting in Washington with representatives of Osama bin Laden's family, and other investors in the world's largest private equity firm, the Carlyle Group; the CIA was conducting a previously-scheduled mock exercise of an airliner hitting the Pentagon; the chairs of both the House and Senate Intelligence Committees were having breakfast with the chief of Pakistan's intelligence agency, who resigned a week later on suspicion of involvement in the 9/11 attacks; and the commander-in-chief of the armed forces of the United States sat in a second grade classroom for 20 minutes after hearing that a second plane had struck the towers, listening to children read a story about a goat, is not "theoretical." These are facts.
That the Bush administration has desperately fought every attempt to independently investigate the events of 9/11, is not a "theory."
Nor, finally, is it in any way a "theory" that the one, single name that can be directly linked to the Third Reich, the US military industrial complex, Skull and Bones, Eastern Establishment good ol' boys, the Illuminati, Big Texas Oil, the Bay of Pigs, the Miami Cubans, the Mafia, the FBI, the JFK assassination, the New World Order, Watergate, the Republican National Committee, Eastern European fascists, the Council on Foreign Relations, the Trilateral Commission, the United Nations, CIA headquarters, the October Surprise, the Iran/Contra scandal, Inslaw, the Christic Institute, Manuel Noriega, drug-running "freedom fighters" and death squads, Iraqgate, Saddam Hussein, weapons of mass destruction, the blood of innocents, the savings and loan crash, the Bank of Credit and Commerce International, the "Octopus," the "Enterprise," the Afghan mujaheddin, the War on Drugs, Mena (Arkansas), Whitewater, Sun Myung Moon, the Carlyle Group, Osama bin Laden and the Saudi royal family, David Rockefeller, Henry Kissinger, and the presidency and vice-presidency of the United States, is: George Herbert Walker Bush.
"Theory?" To the contrary.
It is a well-documented, tragic and—especially if you're paranoid— terrifying fact.
Michael Hasty is a writer, activist, musician, carpenter and farmer. His award-winning column, "Thinking Locally," appeared for seven years in the Hampshire Review, West Virginia's oldest newspaper. His writing has also appeared in the Highlands Voice, the Washington Peace Letter, the Takoma Park Newsletter, the German magazine Generational Justice, and the Washington Post; and at the websites Common Dreams and Democrats.com. In January 1989, he was the media spokesperson for the counter- inaugural coalition at George Bush's Counter-Inaugural Banquet, which fed hundreds of DC's homeless in front of Union Station, where the official inaugural dinner was being held.
Permission to reprint is granted, provided it includes this autobiographical note, and credit for first publication to Online Journal.
http://www.onlinejournal.com/Commentary/011004Hasty/011004hasty.html
---